Water Storage Bladders and Flexible Pillow Tanks
Potable and Non-Potable Water Storage Tanks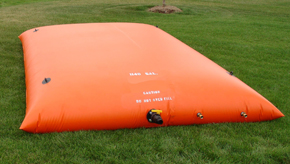 Water Storage Bladders (also known as Pillow Tanks) are flexible water tanks designed for temporary water storage. Standard water bladder tanks range from 25 gallons (94 liters) to 210,000 gallons (794,900 liters), however custom pillow tank sizes and fittings can be made. Our USA-made pillow tanks are known for their high quality design and construction. We sell bladder water storage tanks that can be used as potable water tanks, rainwater harvesting tanks, gray water tanks, or even as a fuel bladder tank.

Questions about water storage bladders? We can help! Call us: 1-863-261-8388 or request a price quote.
Pillow Tanks and Bladder Storage Tanks in Use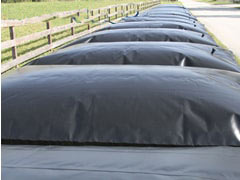 In terms of use, water bladders are some of the most versatile products available for storing, collecting, and reusing potable water and non potable liquid. Drinking water tanks are typically made from either a PVC, Elvaloy, or a Urethane material depending on the storage requirements of your location. When used as a fuel bladder tank, the material used is compatible with jet-A, diesel, and other fuels.
Common Applications for Water Storage Bladders:
Military Operations
FEMA/Relief Efforts
Construction Sites
Homes
Businesses
Fire Fighting Operations
Remote Location/Island Water Storage
Potable Water Tank Storage
To find the water storage bladder that is right for you, we ask customers to let us know what type of liquid they are storing in their water bladder tanks (drinking water, non potable water, fuel), where they will be storing the tank, and how long they will need to store the liquid in the tank. Our water storage bladder tanks fold flat for storage and easy shipping.
Standard Water Bladder Tank Sizing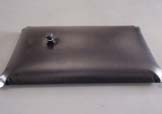 Standard sizing for bladder water storage tanks start at 25 gallons and goes up in size to 210,000 gallon capacities. For easy reference, each tank can be separated out as either a small or bulk storage tank.

Questions about gray water tanks? We can help! Call us: 1-863-261-8388 or request a price quote.
Water Storage Bladder Accessories
Regardless of the flexible water tanks you use on site, adding an accessory can be essential to keeping your water bladder operational and extending its life.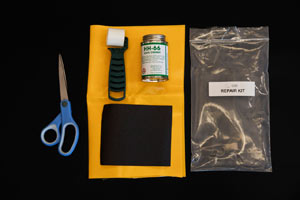 Available Options:
Protective Liner for Tanks (protect your tank from abrasion)
Water Bladder Tank Repair Kit (fix small water bladder tank leaks)
Berm Liner (contain hazardous liquids)
Rainwater Collection Tanks and Liners
For rainwater collection and storage, Bladder Water Storage Tanks and Cistern Tank Liners are the perfect solution. Depending on your rainwater collection requirements, our rainwater harvesting tanks can be used to successfully store liquids around your facility.
Bladder Water Storage Tanks

Cistern Tank Liners




Fits in Basements and Crawl Spaces
Great for Small Storage Areas
Successfully Keeps Water on Site
Smooth and Hassle-Free Collection

Lines Old or New Cisterns
Helps Prevent Leaks
More Economical than a Complete Tank Replacement
Bladder Bag Water Storage
Need smaller drinking water storage or emergency water storage containers? Give us a call! In addition to small bladder tanks, we also offer Portable Water Bags (5 gallons) that can be easily carried from one location to the next.These commonly include a small fitting to easily fill and empty the bag as needed for simple and effective.
Our temporary drinking water tanks and potable water tanks are all NSF and FDA compliant for safe water storage.

Questions about flexible pillow tanks? We can help! Call us: 1-863-261-8388 or request a price quote.