Emergency Water Storage Tanks
Folding Frame Water Tank for Hurricane and Flood Relief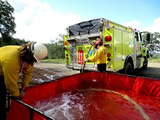 Folding Frame Tanks are a reliable Emergency Water Storage Tank for any emergency that requires quick and easy deployment during fire suprression and hurricane and flood relief. Designed with a combination of portability and quick set up, these tanks are used by fire fighters, first responders and other emergency personnel to quickly supply water during emergencies. Frame tanks are available in sizes of 500 to 5,000 gallons to meet small and bulk water storage requirements.
Folding frame tank design includes an interior liner safe for potable water (drinking water). Other liner options can be chosen based on the type of liquid you intend to store in the tank. Folding frame tanks are typically constructed from a lightweight aluminum material but can also be made from steel. During transportation, these collapsible tanks can be easily folded up for compact transport in fire trucks or other emergency vehicles. With a compact exterior and reliable inner liner, these frame tanks are the perfect solution to your water storage needs. See specs and dimensions
Emergency Water Storage Tanks Features:
Folding Frames: Steel or Aluminum
Liners: Heavy Duty Vinyl (22 oz. on sides, 28 oz. on floor)
Capacities: 500 to 5,000 gallons
Potable Water Models Available
Benefits:
Easy to Fill
Quick to Deploy
Reliable Outer Framework
Folds Compactly for Transport and Storage
Light Weight
Multiple Fabric Options Available
Typical Applications:
Fire Fighting
Emergency Response and Preparedness
Disaster Relief
Fast Water Storage and Distribution
Decontamination and Containment Efforts
Construction

If you have questions about products, give us a call at 1-772-646-0597 or request a price quote.
Emergency Water Storage Folding Frame Tanks Technical Specifications
Gallons

Deployed Size

Single Folded

Steel Frame (Weight lbs.)

Aluminum Frame (Weight lbs.)

500
5'8" x 5'8" x 29"
7" x 5'8" x 29"
90
68
750
7' x 7' x 29"
7" x 7' x 29"
97
79
1000
8'3" x 8'3" x 29"
7" x 8'3" x 29"
116
96
1500
10'3" x 10'3" x 29"
7" x 10'3" x 29"
138
109
2100
11'3" x 11'3" x 29"
7" x 11'3" x 29"
154
124
2500
12'3" x 12'3" x 29"
7" x 12'3" x 29"
169
135
3000
13'3" x 13'3" x 29"
7" x 13'3" x 29"
185
149
3500
14'3" x 14'3" x 29"
7" x 14'3" x 29"
205
167
4000
15'3" x 15'3" x 29"
7" x 15'3" x 29"
223
178
5000
17'3" x 17'3" x 29"
7" x 17'3" x 29"
269
215

* Larger Capacity and Custom Design Available Upon Request

Fittings: Aluminum, Polypropylene, Camlock, and Storz Available

Frame Tanks are one of many emergency water storage tanks designed to help quickly supply drinking water or contain hazardous liquids in the event of an emergency. In addition to the folding frame unit, we also offer several other emergency response tanks to help with bulk water storage, emergency water supply, and spill efforts. Available options have included onion, tanks, decon tanks and emergency water bladders. For these and other storage options, check out out Emergency Water Storage Tanks.
Water Buffalo Trailers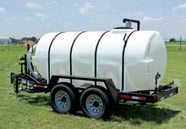 Water Buffalo Trailers are reliable, rugged and DOT Apporved for use on public roadways. Use them for hauling water, irrigation, firefighting, dust control, and more.

If you have questions about products, give us a call at 1-772-646-0597 or request a price quote.
© Copyright GEI Works 2011-2019. All rights reserved.
GEI Works is a global solutions provider offering our expertise and products to the following states, countries, territories and provinces:

States:

Alabama, AL | Alaska, AK | Arizona, AZ | Arkansas, AR | California, CA | Colorado, CO | Connecticut, CT | Delaware, DE | Florida, FL | Georgia, GA | Hawaii, HI | Idaho, ID | Illinois, IL | Indiana, IN | Iowa, IA | Kansas, KS | Kentucky, KY | Louisiana, LA | Maine, ME | Maryland, MD | Massachusetts, MA | Michigan, MI | Minnesota, MN | Mississippi, MS | Missouri, MO | Montana, MT | Nebraska, NE | Nevada, NV | New Hampshire, NH | New Jersey, NJ | New Mexico, NM | New York, NY | North Carolina, NC | North Dakota, ND | Ohio, OH | Oklahoma, OK | Oregon, OR | Pennsylvania, PA | Rhode Island, RI | South Carolina, SC | South Dakota, SD | Tennessee, TN | Texas, TX | Utah, UT | Vermont, VT | Virginia, VA | Washington, WA | West Virginia, WV | Wisconsin, WI | Wyoming, WY

Countries, Territories and Provinces:

Malaysia, MY | Indonesia, ID | Antigua and Barbuda, AG | Bahamas, BS | Barbados, BB | Belize, BZ | British Virgin Islands, VG | Cayman Islands, KY | Dominican Republic, DO | Grenada, GD | Haiti, HT | Jamaica, JM | Montserrat, MS | Puerto Rico, PR | Saint Lucia, LC | Saint Vincent and the Grenadines, VC | Trinidad and Tobago, TT | Turks and Caicos Islands, TC | United States, US | US Virgin Islands, VI | Mexico, MX | Campeche, CM | Quintana Roo, QR | Yucatan, YU | Central and South America | Canada, CA | Alberta, AB | British Columbia, BC | Manitoba, MB | New Brunswick, NB | Newfoundland and Labrador, NL | Northwest Territories, NT | Nova Scotia, NS | Nunavut, NU | Ontario, ON | Prince Edward Island, PE | Quebec, QC | Saskatchewan, SK | Yukon, YT