Water Storage Tanks
Non-Potable Water Storage Tanks For Sale
Our selection of non-potable water storage tanks includes a range of models, materials, and styles to meet your storage location needs. With options that include corrugated steel tanks, flexible tanks, and fiberglass storage options, there is a storage tank for nearly every application! Non-potable water storage tanks can include anything from rainwater collection to septic storage and containment.
If you have
questions
about our non-potable water storage tanks for sale, please give our sales team a call at
1-863-261-8388
or
request a price quote
.

* Ask us about financing options!
Due to the various needs and requirements of a site, non-potable water tanks can include any number of above ground or below ground storage options. Whether you need a rigid unit or a flexible containment tank, these tanks can provide the best storage option for your location.
Steel Storage Tanks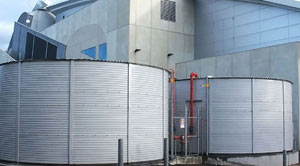 One of the most robust non-potable water storage options are our steel storage tanks. Perfect for use in rainwater harvesting, fire suppression, or gray water storage, these tanks provide a durable exterior for underground or above ground liquid storage. These tanks have been used for a variety of applications:
Fire Suppression Tanks
Below Ground Water Storage
Above Ground Storage
See more about Non-Potable Water Corrugated Tanks.
Flexible Storage Tanks
Looking for something with added flexibility? A gray water pillow tank can be an excellent choice to meet your project needs! Made from a flexible fabric that is equipped to store anywhere from 25 to 210,000 gallons, these tanks are an easy way to store water in height restricted areas, temporary storage spaces, and industrial locations. See our page on a 150 gallon flexible tank for non potable water. Other uses include:
Temporary Water Storage
Low Profile Storage
Outdoor Water Storage
Under Deck Storage
View more Above Ground Water Storage Tanks.
Plastic Storage Tanks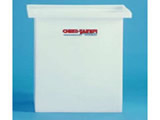 Another favorite for water storage are the plastic water storage tanks. Made in a range of designs and models (including horizontal, vertical, elliptical, open top, and many more), these tanks are well-equipped to store, mix and contain liquids.

If you have questions about our non-potable tanks for sale, give our sales team a call at 1-863-261-8388 or request a price quote.