Mobile Power Trailer 3-in-1 Combo
Generator, Light Tower Trailer & Water on Site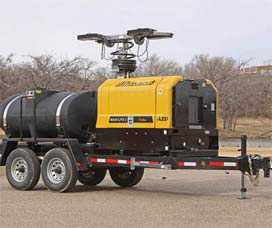 If your project requires power for vital equipment or tools, lighting for early morning or night work, and water on demand, then you need this Mobile Power Trailer. This efficient water and power trailer plus light tower trailer combo supplies up to 320 hours of power and light on one tankful of fuel. This portable water storage trailer also totes 500 gallons of potable water to the jobsite in one convenient, DOT-compliant package.
Why buy 3 separate trailers? Delivered fully assembled, add diesel and water and tow it to any worksite accessible by truck. See additional sizes: Water Trailer Selection.
Looking for other features? We have an assortment of water trailer vendors with an extensive offering of styles, sizes, and components at exceptional pricing. All capacities listed are for use with water storage. We ship from warehouses across the U.S. and our team will work with you to provide the equipment that fits your needs, delivered within the time frame that you need it. Contact Us for information on other liquid storage options.
Mobile Power Trailer Features

Diesel Generator – Allmand 15kW
26'8" Light Tower with 4 320-watt LED fixtures
7 outlets 20 AMP/120V to 50 AMP/240V
Up to 500 gallons potable-rated water

Mobile Power Trailer Benefits

Use the best tool for the job – 20-60 AMP; 120-240 V
Spend less time hauling equipment
Transport anywhere a truck can tow it – on or off road
Gives your crew mobile power, light & water to get the job done
Mobile Power Trailer Details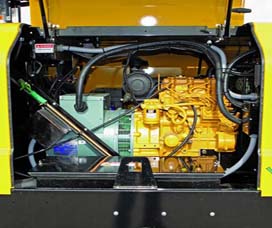 This power/water/light tower trailer is your self-contained, portable jobsite solution. Realize cost savings with this 3-in-1 piece of equipment. In addition to generating power and light, you'll have up to 500 gallons of water available on demand. All related components are rated for potable water. This water trailer keeps your project and your people well-hydrated! The Mobile Power Trailer supplies you with the resources needed to get the job done, no matter how remote the site is.
The 15 KW Allmand generator and Caterpillar C1.5 Turbo T4F engine produce all the electricity your project demands. A variety of 120- and 240-volt outlets provide power for any tool or equipment needed.
The 240-gallon diesel tank is mounted right to the trailer. Each tankful of fuel can provide more than 300 hours of mobile power and light to any job site accessible by road. DOT compliance features include breakaway chain, surge lights, and other safety measures.
Water and Power Trailer System Assets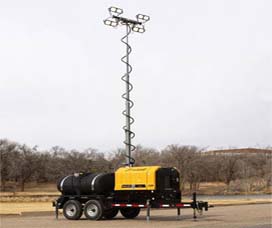 The 25' Lighting Tower features 4 x 320-watt, long-lasting LED lighting fixtures to keep progress going in low-light conditions. Step, handholds and slip-resistant treads provide easy and safe access to the light tower mast. Simply adjust the trailer's drop-leg jack and outrigger jacks for maximum stability.
The pressure tank system reduces pump cycling and keeps a constant supply of water flowing. Working in a colder climate? The Optional Freeze Protection Package expands use to multiple seasons.
This 3-in-1 Mobile Power Trailer eliminates the need to have a separate power trailer, water trailer, and light tower trailer to your work site by bringing all 3 in just one compact 19' L x 7' W unit.
Limited manufacturer warranty. Financing options available.
Combo Trailer Specifications
| | |
| --- | --- |
| Weight | 5,240 lbs (Empty) / 11,500 (Full) |
| GVWR (Gross Vehicle Weight Rating) | 14,000 lbs |
| Tandem Slipper Spring Axles | 7,000 lbs axles / 8,000 lbs springs |
| Tires | 235/80R16 |
| Dimensions | 228" L x 83" W |
| Trailer Frame | 7" Channel Iron with Recessed Lights |
| Surge Brakes Actuator | 20,000 lb / 2 5/16" ball or 3" ring |
| Water Tank | 500 Gal (black to protect against algae growth) |
| Water System | Flojet 5 gpm, 110v, 45 psi |
| Freeze Protection | Freeze Protection Package (optional) |
| Pressure Tank | 2 gallon tank for constant pressure |
| Diesel Fuel Tank | 240 gallon |
| Lighting and Tower | 4 x 320 watt LED fixtures, 320" six-section, hydraulically-actuated vertical tower |
| Power System: | Allmand Maxi-Lite II 15kW V-Series |
| Engine: | Caterpillar C1.5 Turbo T4F, liquid-cooled diesel 22.3 hp |
| Generator | 15 kW single-phase 120/240V generator |
| Starting | 12 V electric pre-heat cold starting system |
| Circuits | Hard-wired electrical |
| Outlets | 1 – 60 AMP / main disconnect 2 – 20 AMP / 120V duplex 3 – 30 AMP / 240V 4 wire twist lock 1 – 50 AMP / 240 V / RV Outlet |
Mobile Power Trailer Applications
Whether your project is on construction site, farm, oil or gas drilling site, mining camp, a roadside or part of a disaster relief effort, the 3-in-1 Mobile Water and Power Trailer is for you! Haul less equipment, save space and heighten productivity. Forget toting a separate generator trailer, power trailer and light tower trailer to your job site. Ideal for concrete cutting and finishing, powering temporary office locations, or even RVing "off the grid." Efficient and reliable, the 3-in-1 Mobile Water and Power Trailer is built to DOT specifications. Tow it legally on highways and public roadways, offering maximum flexibility.
See more info here: Water Trailer Combo PDF
Need water on site, but not power, light or pressure-washing capabilities? See our Express 500, 800 or 1,000-gallon water trailers!
For freeze protection for your water trailer or skid, our Water Trailer Heater Blankets are exactly what you need . When cold weather affects the viscosity of fuel, fluids, and other materials you can lose production time, adding additional costs. Power blankets keep your tanks and smaller corrugated/steel tanks at constant temperature, preventing fluids from freezing in extreme conditions. We customize thermal blankets to meet your specific needs, no matter the tank size or shape. Call us today to find out more!
Questions? We can help! Call us at 1-863-261-8388 or request a price quote.

© Copyright Water Storage Containers 2011-2023. All rights reserved.