Galvanized Tanks
Corrugated Water Tank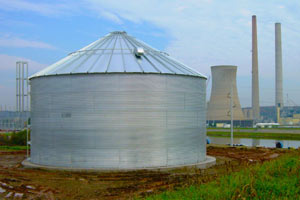 Galvanized tanks are a great solution for large capacity water storage.  Our strong, long-lasting corrugated tanks are corrosion resistant, making them ideal for fire suppression, irrigation, food manufacturing, rainwater harvesting, or fracking. Designed for your specific site requirement and tank application, our corrugated steel tanks come in a variety of dimensions with sizes from 722 gallons to over 600,000 gallons. Our corrugated water tanks include an interior dual liner system for superior leak protection.
Explore financing possibilities for this product; click here to apply for financing!
Approved for wastewater, fire protection, bio-solids, sludge, and more, our steel water storage tanks are perfect for industrial, municipal and industrial projects, Check out our cost effective water storage solution, delivered to your site with up to 20 years warranty. See: Corrugated Water Tank Flyer (pdf)
Features




722 to over 600,000 gallon tanks
Hot Dip Galvanized coating
Corrosion resistant
Durable liner options-NFPA 22 equivalent
Roof options - 0pen top, flat top, inverted and 10 to 30 degrees. Both J rib or V rib available
Concrete, steel and gravel floor options
Up to 20 yr. warranty

Benefits




Large storage capacities
NSF-61 rated flexible liners
Resistant to wind, snow, and seismic activity
Light Weight panels
Extensive applications
Multiple customization options
Extended lifespan from 30-35 years
Easy shipping and cost effective
Check out our Corrugated Steel Water Tanks PDF Flyer to learn more.
Corrugated Tank Accessories & Add-Ons
Partial Guardrails/ Full Guardrails
OSHA Caged Exterior Ladder Systems
Anti Climb for Ladder Rungs and Cage
Deck Access Openings
Side Shell Manways
Catwalks
Roof Cap Walk Around
Frost Free Vents
Bridges and more
ANSI 150# Flanges
Victaulic Groove Steel Flanges
Stainless Steel Threaded Flanges
OSHA Caged Exterior Ladders
Interior Ladders
Site Gauges
Immersion Heaters
Temp Switches, etc.
Galvanized Steel Corrugated Tank Applications
Potable/Non Potable Water Storage
Fire Water Storage
Rain Water Harvesting
Food and Beverage Industries
Secondary Containment
Petroleum Products
Water Treatment
Agriculture
Frac Storage
Feed and Grain Storage
Bulk materials and dry goods
Chemicals Storage
Irrigation
See Corrugated Tank Details & Specs Here:

If you have questions about products, give us a call at 1-863-261-8388 or request a price quote.
Corrugated Water Tanks – Line Drawings
We also use line drawings to inform the tank development process with specific information for engineering, construction and tank completion. Line drawings can include any appurtenance for job-specific safety requirements. See : Individual Tank Line Drawings
How to Install a Corrugated Galvanized Steel Water Tank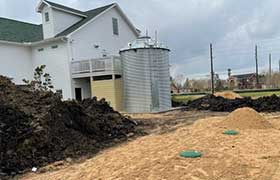 Whether you choose to install your own steel tanks or have our team of experts/technicians install your tank, we are here to support and help you every step of the way. We deliver your corrugated tank, and bolt together panels on your prepared site with poured concrete pad. Although we recommend concrete slabs or pads, steel floors equipped for self-anchoring can be used to meet ASCE7-10 and all AWWA requirements. In special circumstances, our steel tanks are installed on gravel foundations.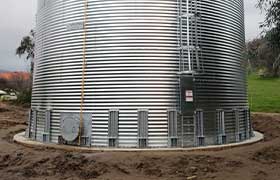 Tank walls are seismically anchored to the foundation as needed and designed on a combination of AISI for bolted joint connections and requirements set forth by AWWA chapter 5. Your chosen roof style is part of the onsite installation. The roof design is evaluated to ASCE 7 and AWWA specifications. Safety appurtenances are also assembled at the site, and can include guardrails, deck access, ladder systems, bridges, catwalks, and more. Visit our 5,000 gallon Water Tanks page for other options.
Use our tank calculator to help you define the usable gallon requirements for your tank.
Find out more about your tank installation here.

If you have questions about products, give us a call at 1-863-261-8388 or request a price quote.