Frac Bladder Tank
Bladder Tanks for Frac Water Storage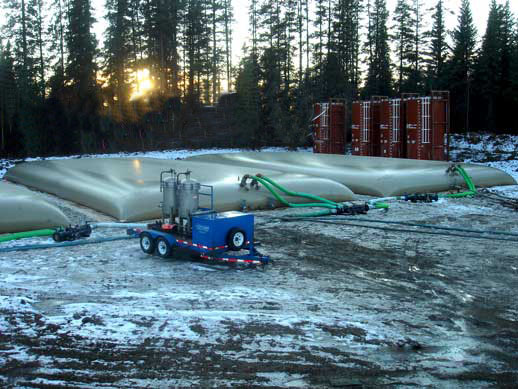 The Frac Bladder Tank is a unique alternative to standard steel frac tanks. Designed to offer larger storage capacities in a single unit these frac water storage tanks are able to store up to 210,000 gallons in a single tank. This increases the effectiveness of your liquid storage, lowers shipping costs and reduces the total amount of tanks needed for each site. Flexible frac tanks are ideal for areas needing to temporarily store oil field site fluids such as frac water, discharge, production fluids and other related liquids.
Due to the demands associated with bulk liquid storage, all bladder frac tanks are constructed from robust fabric options that are able to support the weight and storage capacity of the tank. Standard fabrics include military grade materials and high strength fittings to accommodate demanding liquids.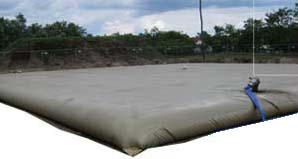 Features:
Military Grade Fabric
5,000 to 210,000 gallons of Storage
Fabric Compatibility Options: Fuel/Hydrocarbons or Water
Lies Flat when Empty
Benefits:
Successfully Handles High and Low Temperatures
Multiple Fabric Options
Stores High Quantities of Liquid in a Single Tank
Folds up for Easy Transport
Lowers Overall Shipping Costs
Typical Applications:
Frac Water Storage
Diesel Fuel Storage
Hydrocarbon Storage
Process Water Storage
Typical Sizing and Specifications

Capacity (gallons/liters)

Length

Width

Height

10,000 gallons
(37,854 liters)
21' (6.4 m)
23' (7 m)
3' (0.9 m)
20,000 gallons
(75,708 liters)
33' (10.1 m)
25' (7.6 m)
3.5' (1.07 m)
50,000 gallons
(189,271 liters)
42' (12.8 m)
43' (13.1 m)
4' (1.2 m)
106,000 gallons
(401,254 liters)
88' (26.8 m)
35' (10.7 m)
5.5' (1.7 m)
125,000 gallons
(567,812 liters)
58' (17.7 m)
59' (18 m)
5' (1.5 m)
210,000 gallons
(794,936 liters)
75' (22.8 m)
73' (22.25 m)
6' (1.8 m)
How Does a Frac Bladder Tank Compare to Steel Tanks?
Due to the large, flexible nature of these materials, frac bladder tanks are an economical alternative to the standard steel tank. Rather than using several 500 BBL steel frac tanks, sites are able to store over 2000 BBL in a single storage unit. This reduces the amount of frac tanks needed on your site, reducing shipping costs and setup times.
© Copyright GEI Works 2011-2019. All rights reserved.
GEI Works is a global solutions provider offering our expertise and products to the following states, countries, territories and provinces:

States:

Alabama, AL | Alaska, AK | Arizona, AZ | Arkansas, AR | California, CA | Colorado, CO | Connecticut, CT | Delaware, DE | Florida, FL | Georgia, GA | Hawaii, HI | Idaho, ID | Illinois, IL | Indiana, IN | Iowa, IA | Kansas, KS | Kentucky, KY | Louisiana, LA | Maine, ME | Maryland, MD | Massachusetts, MA | Michigan, MI | Minnesota, MN | Mississippi, MS | Missouri, MO | Montana, MT | Nebraska, NE | Nevada, NV | New Hampshire, NH | New Jersey, NJ | New Mexico, NM | New York, NY | North Carolina, NC | North Dakota, ND | Ohio, OH | Oklahoma, OK | Oregon, OR | Pennsylvania, PA | Rhode Island, RI | South Carolina, SC | South Dakota, SD | Tennessee, TN | Texas, TX | Utah, UT | Vermont, VT | Virginia, VA | Washington, WA | West Virginia, WV | Wisconsin, WI | Wyoming, WY

Countries, Territories and Provinces:

Malaysia, MY | Indonesia, ID | Antigua and Barbuda, AG | Bahamas, BS | Barbados, BB | Belize, BZ | British Virgin Islands, VG | Cayman Islands, KY | Dominican Republic, DO | Grenada, GD | Haiti, HT | Jamaica, JM | Montserrat, MS | Puerto Rico, PR | Saint Lucia, LC | Saint Vincent and the Grenadines, VC | Trinidad and Tobago, TT | Turks and Caicos Islands, TC | United States, US | US Virgin Islands, VI | Mexico, MX | Campeche, CM | Quintana Roo, QR | Yucatan, YU | Central and South America | Canada, CA | Alberta, AB | British Columbia, BC | Manitoba, MB | New Brunswick, NB | Newfoundland and Labrador, NL | Northwest Territories, NT | Nova Scotia, NS | Nunavut, NU | Ontario, ON | Prince Edward Island, PE | Quebec, QC | Saskatchewan, SK | Yukon, YT