Commercial Water Storage Tanks
Bulk Water Tank
Commercial water storage tanks are great solutions for water storage, fire suppression, agriculture uses, wastewater and more, as well as keeping water costs under control. Available in a range of sizes and models, our tanks are used as collection tanks, irrigation water supply, and for commercial storage.
Questions about commercial water storage tanks? We can help! Call us at 1-863-261-8388.

---
Choosing a Commercial Water Storage Tank
Choosing the right commercial water storage tank is essential to your project. Determining your storage needs, available space, and tank location are important factors in deciding which tank is best for you. We offer corrugated bolted, stainless steel tanks, plastic poly tanks, fiberglass tanks and oil tanks. Below are overviews of some of the most commonly used commercial storage and collection tanks, along with their main features. Let us help you find the perfect tank for your specific project and location.
Corrugated Bolted Steel Tanks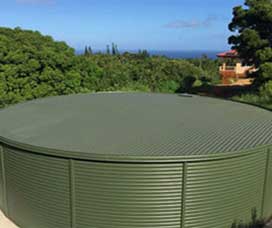 Corrugated bolted steel tanks are ideal for use in long-term collection, storage, and reuse. Our durable tanks are built to AWWA approved standards, as are our other water storage tanks. Corrosion resistant panels and flexible heavy membrane liners are designed with galvanized zinc, making them perfect for fire protection, wastewater, bio-solids, and water storage. Multiple roof style options are available. Our corrugated bolted steel tanks lower cost and have an unprecedented warranty.
Corrugated Water Tank Features
Store liquids for manufacturing, industrial or commercial use
Meets AWWA D103-09 and NFPA 22 standards
Drinking water never touches metal
Store bulk materials and dry goods
For water storage, fire protection, wastewater, bio-solids, sludge, and more
Stainless Steel Storage Tanks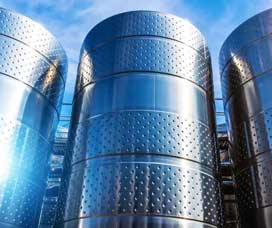 Made from the finest stainless steel, our storage tanks are used by wineries, agriculture, food & beverage, chemical, wastewater, and potable water industries. Available in single and double-walled tanks, flat bottom, cone bottom, and more. Made for not only commercial applications, but also for residential drinking water. Tanks meet API, EPA and FDA standards. Custom tanks are also available.
Stainless Steel Storage Tank Features
Single or double wall
Meet API, EPA, and FDA standards
For water, chemicals and fertilizer storage
Use for food and beverage industries and pharmaceuticals
Available in cone-bottom
Plastic Poly Water Tanks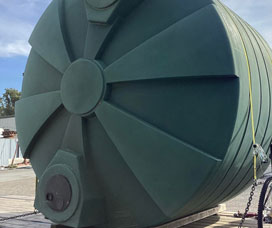 Plastic poly water tanks are designed for durable, above ground storage for water or chemicals. Long-lasting and able to handle temperature and weather changes, they are ideal for both indoor and outdoor use. Our vertical poly tanks are seamless and watertight, resistant to both rust or corrosion. Made from 100% virgin resin, our plastic tanks meet FDA requirements for potable water storage. Ideal for septic, pest control, water or fertilizer storage, or as chemical containers for mixing. Available in wide range of sizes and models.
Plastic Poly Water Tank Features
Durable, long-lasting construction
Available in 10 gallons to 20,000 gallons
Storage of water and other liquids
Meets FDA requirements for potable water
Additional fittings available
View all our Plastic Poly Water Tanks.
Fiberglass Storage Tanks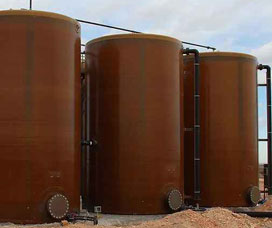 Fiberglass storage tanks are durable and long lasting. Fiberglass tanks don't expand or crack over time, so they are able to withstand rain, wind, sand, and sunlight, without deteriorating. Tanks can be used for drinking water, chemicals, fire suppression water, greywater, and more. Filters for safe drinking water are available, Ask about our underground fiberglass tank options.
Fiberglass Storage Tank Features
Made from fiberglass
Exterior gel-coated
High strength-to-weight ratio
Generally, no gravel ring or slab is required
Resins built to match your specific application
Oil and Fuel Storage Tanks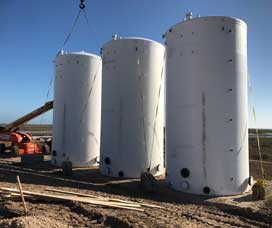 Oil and fuel tanks are built from welded steel to meet API specifications. Tanks are safe for storing surplus hydrocarbons for oil refineries, agricultural sites, construction, and other industries. Designed for above ground fuel and oil storage, tanks meet API 12-F specification and CFR section 49 CFR 195.264(b)(1). Available in 4,200 gallons to 31,500 gallons. Customize with optional walkways, fittings, and hatches.
Made with welded steel
For a variety of oil and hydrocarbons
Available in 4,200 to 31,500 gallons
Appropriate for diesel storage
Meet API specifications
Additional safety options available
Cone Bottom Bulk Tanks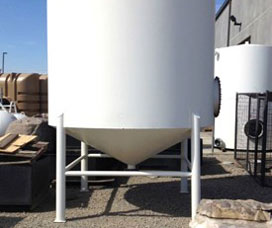 Poly, cone bottom tanks are used to store large amounts of water for extended periods of time. Tanks are constructed of high-quality, chemical resistant materials.They are built to withstand the most extreme conditions, making them ideal for ag water storage, liquid fertilizer mixing tank, landscaping uses, and more. Our cone bottom tanks are 100% drainable, providing the perfect choice for temporary municipal water storage of potable or non potable.water. Available in a multiple sizes.
Cone Bottom Tank Features
Durable poly resin, cone bottom tank
100 percent drainable
Large capacity
Easy location placement
Resin complies with U.S. FDA regulations
High impact and chemical resistant
We sell a wide variety of custom plastic tanks that can be customized to your specifications. You can choose from different colors, designs, and sizes to make your tank unique and perfect for you! Please feel free to visit our Custom Plastic Tanks page to learn more about our products and services.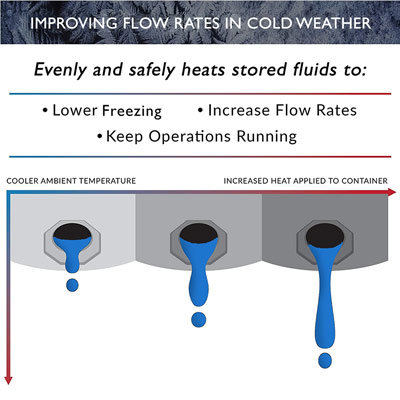 We offer Custom Tank Blanket Heaters for tank freeze protection. When cold weather affects the viscosity of fuel, fluids, and other materials you can lose production time, adding additional costs. Power blankets keep your tanks and smaller corrugated/steel tanks at constant temperature, preventing fluids from freezing in extreme conditions. We customize thermal blankets to meet your specific needs, no matter the tank size or shape. Call us today to find out more!
If you have questions about commercial water storage tanks give us a call at 1-863-261-8388 or request a price quote.