Trailer Mounted Water Tank
---
Trailer Mounted Water Tank
For Arenas, Farms, and Dust Control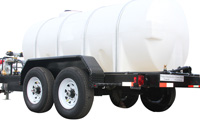 The Arena Trailer Mounted Water Tank is a complete spray system designed to help with washing, spray jobs and cleaning requirements around arenas. Great for dirt packing, disinfecting stalls and dust control, water trailers can be a useful addition to any arena or farm.
Each arena trailer comes with a large plastic tank, trailer and necessary spray equipment including pumps, hoses, and spray bars. Standard sizing includes either a 500 or 1025 gallon tank depending on your requirements.

If you have questions about these products, give us a call at +1-772-646-0597 or request a price quote. *Ask us about financing options!
Features:
Tank Options: 500 or 1025 gallon Poly Tank
6" Channel Iron Frame
Honda Engine with pump
Included Items:

2" x 20' Suction Fill Hose with Screen
1 1/2" x 25' Fire Hose and Nozzle
Back Spray Bar
Benefits:
Multi-Purpose Trailer
Includes All Necessary Spray and Transportation Equipment
High Rated Poly Storage Tank
Easy to Move and Transport Liquid
Suppresses Dust, Waters Livestock, and Cleans out Stalls

Typical Applications:
Dirt Packing before Events
Dust Suppression
Stall Cleaning and Spraying
Disinfecting Stalls or Alleys
Livestock Washing or Watering

Arena Trailer Mounted Water Tank Technical Specifications

Tank
1025 gallon Leg
500 gallon Elliptical
Length
200"
148"
Height
82"
64"
Width
80"
78"
Weight
1800 lbs.
850 lbs.
Frame
6" Channel Iron
(non DOT Trailer)
6" Channel Iron
(non DOT Trailer)
Axles
Tandem Torsion Spring
Single Torsion Spring
Tandem Axle Rating
1400 lbs.
5200 lbs.
Wheels
15" x 8"
6 hole
4.62" Hole Pattern
15" x 8"
6 hole
4.62" Hole Pattern
Wheel Track
68"
67"
Brakes
none
none
Tires
11L-15
11L-15
Included with all

-2" Banjo Poly Pump
-Honda Engine
-Galvanized Spray Bar
-2" x 20' Fill Hose with Suction Screen
-1 1/2" x 25' Fire Hose and Nozzle
-Ratchet Ball Valve

Water Trailer Options: The Trailer Mounted Tank is one of many units designed to provide safe and effective water transportation. Additional models include:
500 gallon Water Trailer
800 gallon Water Trailer
1025 gallon Water Trailer
1600 gallon Water Trailer
For more options, check out our complete Trailer Mounted Water Tank Variety.
---
© Copyright GEI Works 2011-2018. All rights reserved.
GEI Works is a global solutions provider offering our expertise and products to the following states, countries, territories and provinces:

States:

Alabama, AL | Alaska, AK | Arizona, AZ | Arkansas, AR | California, CA | Colorado, CO | Connecticut, CT | Delaware, DE | Florida, FL | Georgia, GA | Hawaii, HI | Idaho, ID | Illinois, IL | Indiana, IN | Iowa, IA | Kansas, KS | Kentucky, KY | Louisiana, LA | Maine, ME | Maryland, MD | Massachusetts, MA | Michigan, MI | Minnesota, MN | Mississippi, MS | Missouri, MO | Montana, MT | Nebraska, NE | Nevada, NV | New Hampshire, NH | New Jersey, NJ | New Mexico, NM | New York, NY | North Carolina, NC | North Dakota, ND | Ohio, OH | Oklahoma, OK | Oregon, OR | Pennsylvania, PA | Rhode Island, RI | South Carolina, SC | South Dakota, SD | Tennessee, TN | Texas, TX | Utah, UT | Vermont, VT | Virginia, VA | Washington, WA | West Virginia, WV | Wisconsin, WI | Wyoming, WY

Countries, Territories and Provinces:

Malaysia, MY | Indonesia, ID | Antigua and Barbuda, AG | Bahamas, BS | Barbados, BB | Belize, BZ | British Virgin Islands, VG | Cayman Islands, KY | Dominican Republic, DO | Grenada, GD | Haiti, HT | Jamaica, JM | Montserrat, MS | Puerto Rico, PR | Saint Lucia, LC | Saint Vincent and the Grenadines, VC | Trinidad and Tobago, TT | Turks and Caicos Islands, TC | United States, US | US Virgin Islands, VI | Mexico, MX | Campeche, CM | Quintana Roo, QR | Yucatan, YU | Central and South America | Canada, CA | Alberta, AB | British Columbia, BC | Manitoba, MB | New Brunswick, NB | Newfoundland and Labrador, NL | Northwest Territories, NT | Nova Scotia, NS | Nunavut, NU | Ontario, ON | Prince Edward Island, PE | Quebec, QC | Saskatchewan, SK | Yukon, YT