Rainwater Collection Tanks
Dependable Rain Water Collection and Storage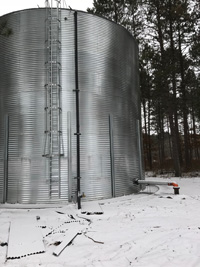 Rainwater Collection Tanks are a dependable option for any home, business or farm looking to minimize water costs through rain water harvesting and storage. Rainwater collection tanks come in several sizes ranging from 785 to 463,000 gallons. All Corrugated Water Tanks are shipped at 1% of their assembled size in pre-fabricated pieces for on-site installation, reducing your shipping costs.
Rainwater Collection Kits Include:
Tank Shell/Exterior
Potable Water Interior Liner
4" Overflow Flange Kit
2" Outlet Flange Kit
16" Inlet Strainer Basket
Seal Kit for Insects and Debris
Anchors
Geotextile Underlay
Benefits:
Self-Sufficient Water Supply
Drinking Water Approved Interior Liner
Long-Lasting, Durable Design
Water Tight
Interior Liner Rather than Steel-to-Water Storage
Eave Height Under 8' for Easy Flow from Gutters into Tank
Debris Screens and Sealers to Help Keep Water Clean
Fittings for Easy Connection to Pumps
USA Made
20 Year Warranty
Wind Rated at 165 mph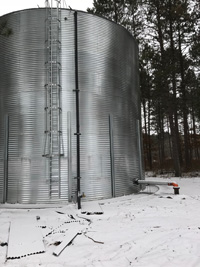 Who Uses Rainwater Tanks?
Rainwater Collection Tanks can be used by anyone from homeowners to industrial businesses. While they are most commonly used in rural locations, areas with limited access to city water or those prone to droughts, rainwater tanks can be a used to lower water bills and provide extra water supply to a variety of applications. These corrugated tanks can also be used for dual use domestic water storage and fire suppression water storage, which maximizes the overall value of the tank. Please visit our dual-use corrugated tank page for more information.
Rainwater Collection Tank Uses: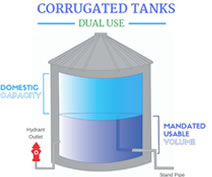 Rainwater Irrigation
Home Utility Water Supply
Rainwater for Toilets
Custodial Services
Vehicle Washing
Laundromats
Live-stock Watering
Fire Suppression
Drinking Water Storage
Water for Businesses/Facilities

How it Works: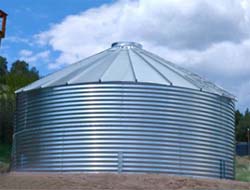 Corrugated Rainwater Collection Tanks are designed and shipped with an interior liner, corrugated metal sheets and a roof as well as many other custom components and accessories.
When the tank arrives it will be in several different pieces that must be assembled and installed once on site. This design lowers your overall shipping costs and makes the field erect tank easier to maneuver and handle. Corrugated tanks are then built layer by layer
with a liner running along the interior of the tank.
Rainwater Collection Tank Sizes
Determining the right tank size for your location is dependent on several different factors including anticipated rainfall and anticipated water use for your household or business. For most locations standard rainfall amounts can be found through historical weather data services. You can use the Water Collection Calculator for reference. If you are in a location that deals with frequent periods of low rainfall it is typically recommended that your rainwater collection tank is able to hold enough water to successfully get you through these periods of time.
Corrugated Rainwater Collection Tanks Technical Specifications

Volume
(gallons/liters)


Diameter

Eave Height

Total Height

3553 G (13450 L)

9'(2.7m)

7'3"(2.2m)

9'7"(2.9m)

6239 G (23617 L)

12'(3.7m)

7'3"(2.2m)

10'9"(3.3m)

9692 G (36688 L)

15'(4.6m)

7'3"(2.2m)

11'8"(3.6m)

18900 G (71544 L)

21'(6.4m)

7'3"(2.2m)

13'4"(4.1m)

24655 G (93329 L)

24'(7.3m)

7'3"(2.2m)

14'3"(4.3m)

31178 G (118022 L)

27'(8.2m)

7'3"(2.2m)

14'6"(4.4m)

38468 G (145617 L)

30'(9.1m)

7'3"(2.2m)

15'5"(4.7m)

55349 G (209519 L)

36'(11m)

7'3"(2.2m)

17'1"(5.2m)

*Eave Height is measured from the ground to the top of the tank wall, excluding the roof. Total height is measured from the ground to the top of the tank roof.