Flexible Water Tanks
Small Capacity Water Bladder Tanks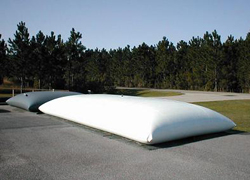 Flexible Water Tanks are one of the easiest ways to store potable or non-potable water around your site, business, facility or home. Starting in sizes as small as 25 gallons, these water bladder tanks have been used for drinking water storage, emergency water supply, and bulk irrigation water storage.
As their name suggests, bladder tanks are one of the most flexible water storage options for liquid around your site. Also known as pillow tanks, these water storage bladders can be constructed in standard sizes or in custom sizes based on your available storage location. Typical fabrics include those that can accommodate potable water, non-potable water and various chemicals.
Flexible Water Bladder Tanks
Flexible water tanks are the perfect choice for water applications involving the storage and collection of water.
Flexible Drinking Water Tank Applications
Rainwater Collection
Emergency Water Storage for Hospitals, Facilities, and Businesses
Residential Water Storage
Drinking Water Storage
Construction Site Water Storage (drinking water or process water)
Water Storage for Mining or Industrial Sites
When used for rainwater collection, small bladder tanks are commonly set up to through the downspout or stored around in your location for setup and use during emergencies. Large bladder tanks have also been used for bulk water storage in residential and business applications.


Drinking Water Flexible Tanks
(FDA and NSF 61 Fabrics)

Non-Potable Drinking Water Tanks

Drinking Water Tanks are designed with FDA and NSF 61 fabrics to safely contain potable water for the duration of their use.
Non-Potable Water Tanks are the perfect choice for any type of water other than drinking water. Tanks are robust in nature and designed to accommodate various non potable liquids.
Flexible Tank Technical Specifications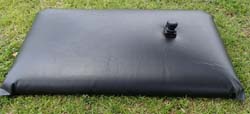 Dimensions for each flexible water tanks may vary depending on the type of water you are looking to store and the type of fabric used for the tank. Please do not hesitate to contact us with specific sizing or fitting requirements.
Standard Fittings: (2) 2" bulkhead fittings with nipple and cap
Flexible Tank Technical Specifications

Capacity

Filled Tank Sizing (W x L x H)

25 gallons
2' x 3' x 8"
50 gallons
3' x 4.3' x 9"
75 gallons
3.5' x 4.5' x 9"
100 gallons
4' x 5.5' x 9"
150 gallons
5' x 5' x 12"
250 gallons
7' x 5' x 14"
275 gallons
6' x 6.6' x 16"
300 gallons
7' x 5.5' x 14"
500 gallons
7' x 9' x 16"
600 gallons
10' x 7' x 16"
700 gallons
9.5' x 8.25' x 16"
800 gallons
6' x 10' x 24"
900 gallons
6' x 11' x 24"
1,000 gallons
9' x 11' x 16"
1,500 gallons
12' x 14' x 18"
2,000 gallons
10.5' x 14.5' x 22"
2,500 gallons
12' x 14.5' x 24"
3,000 gallons
13.5' x 15' x 24"
4,000 gallons
14' x 18' x 27"
5,000 gallons
15.5' x 19.5' x 27"
In addition to the small bladder tank sizing found on this page, we also offer several additional Collapsible Bladder Tanks in sizes as large as 210,000 gallons! This includes standard sizing options such as 10,000 gallons, 20,000 gallons, 25,000 gallons and 50,000 gallon models as well as custom water storage tanks.