Berm Liner
Spill Containment Berm Liners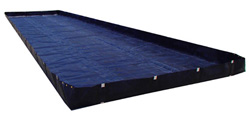 Berm Liner (also known as the spill berm or containment berm) is an economical way to contain spills, control leaks and protect the bottom of tanks from abrasion. Often used in combination with water bladders, storage vessels or large storage tanks, these berms form a flexible containment area both underneath and around your storage vessel. In the event of a leak or spill, berms will work to keep liquids contained. This prevents spills from spreading, leaking or contaminating the surrounding storage area.
Berm liners are available with a several different wall options including aluminum L bracket walls, foam walls or self-rising drive through walls. A variety of berm fabrics are also available to match the containment liquid of your tank.
Features:
Liner Options: LLDPE, Polyurethane, XR-5, Elvaloy
Wall Options: Foam Wall, Self Rising Walls, L Bracket Walls
Standard or Custom Sizes

Benefits:
Portable for Transport to a Needed Location
Flexible Wall and Liner Options
Made to Any Size Required
All-in-One Abrasion and Spill Protection
Large Containment Capacities
High Resistance to Water and Chemicals
Equipped for Containment of Spilled Liquids
Quick Setup on Site
Easy to Use, Move and Reuse

Typical Applications:
Water Bladder Storage
Frac Tank Containment
Chemical Tank Containment
Drum Storage
Liquid Vessel Storage
Abrasion Protection
Leak and Spill Control
Berm Liner Typical Specifications


Wall Options
Liner Options
Sizing
(W x L x H)


Aluminum Angle Walls:
Standard Wall Height of 1 ft.

Foam Walls:
Standard Wall Height of 4"

Combination
(Bracket/Self-Rising Foam):
Standard Wall Height of 1 ft.




LLDPE
XR-5
Elvaloy
Polyurethane
8' x 8'
10' x 10'

10' x 24'

12' x 12'
12' x 20'
12' x 26'
12' x 36'
12' x 50'
12' x 60'
12' x 70'
14' x 45'
14' x 54'
15' x 66'

Spill Containment Berm Options: Each spill berm is designed with different wall options, liner options and sizing options to meet different needs on your site. While each berm requires a different deployment/installation method, all berms are portable, making them easy to transport from one location to the next.
Spill Berms and Water Storage Bladders
In other instances, use of a spill berm serves the dual purpose of both containment spills and preventing abrasion. One of the most common uses of these liners is in combination with a Water Storage Bladder. Due to the flexible nature of these tanks, having an extra layer of protection at the bottom liner can help contain materials and extend the lifespan of your unit.
---
© Copyright GEI Works 2011-2018. All rights reserved.
GEI Works is a global solutions provider offering our expertise and products to the following states, countries, territories and provinces:

States:

Alabama, AL | Alaska, AK | Arizona, AZ | Arkansas, AR | California, CA | Colorado, CO | Connecticut, CT | Delaware, DE | Florida, FL | Georgia, GA | Hawaii, HI | Idaho, ID | Illinois, IL | Indiana, IN | Iowa, IA | Kansas, KS | Kentucky, KY | Louisiana, LA | Maine, ME | Maryland, MD | Massachusetts, MA | Michigan, MI | Minnesota, MN | Mississippi, MS | Missouri, MO | Montana, MT | Nebraska, NE | Nevada, NV | New Hampshire, NH | New Jersey, NJ | New Mexico, NM | New York, NY | North Carolina, NC | North Dakota, ND | Ohio, OH | Oklahoma, OK | Oregon, OR | Pennsylvania, PA | Rhode Island, RI | South Carolina, SC | South Dakota, SD | Tennessee, TN | Texas, TX | Utah, UT | Vermont, VT | Virginia, VA | Washington, WA | West Virginia, WV | Wisconsin, WI | Wyoming, WY

Countries, Territories and Provinces:

Malaysia, MY | Indonesia, ID | Antigua and Barbuda, AG | Bahamas, BS | Barbados, BB | Belize, BZ | British Virgin Islands, VG | Cayman Islands, KY | Dominican Republic, DO | Grenada, GD | Haiti, HT | Jamaica, JM | Montserrat, MS | Puerto Rico, PR | Saint Lucia, LC | Saint Vincent and the Grenadines, VC | Trinidad and Tobago, TT | Turks and Caicos Islands, TC | United States, US | US Virgin Islands, VI | Mexico, MX | Campeche, CM | Quintana Roo, QR | Yucatan, YU | Central and South America | Canada, CA | Alberta, AB | British Columbia, BC | Manitoba, MB | New Brunswick, NB | Newfoundland and Labrador, NL | Northwest Territories, NT | Nova Scotia, NS | Nunavut, NU | Ontario, ON | Prince Edward Island, PE | Quebec, QC | Saskatchewan, SK | Yukon, YT