1000 Gallon Water Tank Trailer
---
1000 Gallon Water Tank Trailer
Express 1000 Gallon Water Trailer - DOT Approved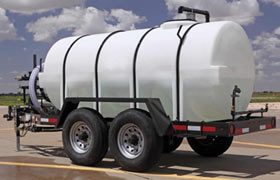 The Express 1000 Gallon Water Tank Trailer is perfect for those larger projects on your job site, farm, or arena. With a high-strength poly tank and 4 HP Honda gasoline engine, you'll be able to control the force and range of your water flow with enough water to handle any job.
A Big Tank for a Big Job
Whether it's watering or dust suppression on a large job site or farm, or using it as an arena water sprayer, the Express 1000 Gallon Water Tank Trailer can handle the job. Some of the ways you can use the 1000 gallon water tank trailer include:
• Dust Control
• Washing Stalls
• Disinfecting Alleys

• Agricultural Use
• Watering Vegetation
• Washing Seating Areas
Making the Job Easier
The Express 1000 Gallon Water Ta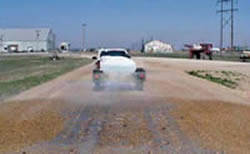 nk Trailer includes several features designed for making watering tasks easier, even with a larger trailer. The side-wind jack simplifies raising the trailer when attaching to your vehicle and is easy to turn. The galvanized spray bar with a 25-inch swath allows you to water on the go for faster and easier application. In addition to the features designed for the larger trailer, it also includes those standard on trailer-mounted water tanks, such as tandem surge brakes to help the trailer brake with your vehicle, DOT approval to allow for use on public roads, and a 4 HP Tsurumi aluminum pump with a Honda engine for a faster, superior performance.
Water Tank Trailer Features:
Tandem Surge Brakes
Diamond-Tread Fenders
LED Lights (DOT Approved)
8' to 25' Adjustable Width Swath Spray Bar with Flood Nozzles
2"x4 HP Tsurumi Aluminum Pump with Honda Engine
140 GPM with Galvanized Fittings

Inlet and Outlet Manifold Kit
Side Wind Jack

Suction Hose to Fill Tank from Ponds
16" Tires on E-Z Lube Hubs with 8 Lugs
14,000 lbs Gross Vehicle Weight Rating (GVWR)
For a complete listing of specifications, please see: 1000 Gallon Water Tank Trailer (pdf).
Fill Your Trailer Mounted Water Tank with Ease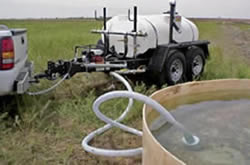 The Express 1000 Gallon Water Tank Trailer features easy filling of the water tank from hydrants, ponds, or water pits, with a 20-foot suction hose. The white tank allows you to see the water levels to assist in filling and increases awareness when you're running low.
There are two easy ways of filling your tank:
2" Anti-Siphon Fill Tube
Drawing Water Through the Pump
Questions about Water Tank Trailers? Call us at: +1-772-646-0597

Note: If you're looking for a water trailer with virtually unlimited customizable options, our Argo Water Trailers may be the answer.
You can also view all our water trailers on the Portable Water Tanks main page.
---
© Copyright GEI Works 2011-2018. All rights reserved.
GEI Works is a global solutions provider offering our expertise and products to the following states, countries, territories and provinces:

States:

Alabama, AL | Alaska, AK | Arizona, AZ | Arkansas, AR | California, CA | Colorado, CO | Connecticut, CT | Delaware, DE | Florida, FL | Georgia, GA | Hawaii, HI | Idaho, ID | Illinois, IL | Indiana, IN | Iowa, IA | Kansas, KS | Kentucky, KY | Louisiana, LA | Maine, ME | Maryland, MD | Massachusetts, MA | Michigan, MI | Minnesota, MN | Mississippi, MS | Missouri, MO | Montana, MT | Nebraska, NE | Nevada, NV | New Hampshire, NH | New Jersey, NJ | New Mexico, NM | New York, NY | North Carolina, NC | North Dakota, ND | Ohio, OH | Oklahoma, OK | Oregon, OR | Pennsylvania, PA | Rhode Island, RI | South Carolina, SC | South Dakota, SD | Tennessee, TN | Texas, TX | Utah, UT | Vermont, VT | Virginia, VA | Washington, WA | West Virginia, WV | Wisconsin, WI | Wyoming, WY

Countries, Territories and Provinces:

Malaysia, MY | Indonesia, ID | Antigua and Barbuda, AG | Bahamas, BS | Barbados, BB | Belize, BZ | British Virgin Islands, VG | Cayman Islands, KY | Dominican Republic, DO | Grenada, GD | Haiti, HT | Jamaica, JM | Montserrat, MS | Puerto Rico, PR | Saint Lucia, LC | Saint Vincent and the Grenadines, VC | Trinidad and Tobago, TT | Turks and Caicos Islands, TC | United States, US | US Virgin Islands, VI | Mexico, MX | Campeche, CM | Quintana Roo, QR | Yucatan, YU | Central and South America | Canada, CA | Alberta, AB | British Columbia, BC | Manitoba, MB | New Brunswick, NB | Newfoundland and Labrador, NL | Northwest Territories, NT | Nova Scotia, NS | Nunavut, NU | Ontario, ON | Prince Edward Island, PE | Quebec, QC | Saskatchewan, SK | Yukon, YT
© Copyright GEI Works 2011-2018. All rights reserved.
GEI Works is a global solutions provider offering our expertise and products to the following states, countries, territories and provinces:

States:

Alabama, AL | Alaska, AK | Arizona, AZ | Arkansas, AR | California, CA | Colorado, CO | Connecticut, CT | Delaware, DE | Florida, FL | Georgia, GA | Hawaii, HI | Idaho, ID | Illinois, IL | Indiana, IN | Iowa, IA | Kansas, KS | Kentucky, KY | Louisiana, LA | Maine, ME | Maryland, MD | Massachusetts, MA | Michigan, MI | Minnesota, MN | Mississippi, MS | Missouri, MO | Montana, MT | Nebraska, NE | Nevada, NV | New Hampshire, NH | New Jersey, NJ | New Mexico, NM | New York, NY | North Carolina, NC | North Dakota, ND | Ohio, OH | Oklahoma, OK | Oregon, OR | Pennsylvania, PA | Rhode Island, RI | South Carolina, SC | South Dakota, SD | Tennessee, TN | Texas, TX | Utah, UT | Vermont, VT | Virginia, VA | Washington, WA | West Virginia, WV | Wisconsin, WI | Wyoming, WY

Countries, Territories and Provinces:

Malaysia, MY | Indonesia, ID | Antigua and Barbuda, AG | Bahamas, BS | Barbados, BB | Belize, BZ | British Virgin Islands, VG | Cayman Islands, KY | Dominican Republic, DO | Grenada, GD | Haiti, HT | Jamaica, JM | Montserrat, MS | Puerto Rico, PR | Saint Lucia, LC | Saint Vincent and the Grenadines, VC | Trinidad and Tobago, TT | Turks and Caicos Islands, TC | United States, US | US Virgin Islands, VI | Mexico, MX | Campeche, CM | Quintana Roo, QR | Yucatan, YU | Central and South America | Canada, CA | Alberta, AB | British Columbia, BC | Manitoba, MB | New Brunswick, NB | Newfoundland and Labrador, NL | Northwest Territories, NT | Nova Scotia, NS | Nunavut, NU | Ontario, ON | Prince Edward Island, PE | Quebec, QC | Saskatchewan, SK | Yukon, YT