1000 Gallon Water Tank Trailer
DOT-Compliant Express Arena Water Sprayer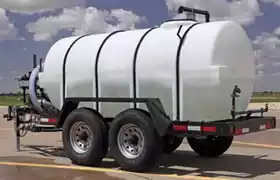 The express 1000 gallon water tank trailer is perfect for those larger projects on your job site, farm, or arena. With a high-strength poly tank and 4 HP Honda gasoline engine, you'll be able to control the force and range of your water flow with more than enough water to handle any job.
Whether it's watering or dust suppression on a large job site or farm, or using it as an arena water sprayer, the Express 1000 Gallon Water Tank Trailer can handle the job. Some of the ways you can use the 1000 gallon water tank trailer include:
Dust Control
Washing Stalls
Disinfecting Alleys
Agricultural Use
Watering Vegetation
Washing Seating Areas
Considering financing? Click here to apply for financing options for this product!

Questions about a 1000 gallon water tank trailer? We can help! Call us at 1-863-261-8388 or request a price quote.
Looking for other features? We have an assortment of water trailer vendors with an extensive offering of styles, sizes, and components at exceptional pricing. All capacities listed are for use with water storage. We ship from warehouses across the U.S. and our team will work with you to provide the equipment that fits your needs, delivered within the time frame that you need it. Contact Us for information on other liquid storage options.
Making Dust Control Easier with our Water Tank Trailer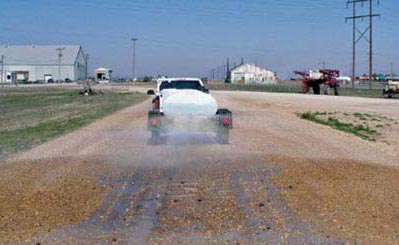 The express 1000 gallon water tank trailer includes several features designed for making watering tasks easier, even with a larger trailer. The side-wind jack simplifies raising the water trailer when attaching to your vehicle and makes it much easier to turn. The galvanized spray bar with a 25-foot swath allows you to water on the go for faster and easier application. In addition to the features designed for the larger trailer, the 1000 gallon water tank trailer also includes those standard on trailer-mounted water tanks, such as tandem surge brakes to help the trailer brake with your vehicle, DOT approval to allow for use on public roads, and a 4 HP Tsurumi aluminum pump with a Honda engine for a faster, superior performance.
1000 Gallon Water Tank Trailer Features
Tandem Surge Brakes
Diamond-Tread Fenders
LED Lights (DOT Compliant)
8' to 25' Adjustable Width Swath Spray Bar with Flood Nozzles
2"x4 HP Tsurumi Aluminum Pump with Honda Engine
140 GPM with Galvanized Fittings
Inlet and Outlet Manifold Kit
Side Wind Jack
Suction Hose to Fill Tank from Ponds
16" Tires on E-Z Lube Hubs with 8 Lugs
14,000 lbs Gross Vehicle Weight Rating (GVWR)
For a complete listing of specifications, please see: 1025 Gallon Water Tank Trailer (PDF).
Fill Your Trailer Mounted 1000 Gallon Water Tank with Ease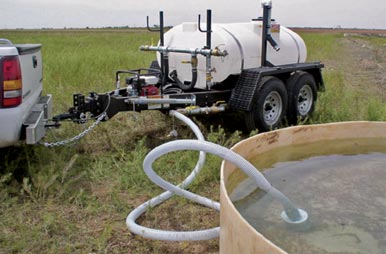 The express 1000 gallon water tank trailer features easy filling of the water tank from hydrants, ponds, or water pits, with a 20-foot suction hose. The white tank allows you to see the water levels to assist in filling and increases awareness when you're running low.
There are two easy ways of filling your water tank:
2" Anti-Siphon Fill Tube
Drawing Water Through the Pump
Note: If you're looking for a water trailer with virtually unlimited customizable options, our Water Trailers may be the answer.
For freeze protection for your water trailer or skid, our Water Trailer Heater Blankets are exactly what you need . When cold weather affects the viscosity of fuel, fluids, and other materials you can lose production time, adding additional costs. Power blankets keep your tanks and smaller corrugated/steel tanks at constant temperature, preventing fluids from freezing in extreme conditions. We customize thermal blankets to meet your specific needs, no matter the tank size or shape. Call us today to find out more!
You can also view all our water trailers on the Portable Water Tank Trailer main page.
Questions about the 1000 gallon water trailer? We can help! Call us at 1-863-261-8388 or request a price quote.