Water Bladder Tank Repair Kit
Fast Collapsible Tank Maintenance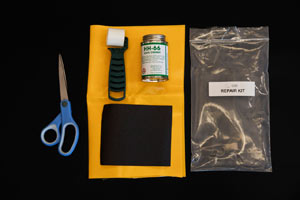 The water bladder tank repair kit is an all-in-one solution for repairing a tank leak quickly on-site. Each vinyl repair kit includes a 1 sq. ft. vinyl repair patch, 4 oz. vinyl cement, sandpaper, scissors, seam roller and resealable storage bag. Simply clean and sand the patch area, apply adhesive, and roll the seams. Seal with more adhesive and your tank is ready to refill.
This kit can help extend the life of your flexible tank. Add a repair kit to your purchase of any Water Storage Containers tank or purchase individually as needed. All vinyl patches are selected to match the fabric being used on your flexible tank. Detailed instructions are provided with each tank repair kit.

If you have questions about the vinyl repair kit, give us a call at 1-863-261-8388 or request a price quote.
Vinyl Repair Kit Included Items
4 oz. Vinyl Cement
Vinyl Patch
Seam Roller

Scissors
Sand Paper
Resealable Bag
Patch Kit Instructions
Water Tank Leak Repair
Use the scissors to cut the right size patch for your tank.. Make sure that the patch covers the entire repair area. The patch should extend at least 2" around each side. Then, using the included sandpaper, abrade the repair area of the tank and the patch so the adhesive will work best. Clean with soap and water or a vinyl-friendly solvent.



Add vinyl adhesive to the repair area. Make sure the glue covers the entire patch and section of the tank requiring repair. Then place the patch on the tank and use the seam roller to remove any air bubbles or wrinkles.



Apply glue around the edges to secure the patch in place and seal the tank. Allow the glue to dry completely before refilling your water bladder.


For detailed step-by-step instructions and pictures, also see the
Vinyl Repair Kit PDF Flyer
.
For more information on how to use these patch kits, please feel free to give us a call at 1-863-261-8388 to speak with a member of the Water Storage Containers team.
Vinyl Repair Kit Benefits
Simple Water Tank Leak Repair
All-in-One Vinyl Repair Kit
Fits in Multiple Areas
Easy to Use
Provides Fast Maintenance for Tanks
Where Can I Use the Vinyl Repair Kit?
Patch repair kits are commonly used for any products that use a flexible vinyl material. This can include any of the following:

If you have questions about the water bladder tank repair kit, give Water Storage Containers a call at 1-863-261-8388 or request a price quote.