---
Water Bladder Tank Repair Kit
Fast and Easy Tank Maintenance Repair Kit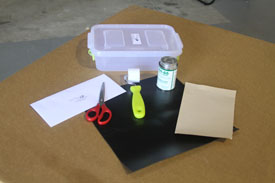 The Water Bladder Tank Repair Kit is a great addition to any water bladder or flexible storage tank. It includes high strength glue, sanding paper, scissors, patch rollers and a tank repair patch. These kits help to quickly address maintenance needs for your water storage tank. While not required, repair kits can help extend the life of your water bladder tank and repair small areas.
Repair Kits can be added to any water bladder tank purchase or can be sold on their own to address small maintenance requirements. All tank repair patches are designed to match the fabric being used on your flexible tank.
Included Items:
High Strength Glue
Tank Fabric Patch (Matches Material Used for your Tank)
Patch Roller

Scissors
Sand Paper
Plastic Exterior Kit Containers
Patch Kit Instructions
How to use the Tank Repair Kit: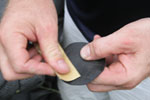 Use the scissors to cut the right size patch for your tank.
(The patch should extend about 2" around each side)


Clean and abrade the repair area.
(Use the sand paper to abrade the area after it has been properly cleaned.)



Add glue to the patch area.
(Two coats should be applied.)



Place the patch on the tank.


Apply glue around the edges to secure the patch in place.
For more information on how to use these patch kits, please feel free to give us a call at 772-646-0597 to speak with a member of our sales team.
Benefits:
Easy Solution for Small Leaks on your Tank
All-in-One Repair Kits
Fits in Multiple Areas
Easy to Use
Provides Fast Maintenance for Tanks
Where can I use the Tank Repair Kit?
Patch repair kits are commonly used for any products that use a flexible material. This can include any of the following:
---
© Copyright GEI Works 2011-2018. All rights reserved.
GEI Works is a global solutions provider offering our expertise and products to the following states, countries, territories and provinces:

States:

Alabama, AL | Alaska, AK | Arizona, AZ | Arkansas, AR | California, CA | Colorado, CO | Connecticut, CT | Delaware, DE | Florida, FL | Georgia, GA | Hawaii, HI | Idaho, ID | Illinois, IL | Indiana, IN | Iowa, IA | Kansas, KS | Kentucky, KY | Louisiana, LA | Maine, ME | Maryland, MD | Massachusetts, MA | Michigan, MI | Minnesota, MN | Mississippi, MS | Missouri, MO | Montana, MT | Nebraska, NE | Nevada, NV | New Hampshire, NH | New Jersey, NJ | New Mexico, NM | New York, NY | North Carolina, NC | North Dakota, ND | Ohio, OH | Oklahoma, OK | Oregon, OR | Pennsylvania, PA | Rhode Island, RI | South Carolina, SC | South Dakota, SD | Tennessee, TN | Texas, TX | Utah, UT | Vermont, VT | Virginia, VA | Washington, WA | West Virginia, WV | Wisconsin, WI | Wyoming, WY

Countries, Territories and Provinces:

Malaysia, MY | Indonesia, ID | Antigua and Barbuda, AG | Bahamas, BS | Barbados, BB | Belize, BZ | British Virgin Islands, VG | Cayman Islands, KY | Dominican Republic, DO | Grenada, GD | Haiti, HT | Jamaica, JM | Montserrat, MS | Puerto Rico, PR | Saint Lucia, LC | Saint Vincent and the Grenadines, VC | Trinidad and Tobago, TT | Turks and Caicos Islands, TC | United States, US | US Virgin Islands, VI | Mexico, MX | Campeche, CM | Quintana Roo, QR | Yucatan, YU | Central and South America | Canada, CA | Alberta, AB | British Columbia, BC | Manitoba, MB | New Brunswick, NB | Newfoundland and Labrador, NL | Northwest Territories, NT | Nova Scotia, NS | Nunavut, NU | Ontario, ON | Prince Edward Island, PE | Quebec, QC | Saskatchewan, SK | Yukon, YT