Drinking Water Trailer
1000 Gallon Drinking Water Hauling Trailer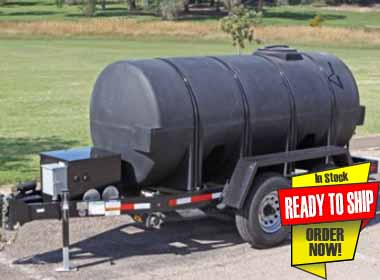 This drinking water trailer can deliver potable water to locations like RV parks, mobile offices, construction sites, campsites, and many more. With a 1,025 gallon black, algae-resistant tank, hauling clean, reliable drinking water has never been more of a reality. The water hauling trailer has a 22 gpm pump, delivering on-demand water—supplying up to 4 units with constant, pressurized liquid. With the pump and plumbing, you get an insulated and thermostat-controlled protection system to keep the water from freezing over. For smaller jobs, the 800 gallon potable water trailer is also available. If you don't need the trailer to be potable water rated, our 1000 Gallon Express Trailer might be the solution you're looking for.

Interested in our drinking water trailer? We're ready to walk you through all the details. Give our sales team a call at 1-863-261-8388 or request a price quote through our webform.
Looking for other features? We have an assortment of water trailer vendors with an extensive offering of styles, sizes, and components at exceptional pricing. All capacities listed are for use with water storage. We ship from warehouses across the U.S. and our team will work with you to provide the equipment that fits your needs, delivered within the time frame that you need it. Contact Us for information on other liquid storage options.
Drinking Water Trailer Features & Details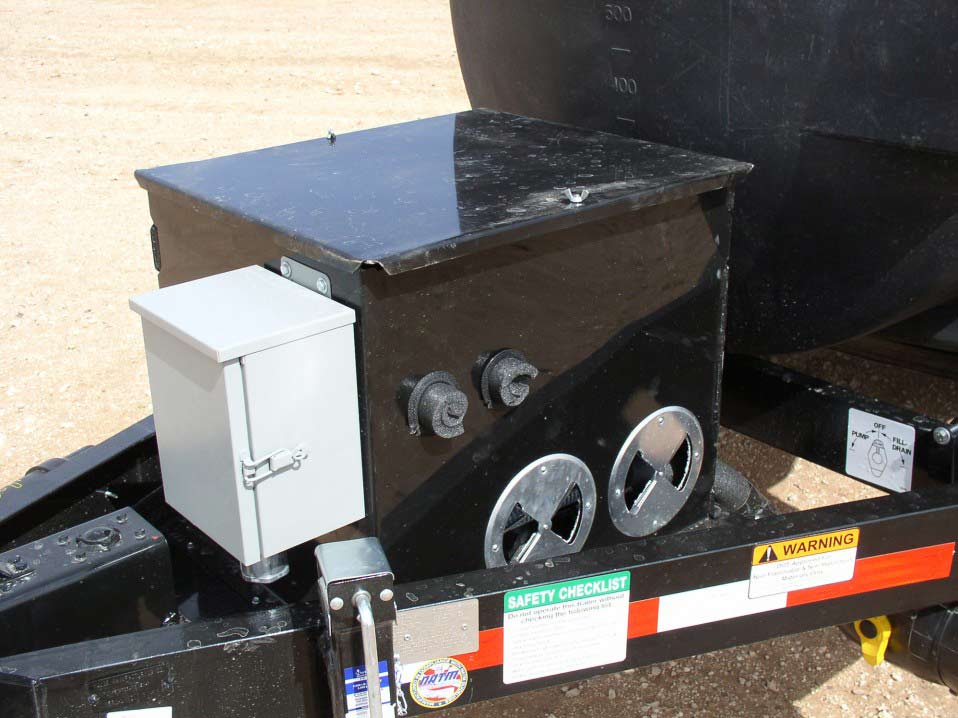 The water hauling trailer has a 1025 gallon capacity tank. The tank of the drinking water trailer is black and algae-resistant. The potable water tank sits on a DOT complaint, 6" channel iron frame. The maximum flow of the water hauling trailer tank is 22 gpm with 4 outlets. The on-demand pump has ¾ HP with 115 volt. Maximum pressure is 50 psi.
1000 Gallon Water Tank Trailer Features
1025 Gallon Capacity
6" Channel Iron Frame Trailer
Max Pressure 50 PSI
4 Outlets
Anti-Siphon Fill
The drinking water storage tank and trailer is DOT compliant and ready to be taken on the open road, transporting potable drinking water to different locations. Every part of this 1000 gallon drinking water tank and trailer are rated for potable water. Meaning, you can be sure to have a reliable drinking water hauling trailer when you need potable drinking water delivered.
For a complete listing of specifications, please see: Water Trailer 1025 Gallons (PDF).
Drinking Water Storage Tank Benefits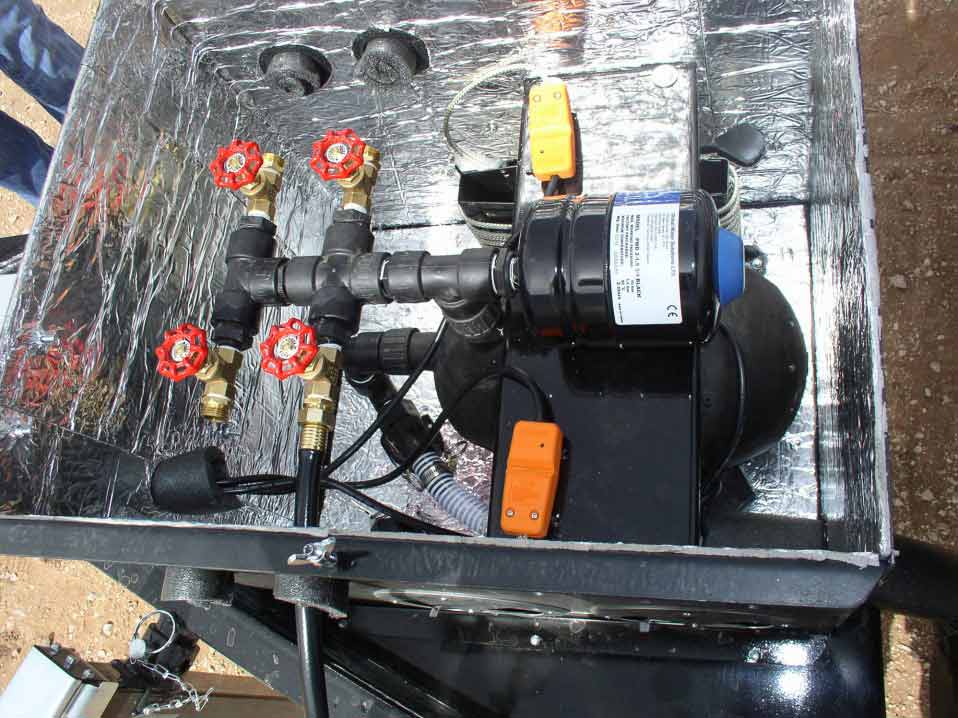 Everyone deserves clean, potable water. With the 1025 gallon drinking water storage tank trailer, you can be sure that transporting potable water will be rugged and reliable. The DOT complaint features of the water hauling trailer allow you to transport potable water over the open road. The components of this non-certified trailer are rated for the storage of potable water. In colder climates, the freeze protection system will ensure that your drinking water won't freeze over, leaving you in a tough spot.
USA Made
DOT Compliant
Freeze Protection System
Black, Algae-Resistant Tank
1025 Gallon Drinking Water Trailer Specifications
Below you'll find the specifications for the 1000 gallon drinking water tank and trailer. Other smaller options for this potable water hauling trailer include a 500 gallon capacity model.
Tank
Engine/Pump
Trailer
Dimensions
Additional Features Included
Optional
1000 Gallon Potable Water Tank, Algae Resistant
4 Hp Honda Engine / 2" Banjo Pump
6" Channel Iron Frame
DOT Compliant
Surge Brakes
Tandem Leaf Spring Axles
St225/75d15 Tires
2" Ball Adjustable Height Hitch
Diamond Tread Fenders
162" L X 79" W X 66" H, 6,000 LB GVWR
1,800 Lb Empty Weight
Anti-Siphon Fill
Galvanized Manifold
Suction Hose
Pond Strainer
Fire Hose
Hose Reel
Fire Nozzle
Electric Brakes
Drinking Water Storage Tank Applications
This 1000 gallon drinking water tank and trailer has numerous applications when it comes to delivering clean, potable water. Deliver drinking water to RV parks and campsites, mobile offices on jobsites, construction sites, drilling sites, and work camps. The water hauling trailer's durable 6" channel iron construction makes it rugged and reliable for water transport. If you're transporting water in a colder climate, you don't need to worry about your supply of potable water freezing over. The freeze protection system is insulated and thermostat controlled.
Moreover, the DOT compliant features of fenders and lights make this drinking water trailer suitable for on-road travel and transport with other vehicles. You shouldn't have to worry about how you're going to transport drinking water to thirsty people. With the drinking water storage tank trailer, expect to have to reliable drinking water on demand, transported safely.
Note: If you're looking for a water trailer with virtually unlimited customizable options, our Water Trailers may be the answer.
For freeze protection for your water trailer or skid, our Water Trailer Heater Blankets are exactly what you need . When cold weather affects the viscosity of fuel, fluids, and other materials you can lose production time, adding additional costs. Power blankets keep your tanks and smaller corrugated/steel tanks at constant temperature, preventing fluids from freezing in extreme conditions. We customize thermal blankets to meet your specific needs, no matter the tank size or shape. Call us today to find out more!
You can also view all our water trailers on the Portable Water Tank Trailer main page.
Customer who viewed this product, also viewed:
Ready for pricing information for the drinking water trailer? We're ready to take your call! Give our sales team a shout at 1-863-261-8388 or fill out our web form to get in touch and request a price quote through the website.