Water Trailer Variety
Water Trailers are one of the easiest ways to store, transport and distribute water around your location. Offered as a complete system, these units are able to successfully spray down areas, water vegetation and provide needed transportation to and from various location.
Please do not hesitate to contact us for information or questions regarding any of these units at +1-772-646-0597. * Ask us about financing options!


---
Water Tank & Trailer Design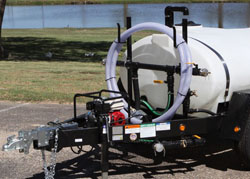 Water tank and trailer systems are an excellent way to transport both water and spray equipment to needed locations and facilities. Whether you require a trailer or skid mounted tank, all systems come fully equipped with an array of spray equipment and materials.

Typical System Components
Electric or Surge Brakes (Trailers)
Hose
Spray Bar
Fenders and Lights
Anti-Siphon Fill Kit
Engine
Pump


Standard Water Tank & Trailer Uses
Tank and trailer systems are some of the most widely used units. With a range of models, sizes, and equipment, trailers have been used for any of the following applications:
Dust Suppression and Control
Arena Spraying
Fire Suppression
Landscaping
Tree Spray Jobs
Turf or Field Watering
Spot Watering Jobs
Pressure Washing
Livestock Spraying
Vegetation Watering
Portable Plastic Storage Tanks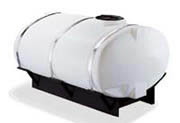 In addition to the portable water trailers featured here, we also offer several portable plastic tanks that can fit in the back of pickup trucks, vehicles and trailers.
Portable Tank Models
Elliptical Tanks
Leg Tanks
Horizontal Sump Bottom Tanks
View All Portable Water Tanks
---
© Copyright GEI Works 2011-2018. All rights reserved.
GEI Works is a global solutions provider offering our expertise and products to the following states, countries, territories and provinces:

States:

Alabama, AL | Alaska, AK | Arizona, AZ | Arkansas, AR | California, CA | Colorado, CO | Connecticut, CT | Delaware, DE | Florida, FL | Georgia, GA | Hawaii, HI | Idaho, ID | Illinois, IL | Indiana, IN | Iowa, IA | Kansas, KS | Kentucky, KY | Louisiana, LA | Maine, ME | Maryland, MD | Massachusetts, MA | Michigan, MI | Minnesota, MN | Mississippi, MS | Missouri, MO | Montana, MT | Nebraska, NE | Nevada, NV | New Hampshire, NH | New Jersey, NJ | New Mexico, NM | New York, NY | North Carolina, NC | North Dakota, ND | Ohio, OH | Oklahoma, OK | Oregon, OR | Pennsylvania, PA | Rhode Island, RI | South Carolina, SC | South Dakota, SD | Tennessee, TN | Texas, TX | Utah, UT | Vermont, VT | Virginia, VA | Washington, WA | West Virginia, WV | Wisconsin, WI | Wyoming, WY

Countries, Territories and Provinces:

Malaysia, MY | Indonesia, ID | Antigua and Barbuda, AG | Bahamas, BS | Barbados, BB | Belize, BZ | British Virgin Islands, VG | Cayman Islands, KY | Dominican Republic, DO | Grenada, GD | Haiti, HT | Jamaica, JM | Montserrat, MS | Puerto Rico, PR | Saint Lucia, LC | Saint Vincent and the Grenadines, VC | Trinidad and Tobago, TT | Turks and Caicos Islands, TC | United States, US | US Virgin Islands, VI | Mexico, MX | Campeche, CM | Quintana Roo, QR | Yucatan, YU | Central and South America | Canada, CA | Alberta, AB | British Columbia, BC | Manitoba, MB | New Brunswick, NB | Newfoundland and Labrador, NL | Northwest Territories, NT | Nova Scotia, NS | Nunavut, NU | Ontario, ON | Prince Edward Island, PE | Quebec, QC | Saskatchewan, SK | Yukon, YT