500 Gallon Water Tank Trailer
Water Hauling Trailer - Priced for Your Budget
If you're in search of a convenient method of water hauling for your job site, farm, or residence at a budget-friendly price, the Express 500 Gallon Water Trailer is your answer. With a 4 HP Honda gasoline engine, 2-inch aluminum pump and a host of options, you have access to water for any task.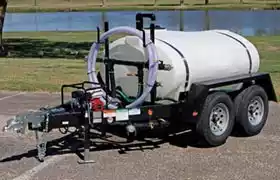 One of our smallest water trailers, the size of the Express 500 Gallon Water Tank Trailer allows for easy maneuverability while it is also lighter for your truck or farm equipment to haul. See additional sizes: Water Trailer Selection.
For more information, see our 500 Gallon Water Trailer PDF.
Ready to finance your purchase? Click here to apply for financing on this product!
Looking for other features? We have an assortment of water trailer vendors with an extensive offering of styles, sizes, and components at exceptional pricing. All capacities listed are for use with water storage. We ship from warehouses across the U.S. and our team will work with you to provide the equipment that fits your needs, delivered within the time frame that you need it. Contact Us for information on other liquid storage options.
Go Anywhere with The 500 Gallon Water Tank Trailer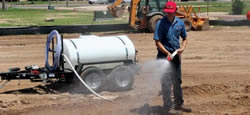 The Express 500 Gallon Water Trailer smoothly brakes with your truck and allows for driving on a variety of surfaces with its tandem surge brakes and diamond-tread fenders. DOT-compliant LED lights mean you can take it on public roads as needed. Specifically designed for rigorous outdoor use, such as water transport at construction sites, this 500 gallon water trailer comes equipped with a spray bar and 25-foot fire hose, making it applicable for many outdoor watering needs.
The Tsurumi aluminum pump is supported by a Honda engine which provides superior performance, allowing it to run faster and smoother than alternatives. Water levels can be seen in the tank through its white exterior, making it easier to manage water levels during filling and usage. The 2-inch, height-adjustable ball hitch makes attaching or detaching your truck and trailer quick and easy.
500 Gallon Water Tank Trailer Features
Tandem Surge Brakes
Diamond Tread Fenders
LED Lights (DOT Compliant)
8' to 25' Adjustable Width Swath Spray Bar with Flood Nozzles
2" x 4 HP Tsurumi Aluminum Pump with Honda Engine
140 GPM with Galvanized Fittings
Inlet and Outlet Manifold Kit
Filling with Ease: 500 Gallon Water Tank with Pump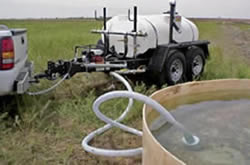 The Express 500 Gallon Water Trailer features a 2-inch anti-siphon fill hose equipped with aluminum quick couplers and adapters allowing you to easily fill the tank from a variety of sources, such as hydrants, ponds, or water pits. The included anti-siphon kit ensures that the tank fills without water back flowing into the municipal supply.
Easy and convenient ways to fill your tank:
Through the Anti-Siphon Fill Tube
Drawing Water Through the Pump
This makes the 500 Gallon Water Tank Trailer ideal for applications such as:
Agriculture Use
Packing a Site for the Foundation
Supplying Water to Lubricate Concrete Saws
Watering Vegetation
Express Water Trailers are also available in other sizes:
For freeze protection for your water trailer or skid, our Water Trailer Heater Blankets are exactly what you need . When cold weather affects the viscosity of fuel, fluids, and other materials you can lose production time, adding additional costs. Power blankets keep your tanks and smaller corrugated/steel tanks at constant temperature, preventing fluids from freezing in extreme conditions. We customize thermal blankets to meet your specific needs, no matter the tank size or shape. Call us today to find out more!
If you find that your project requires customized options for your water hauling trailer, consider the Water Trailer, by Water Storage Containers.
Questions? We can help! Call us at 1-863-261-8388 or request a price quote.