Water Buffalo Trailers for Sale
Express Water Buffalo Trailers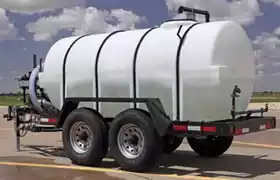 If you're looking for a water buffalo trailer for sale, our Express Trailers come in four convenient sizes so you'll have the right amount of water for any job. The trailer features a high-strength poly tank, a heavy-duty channel iron frame, and is DOT compliant. If you're in need of a versatile water hauling trailer for your job site, farm, arena, or other setting, you can't go wrong with this top-quality trailer.
Carry Water in 4 Convenient Sizes:
A Heavy-Duty Water Buffalo Trailer to Handle Any Job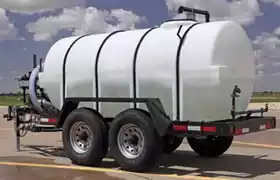 Express Water Buffalo Trailers feature a high-strength, impact resistant poly tank which provides good chemical resistance, keeping your water safe. The heavy-duty channel iron frame is powder coated with black acrylic, providing rust and corrosion protection. The result is a strong and longer-lasting trailer for hauling water that can weather the elements.
A Water Buffalo Trailer for Any Situation
The Express Water Buffalo Trailer comes with a four HP Honda gasoline engine (5.5 HP on the 1600 gallon tank trailer) powering a two-inch aluminum pump, providing faster, superior performance. The trailer is completely DOT compliant, including LED lights, allowing you to take it on public roadways if needed. The galvanized spray bar allows you to spray water as you go, making your watering tasks quicker and easier.
Water Buffalo Trailers For Sale: Features
Tandem Surge Brakes
(500, 800, & 1000 Gallon Trailer)
Electric Brakes (1600 Gallon Trailer)
LED Lights (DOT Compliant)
8' to 25' Adjustable Width Swath Spray Bar with Flood Nozzles
2"HP Tsurumi Aluminum Pump with Honda Engine
140 GPM with Galvanized Fittings
Inlet & Outlet Manifold Kit
Channel Iron Frame with Powder Coat Black Acrylic Finish
Diamond-Tread Fenders
Polyethylene Leg Tank
Tank Color: Translucent White
Galvanized Discharge Bar
Inlet & Outlet Manifold Kit
20' x 2" Suction Hose
8' to 25' Adjustable Width Swath
Galvanized Spray Bar with Double Nozzles
25'x1.5" Fire Hose and Nozzle
2-5/16" Ball or 3" Pintle Hitch
For more information please select the size water buffalo trailer needed:
Fill Your Tank for Hauling Water with Ease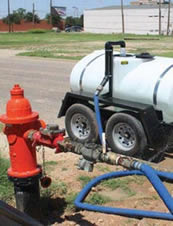 Each Express Water Buffalo Trailer can be filled in two easy ways making hauling water easier. The trailers feature a 20-foot suction hose so you can easily fill the tank from any pond or water pit. The tank's exterior is translucent white, allowing you to see water levels at all times.
2 Easy Ways to Fill Your Tank

2" Anti-Siphon Fill Tube
Drawing Water Through Pump
Water Buffalo Trailer for Sale:
If you're interested in a other types of water buffalo trailers for sale, we also offer water trailers by Water Storage Containers, which offer a wide selection of customizable features.
© Copyright Water Storage Containers 2011-2021. All rights reserved.
Water Storage Containers is a global solutions provider offering our expertise and products to the following states, countries, territories and provinces:

States:

Alabama, AL | Alaska, AK | Arizona, AZ | Arkansas, AR | California, CA | Colorado, CO | Connecticut, CT | Delaware, DE | Florida, FL | Georgia, GA | Hawaii, HI | Idaho, ID | Illinois, IL | Indiana, IN | Iowa, IA | Kansas, KS | Kentucky, KY | Louisiana, LA | Maine, ME | Maryland, MD | Massachusetts, MA | Michigan, MI | Minnesota, MN | Mississippi, MS | Missouri, MO | Montana, MT | Nebraska, NE | Nevada, NV | New Hampshire, NH | New Jersey, NJ | New Mexico, NM | New York, NY | North Carolina, NC | North Dakota, ND | Ohio, OH | Oklahoma, OK | Oregon, OR | Pennsylvania, PA | Rhode Island, RI | South Carolina, SC | South Dakota, SD | Tennessee, TN | Texas, TX | Utah, UT | Vermont, VT | Virginia, VA | Washington, WA | West Virginia, WV | Wisconsin, WI | Wyoming, WY

Countries, Territories and Provinces:

Malaysia, MY | Indonesia, ID | Antigua and Barbuda, AG | Bahamas, BS | Barbados, BB | Belize, BZ | British Virgin Islands, VG | Cayman Islands, KY | Dominican Republic, DO | Grenada, GD | Haiti, HT | Jamaica, JM | Montserrat, MS | Puerto Rico, PR | Saint Lucia, LC | Saint Vincent and the Grenadines, VC | Trinidad and Tobago, TT | Turks and Caicos Islands, TC | United States, US | US Virgin Islands, VI | Mexico, MX | Campeche, CM | Quintana Roo, QR | Yucatan, YU | Central and South America | Canada, CA | Alberta, AB | British Columbia, BC | Manitoba, MB | New Brunswick, NB | Newfoundland and Labrador, NL | Northwest Territories, NT | Nova Scotia, NS | Nunavut, NU | Ontario, ON | Prince Edward Island, PE | Quebec, QC | Saskatchewan, SK | Yukon, YT