Fire Water Tank Trailer
Fire Suppression and Prevention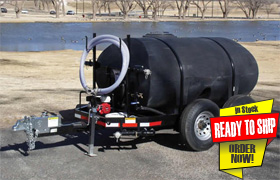 A fire water tank trailer is the solution for your fire suppression and prevention needs. Featuring a 2-inch pump with a 4 HP Honda engine and a 25-foot fire hose, fire fighting water trailers will help you protect your home, business, or farm.
A Heavy Duty Tank for Your Fire Prevention Needs
The fire water tank trailer features a polyethylene tank for keeping it safe and water available whenever needed. Designed for off-road use, the fire water tank trailer allows for hauling to wherever the fire is located.

If you have questions about products, give us a call at 1-863-261-8388 or request a price quote.
Looking for other features? We have an assortment of water trailer vendors with an extensive offering of styles, sizes, and components at exceptional pricing. All capacities listed are for use with water storage. We ship from warehouses across the U.S. and our team will work with you to provide the equipment that fits your needs, delivered within the time frame that you need it. Contact Us for information on other liquid storage options.
Fire Trailer: Designed for Fire Suppression and Prevention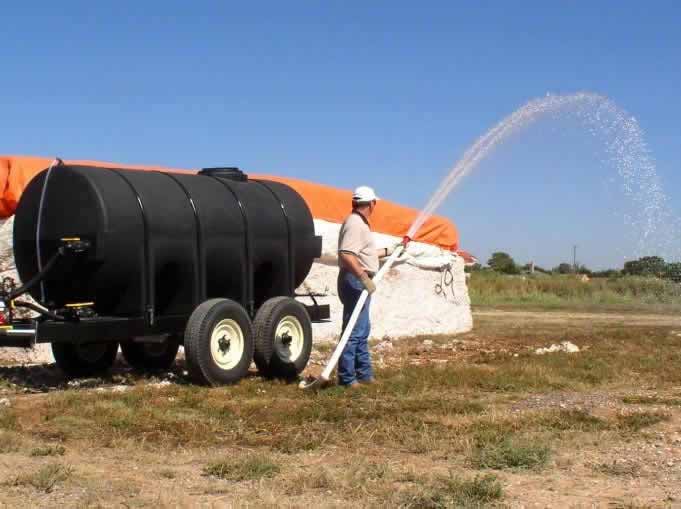 This fire suppression trailer is designed to quickly and efficiently extinguish fires. The 20-foot fill hose can be dropped into any pond or tank for easy filling. The 25-foot fire hose includes an adjustable nozzle to ensure you're equipped to manage firefighting efforts.
Ways to Use Your Fire Water Tank Trailer
Target Spray Areas with 25-Foot Fire Hose
Cover Large Ground Area with 8' to 25' Adjustable Spray Bar
Use as a Water Reserve
Fire Fighting Tank Features
Tandem Surge Brakes
4 HP Honda Engine and 2" Tsurumi Pump
20'x2" Fill Hose
25' Fire Hose with Adjustable Nozzle and Trigger Gun
Galvanized 2" Suction and Discharge Manifolds with Brass Ball Valves
Heavy-Duty 6" Channel Iron Frame
15" Tires and Spring Axles
A Fire Suppression Tank for Any Situation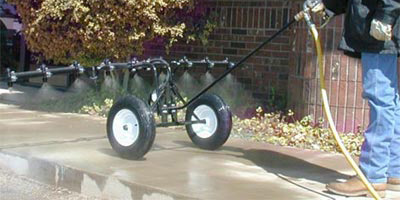 While a fire water tank trailer is designed to handle fire suppression and prevention, it can be used for a variety of other purposes. From spraying agriculture to transporting water, this fire water trailer is a year-round water storage and transportation solution.
Additional Uses for Fire Trailer:
Fight Grass and Cotton Bale Fires
Fire Prevention
Wildfire Protection
Transport Water to Livestock in Drought Areas
Water Trees or Other Landscaping
Control Dust on Roads
Spray Livestock
For freeze protection for your water trailer or skid, our Water Trailer Heater Blankets are exactly what you need . When cold weather affects the viscosity of fuel, fluids, and other materials you can lose production time, adding additional costs. Power blankets keep your tanks and smaller corrugated/steel tanks at constant temperature, preventing fluids from freezing in extreme conditions. We customize thermal blankets to meet your specific needs, no matter the tank size or shape. Call us today to find out more!
More Fire Fighting Options
Water can be at a premium during an emergency and a fire suppression tank will ensure that you're well equipped for such a situation. Water Storage Containers supplies a variety of fire suppression tanks to meet your needs. Our tanks include:
If you're looking for a water trailer with additional features, the Express Water Trailer line has DOT-compliant water trailers with tanks of 500 gallon, 800 gallon, 1,000 gallon, or 1,600 gallon capacity. We also have our Water Trailers, offering a wide selection of customizable features.

If you have questions about products, give us a call at 1-863-261-8388 or request a price quote.