De-Icer Trailer For Sale
A Liquid De-Icer Sprayer for Melting Ice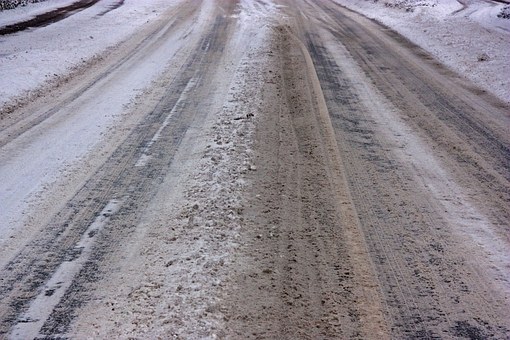 During winter, controling ice with a deicer trailer is imperative. A durable and dependable way to control ice, clear roadways, driveways, and parking lots is a necessity. Use the Deicer Trailer to spray brine solutions like calcium chloride to melt the ice away, supporting safe driving condition on a variety of surfaces. Multiple DOT-compliant features makes this road deicing equipment skid sprayer a great fit for deicing needs.

If you have questions about products, give us a call at 1-863-261-8388 or request a price quote.
Create Safe Driving Conditions During Winter with Deicing Equipment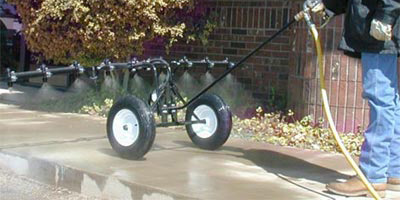 During freezing winter months, it's important that roads, parking lots, and driveways are cleared of ice to create a safer environment for drivers. The Deicer Trailer provides an easy way to release sodium chloride or calcium chloride brine solutions on roads to melt the ice and create safer travel conditions for those driving on pavement. With a highly-resistant resin tank, either of these popularly-used ice control solutions can be stored in the Deicer Trailer's tank.
A Quality Tank and Trailer for De-Icing
The De-Icer Trailer features a high-strength poly tank, equipped to handle the rough outdoor conditions of winter. Heavy-duty fenders help protect the tank from road-debris that may kick up. The tank's UV protection is built into the tank itself, helping to protect it from UV damage.
Tsurumi Aluminum Pump with Honda Engine
8' to 25' Adjustable Width, Swath Spray Bar
DOT-Approved Lights
Poly Tank with UV Inhibitors
Heavy-Duty Fenders
Specifications and Drawings for Water Trailer Sizes (DOT Compliant)
Our Arena Sprayer trailer is also available as a non-DOT version for those who will not be taking the trailer on public roadways.

If you have questions about products, give us a call at 1-863-261-8388 or request a price quote.
A Deicer Water Tank for Any Purpose
In any size, the deicer trailer is DOT compliant. Surge or electric brake systems, LED brake lights, and other features make this trailer safe for use on public roads. While the main purpose is deicing, easy filling and draining of the tank, as well as other features like the fire hose and the gravity fed hose bib make the De-Icer trailer useful in any season.
Watering Vegetation
Dust Control
Ground Compacting (Dirt Packing)
Small Fire Suppression
Spot Treatment
Pesticide Sprayer
Whether your water trailer has surge brakes or electric brakes is determined by several factors, incluging the size and style of trailer.
Store Deicing Agents for Winter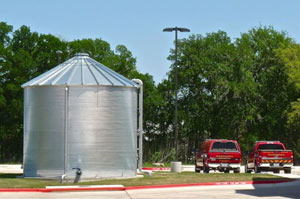 Keep a ready supply of deicing solution ready for your fleet of trucks. With a long-lasting lifespan and the ability to withstand harsh winter weather conditions, corrugated steel tanks provide the ideal storage for brine. Built-in ports make filling your tanks a simple and quick task.
For freeze protection for your water trailer or skid, our Water Trailer Heater Blankets are exactly what you need . When cold weather affects the viscosity of fuel, fluids, and other materials you can lose production time, adding additional costs. Power blankets keep your tanks and smaller corrugated/steel tanks at constant temperature, preventing fluids from freezing in extreme conditions. We customize thermal blankets to meet your specific needs, no matter the tank size or shape. Call us today to find out more!
Other Water Transportation Solutions
In addition to the deicer trailer, we provide a selection of other portable liquid storage solutions:

If you have questions about products, give us a call at 1-863-261-8388 or request a price quote.