Cone Bottom Storage Tank
---
Plastic Water Storage Tanks
Cone Bottom Water Storage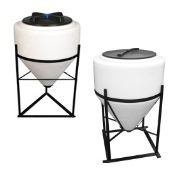 The Cone Bottom Plastic Water Storage Tank is an easy way to store and drain chemicals, water and other mixtures. Made in a range of sizes these tanks are great for areas where quick and effective draining and/or mixing is required.
Cone bottom tanks are constructed from a polyethylene material that is naturally resistant to rust, outdoor use, UV exposure and chemicals. Standard construction of the tanks additionally allows for a high chemical resistance to liquids being stored within the tank. This system allows for effective
outdoor storage and reliable use with multiple chemicals and liquids.
Features:
Manways
2" Standard Fittings
UV Stabilized
Polyethylene Construction
Cone Bottom
Polypropylene Fittings and Accessories
Benefits:
Fast and Effective Tank Draining
Reliable Storage for Various Types of Non-Potable Water
Rated to Handle Outdoor Exposure
Multiple Sizing and Storage Options
High Resistance to Impact
Typical Applications:
Storage of Water on Site, Facilities, and Various Locations
Transportation of Water Around your Location
Chemical Mixing and Draining
Beer Brewing

If you have questions about these water storage tanks give us a call at +1-772-646-0597 or request a price quote.
Cone Tank Specifications

Part Number

Capacity

Dimensions (diameter x L)

Manway

Fitting

60214
15
19" x 23"
8"
2" outlet
42064
15
24" x 21"
16"
2" outlet
42065
30
24" x 28"
16"
2" outlet
45098
35
23" x 29"
8"
2" outlet
62205
60
31" x 32"
16"
2" outlet
42066
60
24" x 42"
16"
2" outlet
TC3343JC
75
33" x 43"
22"
2" outlet
47190
80
32" x 37"
16"
2" outlet
TC3350JC
100
33" x 50"
22"
2" outlet
TC3366JC
150
33" x 66"
22"
2" outlet
Plastic Water Storage Tanks are available in a range of styles to meet different needs and requirements. Models include horizontal tanks, rectangular tanks, vertical tanks and a range of other models. For more information on these and other tanks, check out our Plastic Water Storage Tanks.
---
© Copyright GEI Works 2011-2018. All rights reserved.
GEI Works is a global solutions provider offering our expertise and products to the following states, countries, territories and provinces:

States:

Alabama, AL | Alaska, AK | Arizona, AZ | Arkansas, AR | California, CA | Colorado, CO | Connecticut, CT | Delaware, DE | Florida, FL | Georgia, GA | Hawaii, HI | Idaho, ID | Illinois, IL | Indiana, IN | Iowa, IA | Kansas, KS | Kentucky, KY | Louisiana, LA | Maine, ME | Maryland, MD | Massachusetts, MA | Michigan, MI | Minnesota, MN | Mississippi, MS | Missouri, MO | Montana, MT | Nebraska, NE | Nevada, NV | New Hampshire, NH | New Jersey, NJ | New Mexico, NM | New York, NY | North Carolina, NC | North Dakota, ND | Ohio, OH | Oklahoma, OK | Oregon, OR | Pennsylvania, PA | Rhode Island, RI | South Carolina, SC | South Dakota, SD | Tennessee, TN | Texas, TX | Utah, UT | Vermont, VT | Virginia, VA | Washington, WA | West Virginia, WV | Wisconsin, WI | Wyoming, WY

Countries, Territories and Provinces:

Malaysia, MY | Indonesia, ID | Antigua and Barbuda, AG | Bahamas, BS | Barbados, BB | Belize, BZ | British Virgin Islands, VG | Cayman Islands, KY | Dominican Republic, DO | Grenada, GD | Haiti, HT | Jamaica, JM | Montserrat, MS | Puerto Rico, PR | Saint Lucia, LC | Saint Vincent and the Grenadines, VC | Trinidad and Tobago, TT | Turks and Caicos Islands, TC | United States, US | US Virgin Islands, VI | Mexico, MX | Campeche, CM | Quintana Roo, QR | Yucatan, YU | Central and South America | Canada, CA | Alberta, AB | British Columbia, BC | Manitoba, MB | New Brunswick, NB | Newfoundland and Labrador, NL | Northwest Territories, NT | Nova Scotia, NS | Nunavut, NU | Ontario, ON | Prince Edward Island, PE | Quebec, QC | Saskatchewan, SK | Yukon, YT