Plastic Cistern
Underground Water Storage Containers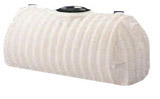 Question: Hi. I am looking for a plastic cistern that I can place underground to collect rainwater around my home. Do you have anything like this?
Answer: For underground rain water collection and storage, the Underground Plastic Cistern Tank is a great choice. Made from durable polyethylene material and ribbed exteriors, these tanks are well equipped to handle and withstand underground elements. This rain water cistern tank is made in capacities that range from 325 to 1700 gallons. This provides many different size tanks to help best meet your storage needs.

If you have questions about products, give us a call at 1-863-261-8388 or request a price quote.
Plastic Cistern Tank Features: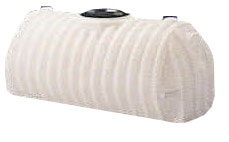 Designed to safely store water in underground locations, these plastic cistern tanks have several features that help to increase your level of storage and provide extra protection to the contents of you tank. Some of these features include:
Ribbed Exterior: This helps to increase the stability of the tank and has allowed the tank to hold up well in underground conditions.
Self Locking Covers: When storing water underground, strength and durability are essential to keeping your water clean. These self locking covers help to keep your tank close and protected at all times so no soil or other contaminants enter your system.
Seamless Polyethylene: The manufacturing of this tank uses only a single piece of polyethylene material. This removes any seams, greatly reducing the chance of leaking or cracking.
Light in Weight: One of the advantages to using polyethylene is its light weight quality. This has been especially useful during underground installation as it makes it easier to place tanks in the ground.
All tanks have resins that comply with FDA 21 CFR 177.150 (c) 3.1 and 3.2 for the safe storage of potable water.

If you have questions about products, give us a call at 1-863-261-8388 or request a price quote.
© Copyright Water Storage Containers 2011-2023. All rights reserved.