Saddle Tanks For Sale
Side & Front Mounted Liquid Storage Tanks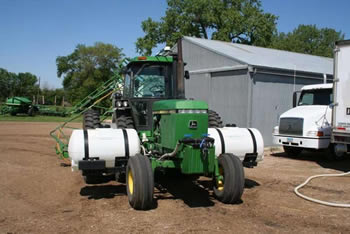 The storage and transportation of water, fertilizer, and chemicals is made easy with saddle tanks. Featuring a choice of shape and size, these tanks will allow you to store and move potable water around your property. Saddle tanks are fitted with steel saddles and are UV stabilized to keep them protected and working optimally.

If you have questions about products, give us a call at 1-772-646-0597 or request a price quote.
A Quality Tank for a Quality Job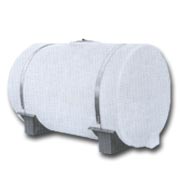 You can order your saddle tanks to be either round horizontal for better drainage or elliptical for more stability. Round tanks come in 200 gallons, 300 gallons, and 500 gallons, while elliptical tanks come in 300 gallons, 500 gallons, and 1000 gallons, in a poly tank allowing for safe storage. Each tank includes a sump in the bottom that allows for easy and quick draining and is FDA approved for the filling of potable water. UV stabilization means that your tank will maintain its strength and quality when used outside.
Saddle Tank Features:
Sump in Bottom for Draining
10" Vented Lid
FDA Approved for Potable Water
Available in Black or White
Polyethylene Tank
UV Stabilization
The Perfect Tractor-Mounted Tank for Your Farm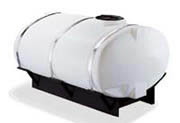 Saddle tanks are the perfect solution for easy transportation of water, fertilizater, and other chemicals needed on your farm. These tractor-mounted tanks will allow you to use one tractor for your spraying application, three-point system, tillage system, and planting system needs, saving you time and money.
Other Uses Include:
Agriculture
Lawn Care
Water Distribution
Cradle Your Tank with Care
The steel saddles used to cradle saddle tanks increase stabilization for storage and transportation. Grooves indented into the tank provide additional stabilization when securing the tank to the saddle with bands or straps.
Other Mounting Options Include:
Typical Saddle Tank Features:
Made from Polyethylene: These plastic tanks provide a safe storage and tractor-based transport of fertilizers, solutions, and water.
UV Stabilized: All tanks are well equipped to handle outdoor use.
Molded in Grooves: Constructed with grooves, these saddle tanks can provide extra stabilization when using bands or straps.
Low Profile: Tanks have a low profile that allows for increased visibility during tractor use.
In addition to stationing these sprayer tanks on saddles, they are also available as tow-behind Express Water Trailers. These trailers are available with 500 gallon, 800 gallon, 1000 gallon, and 1600 gallon tanks.
Need water storage tanks to capture and hold water for your farm? We offer competitive pricing on corrugated water tanks, with financing options also available.

If you have questions about products, give us a call at 1-772-646-0597 or request a price quote.
© Copyright GEI Works 2011-2020. All rights reserved.
GEI Works is a global solutions provider offering our expertise and products to the following states, countries, territories and provinces:

States:

Alabama, AL | Alaska, AK | Arizona, AZ | Arkansas, AR | California, CA | Colorado, CO | Connecticut, CT | Delaware, DE | Florida, FL | Georgia, GA | Hawaii, HI | Idaho, ID | Illinois, IL | Indiana, IN | Iowa, IA | Kansas, KS | Kentucky, KY | Louisiana, LA | Maine, ME | Maryland, MD | Massachusetts, MA | Michigan, MI | Minnesota, MN | Mississippi, MS | Missouri, MO | Montana, MT | Nebraska, NE | Nevada, NV | New Hampshire, NH | New Jersey, NJ | New Mexico, NM | New York, NY | North Carolina, NC | North Dakota, ND | Ohio, OH | Oklahoma, OK | Oregon, OR | Pennsylvania, PA | Rhode Island, RI | South Carolina, SC | South Dakota, SD | Tennessee, TN | Texas, TX | Utah, UT | Vermont, VT | Virginia, VA | Washington, WA | West Virginia, WV | Wisconsin, WI | Wyoming, WY

Countries, Territories and Provinces:

Malaysia, MY | Indonesia, ID | Antigua and Barbuda, AG | Bahamas, BS | Barbados, BB | Belize, BZ | British Virgin Islands, VG | Cayman Islands, KY | Dominican Republic, DO | Grenada, GD | Haiti, HT | Jamaica, JM | Montserrat, MS | Puerto Rico, PR | Saint Lucia, LC | Saint Vincent and the Grenadines, VC | Trinidad and Tobago, TT | Turks and Caicos Islands, TC | United States, US | US Virgin Islands, VI | Mexico, MX | Campeche, CM | Quintana Roo, QR | Yucatan, YU | Central and South America | Canada, CA | Alberta, AB | British Columbia, BC | Manitoba, MB | New Brunswick, NB | Newfoundland and Labrador, NL | Northwest Territories, NT | Nova Scotia, NS | Nunavut, NU | Ontario, ON | Prince Edward Island, PE | Quebec, QC | Saskatchewan, SK | Yukon, YT