Skid Sprayers
Large Skid Sprayers for Sale
Our skid sprayers are the perfect mounted sprayers for dust control, construction sites, fire protection, and watering livestock. Due to their size and heavy-duty design, our 500 and 1025 gallon elliptical skid sprayers can be easily mounted to your 1 ton or larger truck for off-road water delivery. These mounted skid sprayers come equipped with a 4-HP Honda engine and 2" Tsurumi pump, ensuring you have maximum spray volume. Our skid sprayer has an anti-siphon kit and a fully drainable tank letting you use all the water in your tank.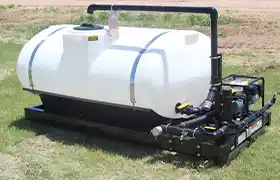 We carry a wide range of power sprayers with a variety of engine, pump, and hose reel option. Every skid mounted sprayer is customized to fit your specific needs. Contact our specialists today for the right skid water tank sprayer and portable water storage tanks for the job.
Ready to finance your purchase? Click here to apply for financing on this product!
Skid Steer Sprayer Features
Capacities: 500 and 1025 Gallons
Tank: Heavy Duty Polyethylene
Honda Engine
2" Tsurumi Aluminum Pump
Dual Nozzle Spray Bar
Anti-Siphon Fill Kit
Galvanized Manifold
20' High Pressure Hose
Skid Steer Sprayer Benefits
Includes Hose and Spray Equipment
High Resistance Poly Tank
Fits in 1 Ton Truck
Heavy-Duty Channel Iron Frame
Reliable, Powerful Spray Volume
Easy to Transport and Store
Fully Drainable
Hose Reel Options
Arena Trailer Mounted Water Tank Technical Specifications
| Capacity | Engine | Pump | Hose | Sprayer | Options |
| --- | --- | --- | --- | --- | --- |
| 500 Gallons | 4 HP Honda | 2" Tsurumi Aluminum Pump | 20' Suction Hose | Dual Nozzle Spray Bar | Fire Hose and Reel |
| 1025 Gallons | 4 HP Honda | 2" Tsurumi Aluminum Pump | 20' Suction Hose | Dual Nozzle Spray Bar | Fire Hose and Reel |
Applications and Industries for Skid Mounted Steer Sprayers
Remote Landscape Watering
Road Construction
Vegetation Watering
Livestock Spraying
Water Transport
Dust Control
Fire Protection
De-Icing
Our portable skid sprayer is constructed as an all-in-one system, allowing you to transport both water and necessary spray components to your remote site. The skid-mounted sprayer's tough poly tank is made with heavy-duty materials and the sprayer features a 20' Suction Hose, anti-siphon fill, and an optional hose reel. Because our sprayer skid sits on a heavy-duty 6" channel iron frame, it is the right choice for tough jobs in remote locations. Both the 500 and 1025 gallon skid steers have the option to include a fire hose kit with 50' X 1" hose and reel on a swivel base.
Check out our Express Water Skid PDF
If you require only portions of the tank, such as elliptical tanks, horizontal tanks or poly tanks please visit our complete variety of Portable Water Tanks.
Need the skid sprayer functionality but on a trailer? We also sell Water Buffalo Trailers!
Products Customers Also Viewed
Questions? We can help! Call us at 1-863-261-8388 or request a price quote.