Skid Sprayer Accessories
Large Selection of Accessories for Skid Sprayers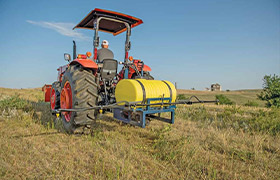 Our skid sprayer accessories range in size and use, but they all add custom features to your skid sprayers to enhance your spraying and watering applications. We carry a variety of helpful add-ons and options to help you get the most out of your skid sprayer. Our skid sprayer accessories include hose reel options, pump options, and boom and nozzle options. We also carry boom and boomless sprayer and nozzle options, which you can see below.
These skid sprayer accessories are made in the USA and ship from various locations across the country, saving you money on shipping and freight. See below for a full list of specifications, features and benefits of the Skid Sprayer Accessories that we offer.
Skid Sprayer Accessory Details
We have a large selection of skid sprayers and skid sprayer accessories to choose from. On this page you'll find a selection of skid sprayer accessories. For a full listing of product information, see Small Sprayers and Accessories (PDF).
Sprayer Accessories: Remote Control, Multi-Lid and Drain Cap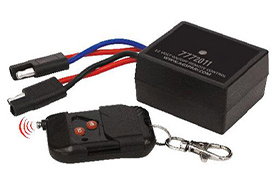 On/off wireless remote control controls ALL 12 Volt Products Up To 20 Amps!
Wireless Remote
Convenient Keychain Clip
Quick Connect Into FIMCO Products
Or Wire Into All 12 Volt Products
Up To 20 Amps
We carry the Multi-Lid to accurately measure & pour chemicals whether you're dealing with pest control, fertilizer or fire suppressing gels. Our Multi-lid is: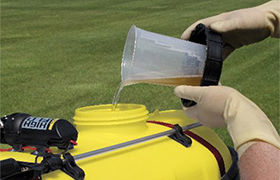 Multi Lid Skid Sprayer Accessory
Food Grade, 32 Ounce Measuring Cup Is Attached To Tank Lid
Garden Hose Port Secures Hose For Safe And Easy Filling With One Person
Fits Sprayers With A 5" Tank Lid
Made In The USA
We carry a Drain Cap and Tank Lid Replacement for your skid sprayers.
Tank Drain Cap with Tether 3/4"FGHT
5" Threaded Tank Lid with Lanyard
Sprayer Accessories: Replacement Handgun Sprayers, Pressure Gauges, Wiring Harnesses, and ATV/UTV Sprayer Plumbing Manifolds
We carry Replacement Handgun Sprayers when you need to upgrade or replace a handgun sprayer.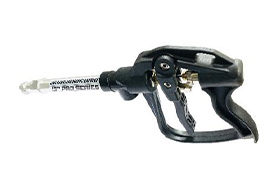 Handgun w/Adjustable Wireless Remote Skid Sprayer Accessory Tip
Deluxe Handgun w/X-26 Tip
13" Pro Handgun
22" Pro Handgun
43LA Handgun w/D6 Disc
We also carry Replacement Pressure Gauges for skid sprayers.
2 1/2" 0-60PSI Dry Gauge
2" 0-100PSI Dry Gauge
2 1/2" 0-100PSI Liquid Filled
ATV/UTV Sprayer Plumbing Manifolds
Sprayer Handgun
QC Manifold 3/8" Handgun, 1/2" Boom, 3/4 MGHT Bypass
QC Manifold 3/8" Handgun, 1/2" Boom, 3/8" Bypass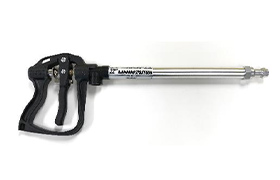 8" Lead Wire Assembly
5' Extension Wire Assembly
10' 14 Gauge Wire Harness w/Switch
8' 16 Gauge Wire Harness w/Switch
8' Wire Harness W/Cigarette Lighter Plug
Port To O-ring
Port To Clip
Wiring Harnesses
Skid Sprayer Accessories: Sprayer Kits and Plumbing Kits
Skid Sprayer Kit
Single Nozzle Sprayer Kits
Find more information on the Bolt-On Boomless Nozzle Assembly for Spot Sprayers with Top-Mounted Pumps below.
Boomless Nozzle - Covers 15 Feet
Fully Adjustable & Fits Most Sprayers
Complete With All Hoses & Fittings To Attach To Most Sprayers
Includes Separate Cut-Off Valve For Controlling Nozzle
Single Nozzle Spot Sprayer Kit
Plumbing Kits: Burn Control Kit and Skid Plumbing Kit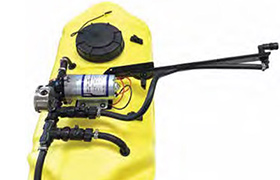 Find information on the Burn Control Plumbing Kit and the Skid Plumbing Kit below. Plumbing Burn Control Kit Includes:
2" poly pump with 5.5 Briggs & Stratton engine (Also available with Honda engine)
15' of 2" suction hose with suction strainer
25' of 1" discharge hose
1" fire nozzle with quick coupler
AA43L-AL6 handgun with quick coupler
Skid Plumbing Options (Only Needed For Skids With Booms)
Dual Agitator Kit
Plumbing with Electric Boom Control Less Pump
Plumbing with Manual Boom Control Less Pump
Skid Sprayer Applications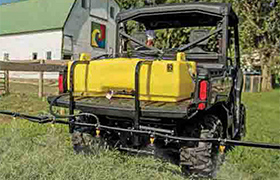 Our skid sprayers, PCOs, UTVs, and ATVs are used in many different applications for spraying and watering. Whether you are using your skid sprayers for fire suppression, burn control, pest control, insect control, lawn and garden watering, dust control or other applications, you skid sprayer and accessories will need to be dependable for you.
For freeze protection for your water trailer or skid, our Water Trailer Heater Blankets are exactly what you need . When cold weather affects the viscosity of fuel, fluids, and other materials you can lose production time, adding additional costs. Power blankets keep your tanks and smaller corrugated/steel tanks at constant temperature, preventing fluids from freezing in extreme conditions. We customize thermal blankets to meet your specific needs, no matter the tank size or shape. Call us today to find out more!
For more information on our skid sprayer accessories, Contact Us or Call Us at 1-863-261-8388.
Products Customers Also Viewed
Questions? We can help! Call us at 1-863-261-8388 or request a price quote.