3 Point Hitch Sprayer
60 Gallon 3 Point Hitch Sprayer for Sale
The 3-Point hitch sprayer is a 60 gallon sprayer that comes ready for rugged field work, watering and spraying applications. When spraying fields, crops, livestock, fences, and anything else that might need spraying the 60 gallon 3-point sprayer is equipped with heavy duty features ready to handle the task. We the accessories and add-ons that will make your 3-point hitch sprayer extremely versatile and effective.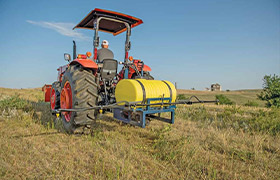 Tank braces, tank straps, corrosion-resistant materials, and other features make up the 60 gallon 3-point hitch sprayer. All of our skid sprayers are made in the USA with heavy duty materials. We ship from a variety of locations all over the nation, saving you money on shipping and freight. For more information Contact Us or Call Us at 1-863-261-8388.
This product may be eligible for financing; click here to start your financing application!
60 Gallon 3 Point Hitch Sprayer Details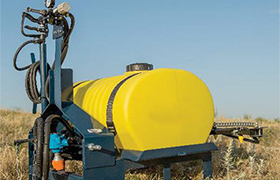 The 60 Gallon 3-point hitch sprayer is made with durable materials that can withstand the rugged spraying applications on your jobsite and location. The 3-point carrier system is equipped with built-in parking stand that make hooking, unhooking and storage quick and convenient. The 6-roller PTO pump has a quick coupler, which allows you to easily connect to the tractor PTO shaft. We have a variety of booms available for our skid sprayers. For example, the 7 nozzle folding boom covers a swath of 140" and comes with a spring loaded breakaway—for those times when you get too close to objects.
3 Point Hitch Sprayer Features
60 Gallon Horizontal Poly Tank
Powder Coat Paint Steel Frame
Nylon Tank Straps, Tank Braces, Parking Stands
6-Roller PTO Pump with Quick Coupler
3 Point Hitch Sprayer Benefits
Heavy Duty Construction
Reliable Performance
Made in the USA, Ships All Over Country
Straps for Tank Stability
Manual Valve Options for Boom
3 Point Hitch Sprayer Specs
Tank
55 Gallon Horizontal Corrosion Resistant Polyethylene Tank
Supports
Nylon Tank Straps
Tank Braces For Added Tank Stability
Frame
Heavy Duty Steel Frame
Other
Strainer Assembly
Pressure Regulator For By-Pass & Agitation
Manual Valves For Boom Or Nozzle Control
Category 1 Lift Pins
100 P.S.I. Dry Pressure Gauge
Hypro 6 Roller Pump With Quick Coupler
22" Pro Series Handgun With 25' of 3/8" Rubber Hose, Gun Holder & Hose Wrap
Powder Coat Paint
7 Nozzle, 140" Coverage Boom
For more information and detailed specifications on all our skid sprayers, see the Small Sprayers and Accessories (PDF).
3 Point Hitch Sprayer Applications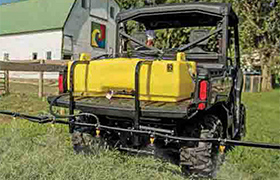 The 3 Point Hitch Sprayer is perfect for fence spraying, spot spraying, watering, pest control, insecticide spraying, and more. All of these tasks can be easily done by the 60 gallon sprayer tank. We carry a variety of 12 volt skid sprayers in a variety of capacity sizes. These skid sprayers are made for different spraying applications on your jobsite or farm. Use them for agriculture, horticulture, and more.
For freeze protection for your water trailer or skid, our Water Trailer Heater Blankets are exactly what you need . When cold weather affects the viscosity of fuel, fluids, and other materials you can lose production time, adding additional costs. Power blankets keep your tanks and smaller corrugated/steel tanks at constant temperature, preventing fluids from freezing in extreme conditions. We customize thermal blankets to meet your specific needs, no matter the tank size or shape. Call us today to find out more!
Products Customers Also Viewed
Questions? We can help! Call us at 1-863-261-8388 or request a price quote.