Portable Water Trailer
Water Hauling Trailers for Every Need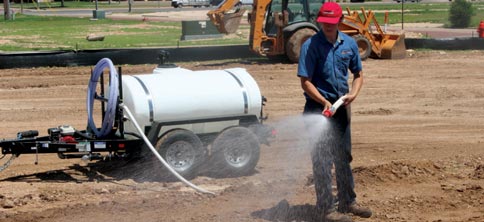 Whether the need is for agricultural watering, fire suppression, or horse arena preparation, we have a selection of portable water tanks with the perfect features and spraying apparatus built to handle the job.
The Right Trailer for Every Situation
The right portable water trailer can make a big difference in daily tasks. Deicing trailers allow for the distribution of deicing agents, such as magnesium chloride and calcium chloride, to create safe conditions on streets and parking lots during the winter. A fire water trailer assists in extinguishing brush fires that may occur on a farm or job site. Other water hauling trailers feature DOT compliance for use on public roads, and include a variety of features to handle a range of duties.

If you have questions about products, give us a call at 1-863-261-8388 or request a price quote.
Types of Water Trailers
Express Water Buffalo Trailers
Versatility and Practicality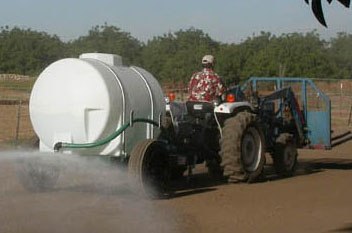 Water Storage Containers' portable water trailers includes features to handle a variety of tasks. The adjustable width spray bar enables users to water as they go, shortening application time. For spot watering or areas that are harder to reach, the trailer features a 25-foot fire hose. The 2" Tsurumi pump, assisted by a 4 HP Honda engine, creates an impressive flow rate of 140 gallons per minute. These features can make a mobile water tank the perfect the right solution option for any watering need.
Providing Water for a Variety of Applications
Water is an essential aspect of many industries, such as farming and construction. Irrigating crops, packing dirt, and transporting water between locations can be a crucial part of the job. The features of a portable water trailer allow you to take care of all these tasks. If ice covers roads or a fire breaks out on a job site, a portable water tank can also be used to create safer working conditions.
Common Applications
Fire Suppression
Crop Irrigation
Dust Control
Water Transportation
Horse Arena Preparation
Livestock Watering
Dirt Packing
Deicing
These water hauling trailers feature a variety of watering tools, ensuring find the right one for your task. If you're in need of a tailor-made trailer, the Water Trailer by Water Storage Containers offers a wide selection of customizable options.
If you have questions about products, give us a call at 1-863-261-8388 or request a price quote.