Fire Fighting Water Supply
Temporary Water Tanks for Fire Fighting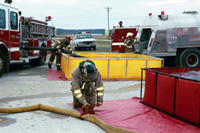 During fire fighting efforts in rural locations, finding an adequate fire fighting water supply can be a challenge. While methods have included portable trailers, large water haulers and fire trucks, keeping enough water on hand can be difficult. To help with this problem, our team offers open top onion tanks and folding frame tanks to help store and contain water during fire fighting efforts. These tanks allow water to stay on site while trailers and haulers move back and forth to continuously supply water.

If you have questions about products, give us a call at 1-772-646-0597 or request a price quote.
Fire Fighting Water Tank Options
Onion Water Tanks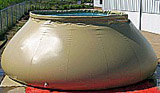 Onion Water Tanks are a favorite for this type of storage and have been used for applications requiring a self-supporting water storage vessel. Onion tanks shown here are made with either a high or low side wall and can built in several different sizing options.
Due to the large quantity of water needed for these wild fires, having these model tanks can offer several advantages including:
Transportation When Empty
Self-Supporting
Easy to Fill
Large Capacities Available
Quick Deployment/Fast Setup
Folding Frame Water Tanks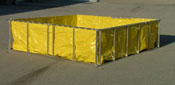 Equally equipped to handle water storage, the Folding Frame Fire Fighting Water Supply Tanks are an excellent choice for self-supporting water storage. Frame tanks are basically designed as folding unit that allows water to be filled from the top. Tanks can be unfolded once they arrive to your location with the frame installed all around the tank. This provides a self-sustaining structure that can support various amounts of weight, typically up to 5,000 gallons in size. Advantages to these tanks include:
Quick Deployment in Your Location
Collapsible Frame for Easy Storage
Fits Neatly on Fire Trucks for Transportation
Easy to Fill and Empty
Equipped to Store Large Amounts of Water
Perfect for Use as a Dump Tank
Use with Fire Fighting Units
When used for fire fighting efforts, tanks are quickly setup along the area of the flame and filled from water trucks. From here, hoses can be used to start with fire fighting efforts. These tanks have often been used for the following applications:
Wild Fire Fighting Efforts
Fire Fighting Water Supply in Remote Locations
Forest Fire Fighting
Fire Fighting in Remote or Rural Locations
In addition to fire fighting, tanks can also be used during natural emergencies (such as hurricanes, tornadoes, and earthquakes) to supply water to local populations.

If you have questions about products, give us a call at 1-772-646-0597 or request a price quote.
© Copyright GEI Works 2011-2019. All rights reserved.
GEI Works is a global solutions provider offering our expertise and products to the following states, countries, territories and provinces:

States:

Alabama, AL | Alaska, AK | Arizona, AZ | Arkansas, AR | California, CA | Colorado, CO | Connecticut, CT | Delaware, DE | Florida, FL | Georgia, GA | Hawaii, HI | Idaho, ID | Illinois, IL | Indiana, IN | Iowa, IA | Kansas, KS | Kentucky, KY | Louisiana, LA | Maine, ME | Maryland, MD | Massachusetts, MA | Michigan, MI | Minnesota, MN | Mississippi, MS | Missouri, MO | Montana, MT | Nebraska, NE | Nevada, NV | New Hampshire, NH | New Jersey, NJ | New Mexico, NM | New York, NY | North Carolina, NC | North Dakota, ND | Ohio, OH | Oklahoma, OK | Oregon, OR | Pennsylvania, PA | Rhode Island, RI | South Carolina, SC | South Dakota, SD | Tennessee, TN | Texas, TX | Utah, UT | Vermont, VT | Virginia, VA | Washington, WA | West Virginia, WV | Wisconsin, WI | Wyoming, WY

Countries, Territories and Provinces:

Malaysia, MY | Indonesia, ID | Antigua and Barbuda, AG | Bahamas, BS | Barbados, BB | Belize, BZ | British Virgin Islands, VG | Cayman Islands, KY | Dominican Republic, DO | Grenada, GD | Haiti, HT | Jamaica, JM | Montserrat, MS | Puerto Rico, PR | Saint Lucia, LC | Saint Vincent and the Grenadines, VC | Trinidad and Tobago, TT | Turks and Caicos Islands, TC | United States, US | US Virgin Islands, VI | Mexico, MX | Campeche, CM | Quintana Roo, QR | Yucatan, YU | Central and South America | Canada, CA | Alberta, AB | British Columbia, BC | Manitoba, MB | New Brunswick, NB | Newfoundland and Labrador, NL | Northwest Territories, NT | Nova Scotia, NS | Nunavut, NU | Ontario, ON | Prince Edward Island, PE | Quebec, QC | Saskatchewan, SK | Yukon, YT