Folding Frame Tanks
Frame Tanks are Reusable and Fold-Flat for Storage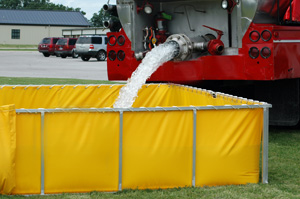 Folding Frame Tanks are part of our collapsible tank variety designed to store and contain liquids around your location. Often used as an emergency water storage option, these frame tanks are designed to fold into themselves for easy transportation to and from a location.
Designed for a range of applications and storage requirements, these tanks are typically made in 500 to 5,000 gallon sizes, giving you ample storage space for your liquids. This makes the folding frame tanks perfect for use in rural fire fighting jobs, aquafarming, and more.

If you have questions about products, give us a call at 1-863-270-8118 or request a price quote.
Features and Model Options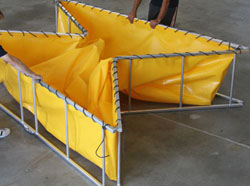 This collapsible frame tank is designed to provide you with both flexibility and sturdy, reliable support. To achieve this goal, tanks typically feature a steel or aluminum frame that can be quickly unfolded and deployed to create your water storage. In addition, in tank is then designed with either single or double folding frames for use in your location. Features include:
Heavy-Duty Vinyl Liner
Available NSF 61 Approved Liner
Capacity Range: 500 to 5000 gallons
Frame Options:
Tank Options:

Standard/Single Fold Frame Tanks
Double Fold Frame Tanks
Skinny Frame Tanks
Frame Tank Benefits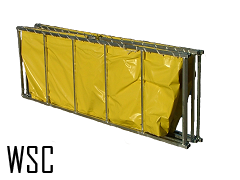 Since the frame tank offers a light weight design with a reliable structure, customers have found many benefits to its use including:
Light in Weight with Folding Ability: This had made transportation and setup fast and easy.
Open Top: Provides easy top access for filling tanks with liquid or other materials.
Fittings Available: Each folding collapsible tank can be additionally equipped with any desired fittings including aluminum, polypropylene, camlock and storz. These fittings have allowed them function in multiple locations.
Fore more information on these tanks, including sizing, dimensions and storage options, please check out our Folding Frame Tanks Page.

If you have questions about products, give us a call at 1-863-270-8118 or request a price quote.
© Copyright Water Storage Containers 2011-2021. All rights reserved.
Water Storage Containers is a global solutions provider offering our expertise and products to the following states, countries, territories and provinces:

States:

Alabama, AL | Alaska, AK | Arizona, AZ | Arkansas, AR | California, CA | Colorado, CO | Connecticut, CT | Delaware, DE | Florida, FL | Georgia, GA | Hawaii, HI | Idaho, ID | Illinois, IL | Indiana, IN | Iowa, IA | Kansas, KS | Kentucky, KY | Louisiana, LA | Maine, ME | Maryland, MD | Massachusetts, MA | Michigan, MI | Minnesota, MN | Mississippi, MS | Missouri, MO | Montana, MT | Nebraska, NE | Nevada, NV | New Hampshire, NH | New Jersey, NJ | New Mexico, NM | New York, NY | North Carolina, NC | North Dakota, ND | Ohio, OH | Oklahoma, OK | Oregon, OR | Pennsylvania, PA | Rhode Island, RI | South Carolina, SC | South Dakota, SD | Tennessee, TN | Texas, TX | Utah, UT | Vermont, VT | Virginia, VA | Washington, WA | West Virginia, WV | Wisconsin, WI | Wyoming, WY

Countries, Territories and Provinces:

Malaysia, MY | Indonesia, ID | Antigua and Barbuda, AG | Bahamas, BS | Barbados, BB | Belize, BZ | British Virgin Islands, VG | Cayman Islands, KY | Dominican Republic, DO | Grenada, GD | Haiti, HT | Jamaica, JM | Montserrat, MS | Puerto Rico, PR | Saint Lucia, LC | Saint Vincent and the Grenadines, VC | Trinidad and Tobago, TT | Turks and Caicos Islands, TC | United States, US | US Virgin Islands, VI | Mexico, MX | Campeche, CM | Quintana Roo, QR | Yucatan, YU | Central and South America | Canada, CA | Alberta, AB | British Columbia, BC | Manitoba, MB | New Brunswick, NB | Newfoundland and Labrador, NL | Northwest Territories, NT | Nova Scotia, NS | Nunavut, NU | Ontario, ON | Prince Edward Island, PE | Quebec, QC | Saskatchewan, SK | Yukon, YT