Container Fish Farming
Folding Frame Aquaculture Tank
Containers for fish farming can often hold tilapia, shrimp, catfish, and other kinds of fish in a secure, spacious environment. Our collapsible water storage tanks offer you the spacious, easy to set up fish farming solution you need. Made with a rigid outer frame and a flexible inner liner, the collapsible water storage tanks are easy to set up and deploy and can be custom built to meet your needs. Find out more about Folding Frame Tanks by Contact Us or Calling Us at 1-863-261-8388.

If you have questions about our folding frame tank, give us a call at 1-863-261-8388 or request a price quote.
Collapsible (Folding) Containers for Fish Farming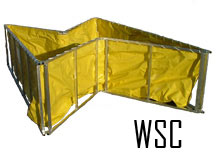 Collapsible, folding frame tanks are rugged, dependable water storage solutions. Our folding frame tanks can be easily shipped and store flat when not in use, and they can also be quickly set up and moved by two trained adults. Collapsible containers for fish farming are made with a rigid outer frame and an inner, flexible liner. The outer frame is made from welded steel or aluminum and the inner liner can be made with a variety of fabrics, such as High Performance Rubber (HPR) or Vinyl.
Collapsible fish farming containers are easy to clean and can be set up on almost any flat surface. Gallon capacities range from 500 to 5,000 gallons. The collapsible fish farming tanks have an open top, allowing you to easy monitor the fish and adjust the necessary pumps and chemicals.
Using a collapsible, folding container for fish farming is a convenient and space-conscious choice for your aquaculture applications. Choose a folding frame, collapsible water storage tank for fish farming and see these benefits:
Spacious Interior
Space Conscious
Easy to Clean
Use Many Tanks for More Fish
Aquaculture Fish Tank Features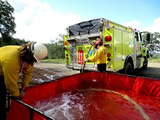 Collapsible tanks, also known as folding frame tanks, are made with a rigid aluminum or steel outer frame that holds a flexible yet rugged inner liner. The inner liner fabrics we have available are 22 oz. and 28 oz. Vinyl and 22 oz. High Performance Rubber (HPR). The HPR has superior cold-crack resistant, cut resistance, abrasion resistance—without adding any extra weight.
HPR or Vinyl Liners
Aluminum or Steel Frame
Easy to Set Up and Take Down>
Accommodate More Fish with More Tanks
Open Top for Easy Access
Easy to Clean
Additional Folding Frame Tank Applications
We also offer fiberglass tanks and corrugated steel tanks in a variety of sizes and dimensions for your agriculture needs. These tanks may also need additional liners inside them and will not be as easily moved as the collapsible folding frame tanks, but they do offer long lasting water storage. Other tank options include:
Folding frame tanks can be used for a variety of applications in need of reliable water storage. The portability and durability of folding frame tanks sets them apart from other water storage solutions. Some other applications for folding frame tanks include:

If you have questions about products, give us a call at 1-863-261-8388 or request a price quote.