Express Water Buffalo Trailers
Water Buffalo Trailers for Sale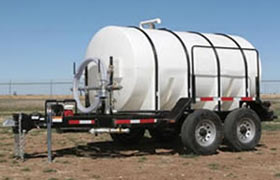 Known for dependability and utility, Express Water Buffalo Trailers are road ready with DOT approved safety components, and loaded with industrial-use features. DOT approved LED lights, double free-backing surge brakes, double leaf-spring axles, full-sized tires with E-Z lube hubs, and full diamond-tread fenders help keep you safe when using your water buffalo trailer on the public roadways.
Our standard features provide a wide range of functionality, whether for hauling water, dust control, fire fighting, farm irrigation and so much more. See list of features below.

If you have questions about products, give us a call at 1-863-270-8118 or request a price quote.
Express Water Wagon Details
Functional Features
Trailer Features

4 HP Honda Engine, with 2" Tsurumi Pump
Reliable & quick filling (or emptying) of your pump.
25' Fire Hose & Nozzle
Facilitates targeted of water discharge.
Galvanized Spray Bar with Double Nozzles
Spray up to a 25' swath behind your trailer.
Galvanized Discharge Bar
Resists corrosion.
20' Suction Fill Hose
Convenient and quick fill-up.
2" Anti-Siphon Fill Kit for use with hydrants, etc.
Prevents back-flow into the municipal water supply.
Suction Strainer
Filling the tank from open water sources.

Double Free Backing Surge Brakes
Facilitates safe stopping with a heavy tankful being towed on your water trailer.
DOT Approved LED Lights
Allows your trailer to go safely on public roadways.
Tandem Axles with Leaf Springs
Trailer suspension designed for strength and durability.
EZ-Lube Wheel Hubs
Makes trailer maintenance quick and easy.
Full Fenders, Diamond Tread
Reduces splash from tires, tread gives traction when standing on the trailer.
See Specs Above
For details on Buffalo Water Trailer height, weight, capacity, tire size, and more.
Note: These features are standard. If you're looking for additonal or custom features, just ask!

If you have questions about products, give us a call at 1-863-270-8118 or request a price quote.
Water Buffalo Trailer Uses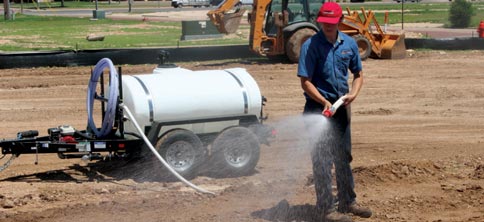 Designed for contractor and industrial use, Express Water Buffalo Trailers are often used for these types of applications:
Farming Water Buffalo Trailers:
Hauling water
Irrigate and fertilize crops
Wash machinery or livestock
Firefighting Water Buffalo Trailers:
Water reserves or water transportation
Wetting the ground quickly and uniformly
Firefighting use in tough-to-reach locations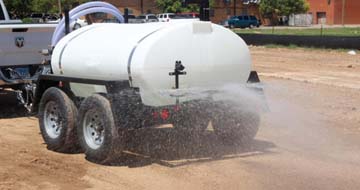 Arena Water Buffalo Trailers:
Spraying the arena
Watering or washing livestock
Facilities upkeep
Additional uses for water buffalo trailers:
Controlling dust
Irrigation of landscaping
Tree spraying
Watering golf courses, lawns or turf
Other Water Storage Products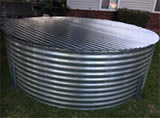 If you have questions about products, give us a call at 1-863-270-8118 or request a price quote.
© Copyright Water Storage Containers 2011-2021. All rights reserved.
Water Storage Containers is a global solutions provider offering our expertise and products to the following states, countries, territories and provinces:

States:

Alabama, AL | Alaska, AK | Arizona, AZ | Arkansas, AR | California, CA | Colorado, CO | Connecticut, CT | Delaware, DE | Florida, FL | Georgia, GA | Hawaii, HI | Idaho, ID | Illinois, IL | Indiana, IN | Iowa, IA | Kansas, KS | Kentucky, KY | Louisiana, LA | Maine, ME | Maryland, MD | Massachusetts, MA | Michigan, MI | Minnesota, MN | Mississippi, MS | Missouri, MO | Montana, MT | Nebraska, NE | Nevada, NV | New Hampshire, NH | New Jersey, NJ | New Mexico, NM | New York, NY | North Carolina, NC | North Dakota, ND | Ohio, OH | Oklahoma, OK | Oregon, OR | Pennsylvania, PA | Rhode Island, RI | South Carolina, SC | South Dakota, SD | Tennessee, TN | Texas, TX | Utah, UT | Vermont, VT | Virginia, VA | Washington, WA | West Virginia, WV | Wisconsin, WI | Wyoming, WY

Countries, Territories and Provinces:

Malaysia, MY | Indonesia, ID | Antigua and Barbuda, AG | Bahamas, BS | Barbados, BB | Belize, BZ | British Virgin Islands, VG | Cayman Islands, KY | Dominican Republic, DO | Grenada, GD | Haiti, HT | Jamaica, JM | Montserrat, MS | Puerto Rico, PR | Saint Lucia, LC | Saint Vincent and the Grenadines, VC | Trinidad and Tobago, TT | Turks and Caicos Islands, TC | United States, US | US Virgin Islands, VI | Mexico, MX | Campeche, CM | Quintana Roo, QR | Yucatan, YU | Central and South America | Canada, CA | Alberta, AB | British Columbia, BC | Manitoba, MB | New Brunswick, NB | Newfoundland and Labrador, NL | Northwest Territories, NT | Nova Scotia, NS | Nunavut, NU | Ontario, ON | Prince Edward Island, PE | Quebec, QC | Saskatchewan, SK | Yukon, YT