Water TrailerSprayers
The Practical Dust Control Solution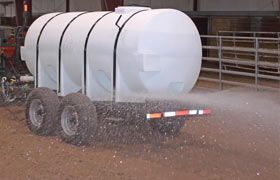 Dust can be troublesome for humans, animals, and plants. Making dust control essential to comfort, use, and even health is a priority in dust-prone areas where moving vehicles can cause plumes.
Our Water Trailer Sprayers include features that make them ideal for dust suppression to avoid issues on a job site, farm, or at home. Adjustable spray bars ensures the dust control of various sized areas. DOT compliant features allows for use of the trailer on public roadways between sites.
Dust Suppression
Whether the issue is road dust, arena dust, or safety on a job site, water trailer sprayers are an ideal solution. The dust control spray bar is adjustable, able to spray a swath that reaches between 8 and 25 feet. The spray bar's flood nozzles to help cover a wide area. The 2" Tsurumi aluminum pump is coupled with a 4 HP Honda engine for superior performance during spraying.

If you have questions about products, give us a call at 1-772-646-0597 or request a price quote.
Dust Control Anywhere, Anytime
DOT-compliant water trailer sprayers provide the flexibility desired for any job. The DOT package allows for the transportation of these water trailers on public roadways, or between job sites. The water trailer sprayers feature LED lights, diamond-tread fenders, and DOT-compliant brake systems to provide safety and security when towing the trailer.
DOT Compliant Features
• Tandem Surge Brakes (500 Gallon, 800 Gallon, 1000 Gallon)
• Electric Brakes (1600 Gallon)
• Diamond-Tread Fenders
• LED Lights
For Details and Specifications, Please Select the Trailer Size Below:
Filling Your Water Trailer Sprayer with Ease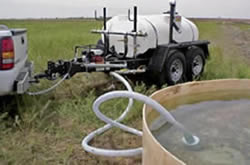 Water Trailer Sprayers are easily filled through the 2-inch anti-siphon fill tube and include a 20-foot fill hose for quick filling from any pond or water pit. The tank's sump bottom allows for quick and easy drainage for when spraying has concluded. The translucent white exterior allows water level to be visible.
There are two easy ways to fill the tank:
• Through the Anti-Siphon Fill Tube
• Drawing Water Through the Pump
Water trailers have numerous features to meet your watering needs. The Express Water Trailer line features tanks with capacities of 500 gallons, 800 gallons, 1000 gallons, and 1600 gallons. If you're in search of a trailer tailor-made for your needs, we also offer the Argo Water Trailer by GEI Works, which offers a wider selection of customizable features.