1025 Gallon DOT Trailer Sprayers
---
Trailer Sprayers
1025 Gallon DOT Water Trailers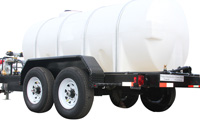 1025 gallon Trailer Sprayers are the ideal water transportation unit for locations that require large amounts of water or spray materials. All water trailers are designed with DOT grade components that equip the trailer for use on paved roads, dirt roads and construction sites. Their high strength and resistances has made trailer sprayers a dependable option for many locations. Equipped with spray equipment and materials, these water trailers work perfectly in any of the following applications:
Dust Suppression
Fire Suppression
Livestock Watering
Field and Crop Irrigation
Vegetative Control
Arena Sprayers
Features:
DOT Approved Trailer
Tank: 1025 gallon Plastic Tank
Surge Brakes
Adjustable 2" Nozzle Spray Bar
Fire Hose and Nozzle
Anti-Siphon Fill Kit
Suction Hose
2" Koshin Pump with Honda Engine

Benefits:
Large Storage Potential
Complete Spray System
Includes All Required Components
High Water and Chemical Resistances

1025 Gallon Water Trailers Technical Specifications

Tank
1025 gallon Poly Tank
Brakes
Surge Brakes
Trailer
DOT Trailer
Axle
Tandem Surge Brake Axles
Product Flyer & Drawing
1025 Gallon Water Trailer Product Flyer
Additional Water Trailer Sprayers
The 1025 gallon Water Trailer is one of many trailers designed to help with the water transportation and spray requirements. Additional models include sizes ranging from 500 to 1600 gallons as well as smaller skid mounted units. These and more can be found on our Portable Water Tanks and Trailers page.
---
© Copyright GEI Works 2011-2018. All rights reserved.
GEI Works is a global solutions provider offering our expertise and products to the following states, countries, territories and provinces:

States:

Alabama, AL | Alaska, AK | Arizona, AZ | Arkansas, AR | California, CA | Colorado, CO | Connecticut, CT | Delaware, DE | Florida, FL | Georgia, GA | Hawaii, HI | Idaho, ID | Illinois, IL | Indiana, IN | Iowa, IA | Kansas, KS | Kentucky, KY | Louisiana, LA | Maine, ME | Maryland, MD | Massachusetts, MA | Michigan, MI | Minnesota, MN | Mississippi, MS | Missouri, MO | Montana, MT | Nebraska, NE | Nevada, NV | New Hampshire, NH | New Jersey, NJ | New Mexico, NM | New York, NY | North Carolina, NC | North Dakota, ND | Ohio, OH | Oklahoma, OK | Oregon, OR | Pennsylvania, PA | Rhode Island, RI | South Carolina, SC | South Dakota, SD | Tennessee, TN | Texas, TX | Utah, UT | Vermont, VT | Virginia, VA | Washington, WA | West Virginia, WV | Wisconsin, WI | Wyoming, WY

Countries, Territories and Provinces:

Malaysia, MY | Indonesia, ID | Antigua and Barbuda, AG | Bahamas, BS | Barbados, BB | Belize, BZ | British Virgin Islands, VG | Cayman Islands, KY | Dominican Republic, DO | Grenada, GD | Haiti, HT | Jamaica, JM | Montserrat, MS | Puerto Rico, PR | Saint Lucia, LC | Saint Vincent and the Grenadines, VC | Trinidad and Tobago, TT | Turks and Caicos Islands, TC | United States, US | US Virgin Islands, VI | Mexico, MX | Campeche, CM | Quintana Roo, QR | Yucatan, YU | Central and South America | Canada, CA | Alberta, AB | British Columbia, BC | Manitoba, MB | New Brunswick, NB | Newfoundland and Labrador, NL | Northwest Territories, NT | Nova Scotia, NS | Nunavut, NU | Ontario, ON | Prince Edward Island, PE | Quebec, QC | Saskatchewan, SK | Yukon, YT