Skid Mount Sprayer
For Mobile Deicing Applications & More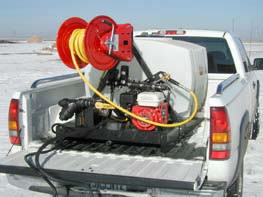 Question: Hello. I am interested in finding a 200 or 300 gallon skid mount sprayer. We are looking to have a couple of these sprayers before the winter next year as we will be using them on our plants in the mountains. We are planning to use brine for our road for deicing.
Answer: Thank you for contacting us! We do have both a 200 gallon and a 300 gallon skid mounted sprayer that is designed for deicing applications. These skid mounted sprayers are easy to use and have been frequently transported on the backs of full size pickup trucks.
Each skid sprayer is equipped with a polyethylene tank that can easily store your brine material. If you choose the 200 gallon skid, you will receive a PCO transport polyethylene tank. If you choose the 300 gallon skid, you will receive an elliptical tank.

If you have questions about products, give us a call at 1-772-646-0597 or request a price quote.
Typically included with all of the skid mounted sprayers is some of the following equipment:
Polyethylene Tank
Heavy-Duty Steel Frame
Swivel Hose Reel Mount
200 ft. Hose and Lawn gun
Diaphragm Pump with 5.5 Honda Engine (580 PSI and 7.4 GPM)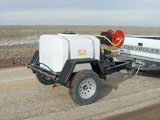 If you require a higher PSI or GPM, please ask! There are several pumps available to help give you the power you require for your location.
Depending on your application, you might also consider the deicer sprayer trailer. This trailer comes with the same size polyethylene tanks, but hooks up to the back of your vehicle for swift DOT-approved transportation. These trailers include:
Brakes
Lights
Jack
Fenders
225/75D15 Radial Tires
Adjustable Ball Hitch
Regardless of whether you choose the skid mount sprayer or the trailer sprayer, both of these units will provide you with proper deicing equipment. They have been frequently used to deice roads, bridges, intersections and more. Learn More.

If you have questions about products, give us a call at 1-772-646-0597 or request a price quote.
© Copyright GEI Works 2011-2020. All rights reserved.
GEI Works is a global solutions provider offering our expertise and products to the following states, countries, territories and provinces:

States:

Alabama, AL | Alaska, AK | Arizona, AZ | Arkansas, AR | California, CA | Colorado, CO | Connecticut, CT | Delaware, DE | Florida, FL | Georgia, GA | Hawaii, HI | Idaho, ID | Illinois, IL | Indiana, IN | Iowa, IA | Kansas, KS | Kentucky, KY | Louisiana, LA | Maine, ME | Maryland, MD | Massachusetts, MA | Michigan, MI | Minnesota, MN | Mississippi, MS | Missouri, MO | Montana, MT | Nebraska, NE | Nevada, NV | New Hampshire, NH | New Jersey, NJ | New Mexico, NM | New York, NY | North Carolina, NC | North Dakota, ND | Ohio, OH | Oklahoma, OK | Oregon, OR | Pennsylvania, PA | Rhode Island, RI | South Carolina, SC | South Dakota, SD | Tennessee, TN | Texas, TX | Utah, UT | Vermont, VT | Virginia, VA | Washington, WA | West Virginia, WV | Wisconsin, WI | Wyoming, WY

Countries, Territories and Provinces:

Malaysia, MY | Indonesia, ID | Antigua and Barbuda, AG | Bahamas, BS | Barbados, BB | Belize, BZ | British Virgin Islands, VG | Cayman Islands, KY | Dominican Republic, DO | Grenada, GD | Haiti, HT | Jamaica, JM | Montserrat, MS | Puerto Rico, PR | Saint Lucia, LC | Saint Vincent and the Grenadines, VC | Trinidad and Tobago, TT | Turks and Caicos Islands, TC | United States, US | US Virgin Islands, VI | Mexico, MX | Campeche, CM | Quintana Roo, QR | Yucatan, YU | Central and South America | Canada, CA | Alberta, AB | British Columbia, BC | Manitoba, MB | New Brunswick, NB | Newfoundland and Labrador, NL | Northwest Territories, NT | Nova Scotia, NS | Nunavut, NU | Ontario, ON | Prince Edward Island, PE | Quebec, QC | Saskatchewan, SK | Yukon, YT