Portable Water Storage Container
FAQ: Do you carry small water containers that are portable?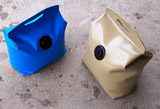 Question: Hello. I am looking for a portable water storage container that I can use for water transportation and possible storage. I am not looking for anything too big, maybe around 5 to 10 gallons. Do you have anything of this size available? Would it be approved to handle drinking water?
Answer: For small potable water storage, a great option is our small portable Water Storage Bag. These smaller units are constructed in capacities from one to twenty gallons (1 - 20 gal) and have been successfully used to store drinking water. As part of our collapsible tank variety, these tanks feature a easy-to-use construction that allows the tank to lie flat when empty for simple transportation.

If you have questions about products, give us a call at 1-772-646-0597 or request a price quote.
Features: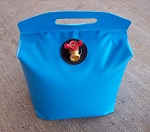 This portable water bag is one of the most flexible options available and has been used in a wide range of applications to store, carry, and transport around a location or from one location to the next. Some of the standard features you will typically find on this tank include the following:
Drinking Water Approved Materials
Built-in Handle
Fitting for Filling and Emptying
As mentioned in its design, these tanks are equipped to handle the safe storage of drinking water. To meet this requirement, all tanks are constructed from fabric materials that hold an FDA and NSF 61 compliance or approval.
Typical Portable Container Uses
As a versatile storage container, these portable water bags have been used in many applications and purposes ranging from military operations to residential emergency water storage. Some common uses for these tanks have included the following:
Water Storage for Military Locations
Remote Water Source
Water for Camping, Hiking or RV Trips
Construction Site Drinking Water Storage
Water for Emergency Relief/FEMA Efforts
Residential Water Supply
Backup Water Storage
For increased flexibility in your location, tanks can be folded flat and stored on shelves or in other container until needed times. This can be particularly useful for emergency situations as tanks can simply be taken out of storage, filled, and carried to their needed location. These portable water storage containers are subject to a minimum order. Please inquire for details.

If you have questions about products, give us a call at 1-772-646-0597 or request a price quote.
© Copyright GEI Works 2011-2020. All rights reserved.
GEI Works is a global solutions provider offering our expertise and products to the following states, countries, territories and provinces:

States:

Alabama, AL | Alaska, AK | Arizona, AZ | Arkansas, AR | California, CA | Colorado, CO | Connecticut, CT | Delaware, DE | Florida, FL | Georgia, GA | Hawaii, HI | Idaho, ID | Illinois, IL | Indiana, IN | Iowa, IA | Kansas, KS | Kentucky, KY | Louisiana, LA | Maine, ME | Maryland, MD | Massachusetts, MA | Michigan, MI | Minnesota, MN | Mississippi, MS | Missouri, MO | Montana, MT | Nebraska, NE | Nevada, NV | New Hampshire, NH | New Jersey, NJ | New Mexico, NM | New York, NY | North Carolina, NC | North Dakota, ND | Ohio, OH | Oklahoma, OK | Oregon, OR | Pennsylvania, PA | Rhode Island, RI | South Carolina, SC | South Dakota, SD | Tennessee, TN | Texas, TX | Utah, UT | Vermont, VT | Virginia, VA | Washington, WA | West Virginia, WV | Wisconsin, WI | Wyoming, WY

Countries, Territories and Provinces:

Malaysia, MY | Indonesia, ID | Antigua and Barbuda, AG | Bahamas, BS | Barbados, BB | Belize, BZ | British Virgin Islands, VG | Cayman Islands, KY | Dominican Republic, DO | Grenada, GD | Haiti, HT | Jamaica, JM | Montserrat, MS | Puerto Rico, PR | Saint Lucia, LC | Saint Vincent and the Grenadines, VC | Trinidad and Tobago, TT | Turks and Caicos Islands, TC | United States, US | US Virgin Islands, VI | Mexico, MX | Campeche, CM | Quintana Roo, QR | Yucatan, YU | Central and South America | Canada, CA | Alberta, AB | British Columbia, BC | Manitoba, MB | New Brunswick, NB | Newfoundland and Labrador, NL | Northwest Territories, NT | Nova Scotia, NS | Nunavut, NU | Ontario, ON | Prince Edward Island, PE | Quebec, QC | Saskatchewan, SK | Yukon, YT