Portable Storage Water Tank and Trailer
Water Tank Trailer for Portable Water Use & Storage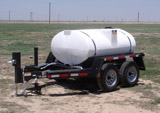 With a Portable Storage Water Tank and Trailer you can easily transport stored water around locations such as farms, construction sites, nurseries and recreational areas. These portable storage water tanks contain a 500 gallon elliptical tank and water trailer. This trailer features 15" wheels for use on various types of vehicles and terrains. Designed to make water transportation safe, easy and smooth all units are equipped with fenders, electric brakes and DOT Compliant lights. This allows for safe and compliant water transportation.
For our standard water trailer please visit the 500 Gallon Water Trailer page.
Water Tank Trailer Features
500 Gallon Poly Tank
30" in Height
3" Pintle Ring
DOT Compliant Lights
Grip Strut Fenders

15" Tires
Electric Brakes
Drop-Leg Swivel Wheel Jack
10 Spigots
3500 Leaf Spring Axles
Water Tank Trailer Benefits
Transports Water Around Your Location
Lights Approved by the DOT
High Resistance to Rust and Corrosion
Tank has a 5 Year Warranty

All Other Components Have a 1 yr. Warranty
Safe for Use in Outdoors Conditions
Fenders to Protect Tanks
Connects to Different Vehicles
Standard Applications
Agricultural Water Storage
Transportation of Water Around Locations
Spray Tank Applications
Mobile Water Storage in Industrial Facilities
Water Buffalo Tank Trailer Technical Specifications
Tank Size
Frame
Wheels/Tires
Wheel Track
Dimensions
Weight
500 Gallon Elliptical
6" Channel Iron
15 x 6 / ST225/
75D15-D
72"
62" H x 165" L x 84" W**
1,800 lbs.
In addition to the portable storage water tank model, we also offer several standard water trailers for use around facilities, homes, businesses and other lawn care areas. For more information please visit Portable Storage Water Tank Variety.
© Copyright Water Storage Containers 2011-2023. All rights reserved.