Portable Water Storage Tank
Water Storage you Can Count On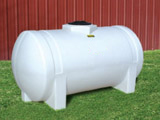 Plastic Portable Water Storage Tanks feature a horizontal leg tank design that allows the tank to be both self-supporting and low in profile. Ideal for locations that are frequently alternating between storage and transportation, these tanks are ideal for residential areas, agricultural locations and businesses.
Plastic Portable Leg Tanks are constructed from a robust polyethylene material. This fabric is high in strength and equipped to handle exposure to chemicals, water, and UV rays. For transportation requirements, each tank will additionally feature molded grooves to support securement through metal bands.
Portable Water Storage Tank Features:
Made with Polyethylene
Specific Gravity of 1.5
Built in Legs to Support
Grooves Molded into Tank for Support Band
Support Items can be Stainless Steel Band or Hoops
10" Vented Lid
FDA Approved
UV Stabilized
Gallon Marker Included on Tank
Benefits:
Self Supporting Water Tank
Fits Easily in Pickup Trucks or UTVs
Built-in Grooves for Securing Bands
Equipped for Constant UV Exposure
High Resistances
Great for Transport or Stationary Storage
Typical Applications:
Storage Around Agricultural Locations
Water or Agricultural Liquid Transportation
Supply for Remote Locations
Portable Water Supply
Water Use in Emergency Applications

Horizontal Leg Tank
Technical Specifications
Capacity
Width
Length
Height
125
30"
49"
30"
230
38"
51.5"
38"
Horizontal Portable Water Storage Tanks are one of many options designed to help with water transportation around your location. In addition to these units, plastic transport tanks are also available in the following models:
Pickup Truck Tanks
Transportation Tanks
PCO Tanks
Water Trailers

If you have questions about products, give us a call at 1-863-261-8388 or request a price quote.
Customers Who Viewed This Product Also Viewed
© Copyright Water Storage Containers 2011-2023. All rights reserved.