Horizontal Round Poly Tanks
FAQ: Which Horizontal Tanks Can Be Used in Transportation?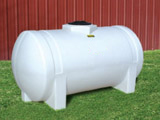 Question: I am looking for horizontal round poly tanks that can be used in transport. Do you have anything like this?
Answer: Good afternoon! Thank you for your inquiry! We do have a view different horizontal tanks that could easily fit your need for water transportation.

If you have questions about products, give us a call at 1-772-646-0597 or request a price quote.
One of the best poly tanks for this type of storage is the Portable Leg Storage Tank. This portable tank has some of the following features:
Polyethylene Construction: This gives you a specific gravity of 1.5 and offers an FDA approved resin for storing potable water.
Built-In Legs: These self-suppporting legs work to keep your tank sturdy during transportation.
Molded in Grooves: These built-in sections provide locations for placing steel support bands or hoops.
UV Stabilized: Helps your tank hold up longer in constant outdoor exposure.
White or Black Exterior: These tanks are available with either a natural white or algae resistant black exterior. Black exteriors reduce the amount of sunlight flowing through your tank and often recommended for storing drinking water.
Wide Range of Sizes: Capacities for these tanks range from 125 gallons to 800 gallons.
Horizontal Water Poly Storage Tank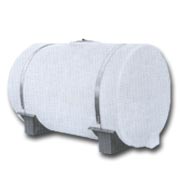 If you intend on using this tank for side or front transportation in vehicles such as tractors, another great option in the Horizontal Drinking Water Storage Tank. The tank has many of the same qualities shown in the tank above with these crucial differences:
No Leg Support: This horizontal tank features saddle, rather than leg supports for use in trailers and tractors.
Sump Bottom: This storage tank contains a sump bottom that allows liquids to flow smoothly and completely from the tank. The sump additionally gives you more access to the inside of the tank for a more complete cleanout.
If you are looking for more of a sprayer system or a tank and trailer combination, please feel free to check out our selection of Portable Water Trailers. Here you will find around 20 different sprayer systems attached to skids, trailers, pumps and sprayers for ease of use.

If you have questions about products, give us a call at 1-772-646-0597 or request a price quote.
© Copyright GEI Works 2011-2020. All rights reserved.
GEI Works is a global solutions provider offering our expertise and products to the following states, countries, territories and provinces:

States:

Alabama, AL | Alaska, AK | Arizona, AZ | Arkansas, AR | California, CA | Colorado, CO | Connecticut, CT | Delaware, DE | Florida, FL | Georgia, GA | Hawaii, HI | Idaho, ID | Illinois, IL | Indiana, IN | Iowa, IA | Kansas, KS | Kentucky, KY | Louisiana, LA | Maine, ME | Maryland, MD | Massachusetts, MA | Michigan, MI | Minnesota, MN | Mississippi, MS | Missouri, MO | Montana, MT | Nebraska, NE | Nevada, NV | New Hampshire, NH | New Jersey, NJ | New Mexico, NM | New York, NY | North Carolina, NC | North Dakota, ND | Ohio, OH | Oklahoma, OK | Oregon, OR | Pennsylvania, PA | Rhode Island, RI | South Carolina, SC | South Dakota, SD | Tennessee, TN | Texas, TX | Utah, UT | Vermont, VT | Virginia, VA | Washington, WA | West Virginia, WV | Wisconsin, WI | Wyoming, WY

Countries, Territories and Provinces:

Malaysia, MY | Indonesia, ID | Antigua and Barbuda, AG | Bahamas, BS | Barbados, BB | Belize, BZ | British Virgin Islands, VG | Cayman Islands, KY | Dominican Republic, DO | Grenada, GD | Haiti, HT | Jamaica, JM | Montserrat, MS | Puerto Rico, PR | Saint Lucia, LC | Saint Vincent and the Grenadines, VC | Trinidad and Tobago, TT | Turks and Caicos Islands, TC | United States, US | US Virgin Islands, VI | Mexico, MX | Campeche, CM | Quintana Roo, QR | Yucatan, YU | Central and South America | Canada, CA | Alberta, AB | British Columbia, BC | Manitoba, MB | New Brunswick, NB | Newfoundland and Labrador, NL | Northwest Territories, NT | Nova Scotia, NS | Nunavut, NU | Ontario, ON | Prince Edward Island, PE | Quebec, QC | Saskatchewan, SK | Yukon, YT