Heated Concrete Heating Blanket
Concrete Thermal Blankets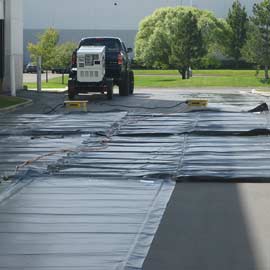 Cure your concrete in cold and harsh weather with our heated concrete heating blanket. Concrete curing time slows when cold weather hits, significantly delaying your construction project. With our concrete thermal blanket, you can cure concrete in the optimum time with consistent, even heat. So now, you don't have to wait for warmer temperatures before pouring your concrete. Our electric thermal heaters perform better than other conventional blankets or tarps, curing concrete 2.8 times faster!
We offer a variety of lengths and sizes, to meet the needs of your specific site. (Custom sizes also available) Concrete curing blankets give you a way to cure your concrete confidently and effectively in the cold weather months, while maintaining moisture throughout the hydrating process. Made in the US, your delivery time is faster, saving you time and money. Call us today for more information and pricing!

Questions about Concrete Thermal Blankets ? We can help! Call us at 1-863-261-8388 or request a price quote.
---
Concrete Thermal Blankets
Our concrete thermal blankets protect your concrete pours in conditions too extreme for optimal curing. During the curing process our blankets maintain moisture, working through freezing conditions and the summer heat. Whether temperature is too hot or too cold, the concrete heating blankets distribute even insulation for uniform coverage of the entire surface.
Operating at 120 volts, our unique design eliminates temperature fluctuations. Advanced technology spreads heat evenly during concrete curing, so even corners and edges are protected. These heater blankets provide concreting strength of 3,925 in just 72 hours. You can us electric blankets to thaw ground before pouring concrete, and again when finishing for complete freeze protection.
Concrete Heater Blanket Features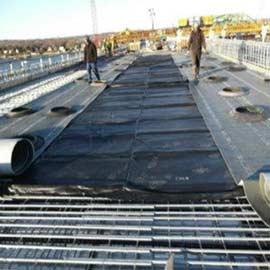 Reach PSI levels in a shorter time
Maintains moisture retention
Protect ground from frost, snow and ice buildup
Prevents freeze cycle
Cost effective

Easy installation
Water resistant
Safe for outdoor use
Reduces downtime and scheduling delays
Made in the US
Faster delivery
---
Concrete Heater Blanket Specs
| | | | | | | |
| --- | --- | --- | --- | --- | --- | --- |
| Size | 3x4 | 3x10 | 3x20 | 5x10 | 5x20 | 10x10 |
| Heated Dimensions | 3'x4' | 3'x10' | 3'x20' | 5'x10' | 5'x20' | 10'x10' |
| Finished Dimensions | 4'x5' | 4'x11' | 4'x21' | 5'x11' | 6'x21' | 12'x12' |
| Content Temperature | Preset | Preset | Preset | Preset | Preset | Preset |
| Heated Area | 12 sq. ft. | 30 sq. ft. | 60 sq. ft. | 50 sq. ft. | 100 sq. ft. | 100 sq. ft. |
| Cord Length | 15 ft. | 15 ft. | 15 ft. | 15 ft. | 15 ft. | 15 ft. |
| Voltage | 120 VAC | 120 VAC | 120 VAC | 120 VAC | 120 VAC | 120 VAC |
| Plug | 15 AMP | 15 AMP | 15 AMP | 15 AMP | 15 AMP | 15 AMP |
| Approx Weight | 6 lbs. | 15 lbs. | 30 lbs. | 25 lbs. | 50 lbs. | 50 lbs. |
*We also have Ground Thawing Heater Blankets available. Find out more from one of our team members!
Concrete Heater Blanket Uses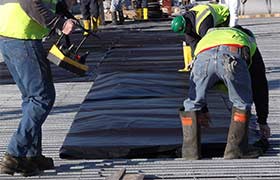 Our heat blankets for concrete have a wide variety of uses that solve many temperature problems. Our concrete curing blankets increase your productivity by rapidly curing concrete with consistent, even heat. Electric concrete blankets are an effective and dependable way to cure concrete in both warm and cold weather. Available in various sizes, our blankets give you peace of mind, keeping your concrete from cracking, shrinking and freezing. Our concrete heater blankets have multiple uses including:
Concrete Curing
Freeze Prevention
Ground Thawing
Precast Concrete
Curing Bricks or Blocks
Concrete Counter Tops
Decorative Concrete
Check out all of our concrete heaters and thawing blankets, as well as our other power blanket products. We can help you find exactly what you need for your specific job! Talk with one of our specialists!
© Copyright Water Storage Containers 2011-2023. All rights reserved.