5000 gal Water Tank
5,000 to 102,000 Gallon Sizes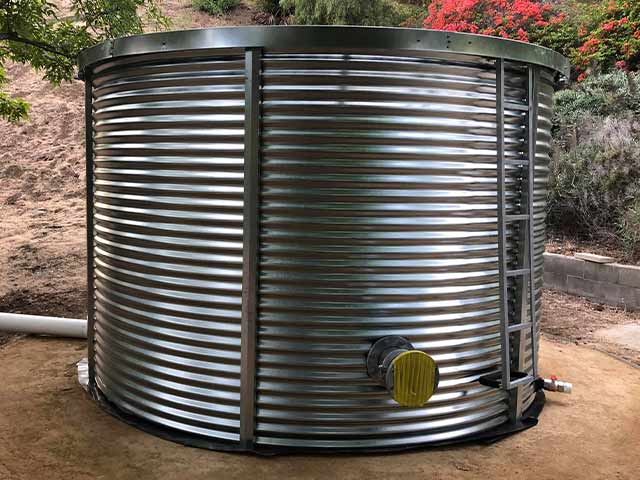 Pick from AquaDot Corrugated Tanks in 5000 gallon water tank sizes, 50,000 gallon, even up to 102,000 gallon sizes. AquaDot are made only from quality materials and are made to last.  Because we've cut the middle man out, we save you up to 50% over competitor prices and we offer a 20 year "No Leaks" warranty.
Our AquaDot tanks are different.  Made from special galvanized corrugated steel panels, they're designed specifically for providing long lasting water storage, quick installations, and to save you money.  AquaDot steel water tanks use galvanized steel panels coated with the thickest protective coating available.  We include a flexible food-grade potable-water approved (NSF 61) poly liner that is not prone to cracking (unlike many other liners in the market).
Put 30+ years of making quality corrugated water tanks to work for you!
AquaDot Water Tank Sizes
Available in 5000 gal water tanks sizes, 12,000, 50000, and other sizes too (see below)! Find the size you need, specifications (specs), and drawings are listed below. Custom sizes can also be accommodated!
Roof Sheet Layout
| | Gross Volume | Type | Coverage | Tank Diamater | Details (click here) |
| --- | --- | --- | --- | --- | --- |
| 130" Diamater | 5,000 gal | Full Length | 32" | 130" | Drawing |
| 205" Diamater | 12,000 gal | Full Length | 32" | 205" | Drawing |
| 307" Diamater | 28,000 gal | Full Length | 32" | 307" | Drawing |
| 409" Diamater | 50,000 gal | Full Length | 32" | 409" | Drawing |
| 409" Diamater | 50,000 gal | Short Length | 32" | 409" | Drawing |
| 512" Diamater | 77,000 gal | Full Length | 32" | 512" | Drawing |
| 512" Diamater | 77,000 gal | Short Length | 32" | 512" | Drawing |
You might also be interested in our 5,000 gallon water tank DIY installation kit. Not sure what size you need? We have a tank calculator that might help!
AquaDot Water Tank Features
G145 Galvanized Coated Corrugated Steel Walls
Hot Dip Galvanized Roof Structure & Corrugated Dome Roof
Foam Roof Seal for Dust and Vermin Protection
NSF/ANSI 61 Certified for Potable Water Use Tank Liner/Food Grade
2" Outlet with Nickel Coated Metal Ball Valve
2" Drain with Nickel Coated Metal Ball Valve
6" Overflow with Mosquito Screen and Flap Valve
Inlet Basket with UV Guard
Geomat Cushion Layer Tank Liner Protection
Tank Wall Moisture Barrier
Lockable Access Hatch with Removable Ladder
Available in sizes: 5000 gal, 12000 gal, 16000 gal, 28000 gal, 37000 gal, 50000 gal, 65000 gal, 77000 gal and 102000 gallon sizes. Custom sizes are also available.
Meets code requirements (see below)
Optional:
Rainsaver Gutter System
Decorative Roof Facia
Additional and over-size fittings
AquaDot Water Tanks Benefits
The most efficient and affordable large volume water tank available on the market
20 year "Leak Free" Pro-Rata Warranty leads the industry and is supported by over 30 years of experience in choosing the right materials to survive the toughest of conditions
Poly lined steel water tank is durable, strong, reliable, and safe
Fitted geotextile tank liner underlay provides the ultimate protection against liner damage for the life of the tank
Moisture barrier adds protection beneath the tank and also prevents base erosion
Hinged lockable roof provides secure access, and access hatch
Inlet includes a light guard to prevent sunlight from entering the tank, preventing algae growth
Trained and qualified staff is available, if needed to help with installation
AquaDot Corrugated Steel Water Tank Downloads
Why AquaDot Water Tanks?
Water Tank Panels
Our steel water tanks are strong, and resist water, wind and seismic loads. Water tank panels are treated with the thickest galvanized coating on the market, AquaDot water tank panels use 1.45 oz/sf (G145).  
 
*Note: See individual sizes of tank specification above for information about snow, wind, and seismic loads.  If you live in an area that has more significant snow, wind, or seismic loads than our AquaDot tanks are designed for, we do have other tanks that are built to accommodate it.  Ask us!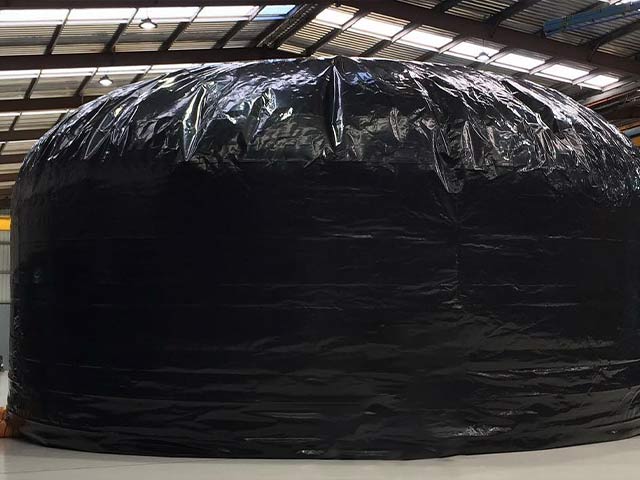 Water Storage Tank Liner
AquaDot corrugated tanks come with a food grade liner that is BPA-free, NSF compliant, and will provide safe drinking water storage for many, many years to come.

Competitors often use a style of potable liners are stiffer and can crack, compromising the integrity of your water storage.  Instead we use a "monofilament" liner, because it resists fatigue cracking and is very stretchy… these are important characteristics for safe and long lasting water storage. Our liners last longer and offer greater protection.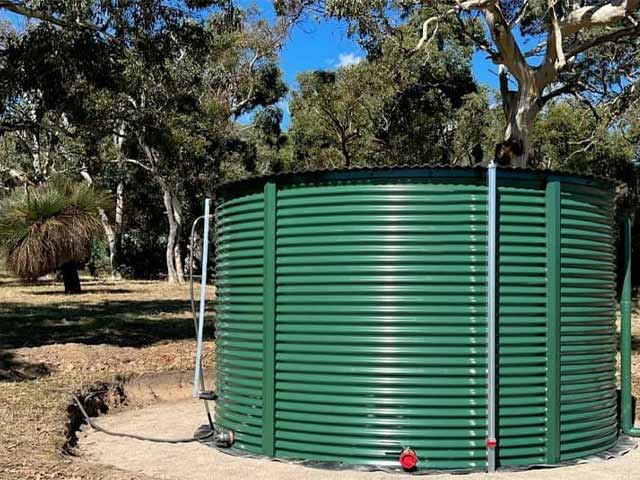 AquaDot Tank Warranty
Enjoy long lasting safe water storage with AquaDot tanks and a 20 year "No-Leaks" warranty. Our warranty is supported by over 30 years of experience. We use only the best materials to ensure that your tank survives the toughest conditions with ease.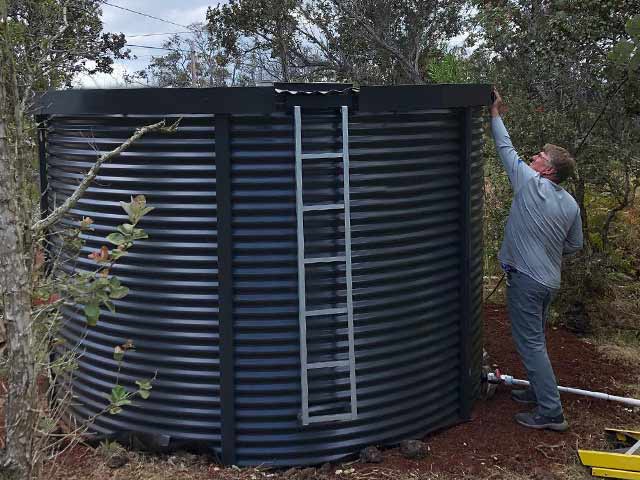 Corrugated Tank Installation
Only the AquaDot 5,000 gallon corrugated water tank is available as a DIY kit. You can also choose to have it professionally installed. For the other tank sizes, you can manage the installation, or you can have our team of trained technicians handle the installation.
See: Sample Installation Instructions.
Ask us about components to make using your DIY water tank even more efficient and hassle free for rainwater collection, well water storage, or fire suppression!
AquaDot Tank Code Requirements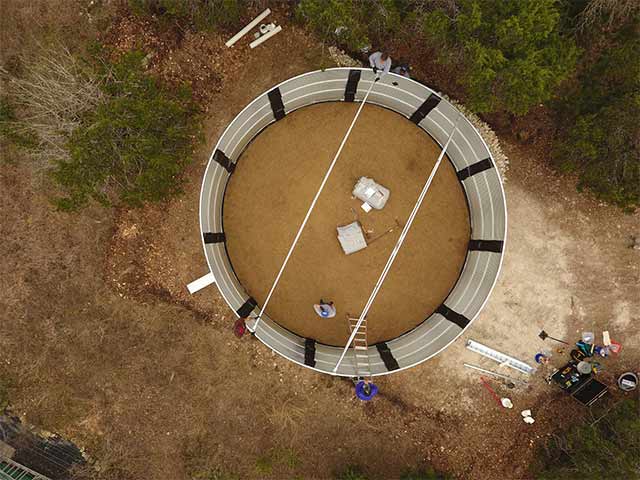 AquaDot water tanks are designed to meet or exceed standard loading, concrete and steel structure codes, along with safe potable water storage codes.
ASCE7-10     Minimum Design Loads For Buildings and Other Structures
ACI318-14 Building Code Requirements for Structural Concrete
AISC 360-10 Specification for Structural Steel Buildings
AISIS100-07 North American Specification for the Design of Cold-Formed Steel Structural Members
AWS D1.1 Structural Welding-Steel
NSF/ANSI 61: Drinking Water System Components
Corrugated Water Tanks Applications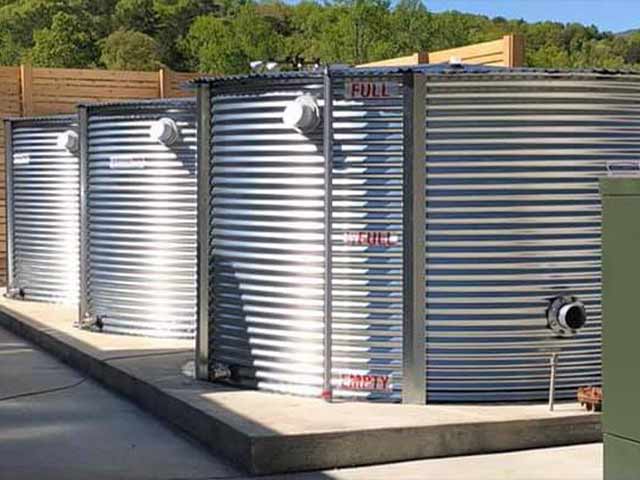 AquaDot Corrugated Water Tanks are designed and manufactured for long-lasting quality water storage. They are used for many applications, including for personal, commercial, and municipal use.  They are transported inexpensively anywhere in the world and assembled in by trained installers in a day (in most cases).
Rainwater Collection
Fire Water Storage
Irrigation Water Storage
Agriculture
Drinking Water Storage
Process Water Storage
Bulk materials and dry goods
Frac Storage Tanks
The Competition
Many competitors often cut costs by cutting quality.  They use lower grades of metal, thinner coatings, and less robust tank fittings.  Their liners often don't wear well and end up compromising safe water storage as time goes on.  Customers typically don't notice the difference until later when their tank fails. 
Do your homework. We're not afraid of what you find!  In fact, we're confident that you'll find we're the longest lasting, highest quality water storage tank for the price on the market.  If not, we'd like to know about how we can improve!
Learn more about 5,000 gallon water tanks, 12,000 gallon, 50,000 gallon, and 102,000 corrugated water tanks and more!  Our friendly and knowledgeable customer service team is here to answer all your questions. Call us Today!
Call us at 1-863-563-3312 or fill out our quote request form to discuss your requirements.