Collapsible Pick-Up Truck Tank
---
Emergency Water Storage Containers
Portable Plastic Tanks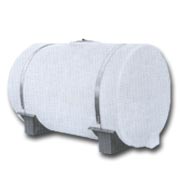 Horizontal Emergency Water Storage Containers is the perfect transportation tank for farms, nurseries, agricultural areas, businesses and other storage facilities. Designed with a lower overall profile, these tanks fit neatly in saddles, pickup trucks and other transportation vehicles. This allows them to safely move around sites and to and from storage locations.
These water storage tanks are prefectly suited for use during hurricane relief efforts. Don't wait to prepare for hurricane and flood relief water storage, be prepared for any emergency. Due to the quick mobility required for these tanks available models will most commonly include the following tank styles:
Horizontal Tanks
Elliptical Tanks
Pickup Truck Tanks
View Tank Sizes and Specifications
If you have questions about these products call us at +1-772-646-0597 or view pricing in the Webstore.
Portable Plastic Tank Features:
Capacity: 50 to 250 gallons
Plastic Materials
Molded Grooves for Securing to Vehicles
Connects Easily to the Back of Pickup Trucks
Portable Plastic Tank Benefits:
Easy to Transport in Emergency Situations
Suitable for Drinking Water
Safely Contains Water
Low Profile
Great for Tractors, Pickup Trucks and More
Emergency Water Storage Containers Applications:
Backup Water Supply
Emergency Water Transportation
Drinking Water Storage for Homes, Farms and Businesses
Gray or Rainwater Storage
Portable Pickup Truck Tank

These emergency water storage containers have been used for water transport on the back of pickup trucks, trailers and multiple other vehicles. These tanks come with additional options of both skids and bands to help safely mount the tank to your vehicle. This helps to easily transport tanks to the desired location around your facility, work site or property. To see more information on our emergency water storage containers please visit our Webstore.
Part Number

Capacity (gal)

Width

Length

Height

Band Width

Weight (lbs)

T200HK
200
30"
72"
31 3/4"
58 1/2"
60
T300HK
300
38"
70"
40 1/2"
47"
85
T500HK
500
48"
74"
50 1/2"
38"
120
Pickup Truck Tanks

Part Number

Capacity (gal)

Size in Inches
(Diameter x Height)

210
60/51 x 28
325
62 x 32
425
65 x 37
Water Tank Trailers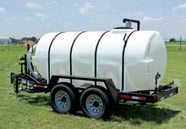 Water Tank Trailers are reliable, rugged and DOT Apporved for use on public roadways. Use them for hauling water, irrigation, firefighting, dust control, and more.

---
© Copyright GEI Works 2011-2018. All rights reserved.
GEI Works is a global solutions provider offering our expertise and products to the following states, countries, territories and provinces:

States:

Alabama, AL | Alaska, AK | Arizona, AZ | Arkansas, AR | California, CA | Colorado, CO | Connecticut, CT | Delaware, DE | Florida, FL | Georgia, GA | Hawaii, HI | Idaho, ID | Illinois, IL | Indiana, IN | Iowa, IA | Kansas, KS | Kentucky, KY | Louisiana, LA | Maine, ME | Maryland, MD | Massachusetts, MA | Michigan, MI | Minnesota, MN | Mississippi, MS | Missouri, MO | Montana, MT | Nebraska, NE | Nevada, NV | New Hampshire, NH | New Jersey, NJ | New Mexico, NM | New York, NY | North Carolina, NC | North Dakota, ND | Ohio, OH | Oklahoma, OK | Oregon, OR | Pennsylvania, PA | Rhode Island, RI | South Carolina, SC | South Dakota, SD | Tennessee, TN | Texas, TX | Utah, UT | Vermont, VT | Virginia, VA | Washington, WA | West Virginia, WV | Wisconsin, WI | Wyoming, WY

Countries, Territories and Provinces:

Malaysia, MY | Indonesia, ID | Antigua and Barbuda, AG | Bahamas, BS | Barbados, BB | Belize, BZ | British Virgin Islands, VG | Cayman Islands, KY | Dominican Republic, DO | Grenada, GD | Haiti, HT | Jamaica, JM | Montserrat, MS | Puerto Rico, PR | Saint Lucia, LC | Saint Vincent and the Grenadines, VC | Trinidad and Tobago, TT | Turks and Caicos Islands, TC | United States, US | US Virgin Islands, VI | Mexico, MX | Campeche, CM | Quintana Roo, QR | Yucatan, YU | Central and South America | Canada, CA | Alberta, AB | British Columbia, BC | Manitoba, MB | New Brunswick, NB | Newfoundland and Labrador, NL | Northwest Territories, NT | Nova Scotia, NS | Nunavut, NU | Ontario, ON | Prince Edward Island, PE | Quebec, QC | Saskatchewan, SK | Yukon, YT