Collapsible Water Container
Small Emergency Water Storage Containers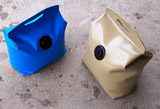 Question: Hello. I am looking for a collapsible water container. Something small that could store around 5 gallons and can be transported. I am trying to prepare several water containers for an emergency event. Do you have any containers this small?
Answer: For emergency water storage that is also portable, a great option is a Water Storage Bag. These units are small, equipped with a ball valve fitting, and contain a built-in handle that allows them to be quickly moved during an evacuation or emergency relief event. All bags are built with FDA and NSF 61 approval for safe drinking water storage for as many as five years (5 yrs).
Collapsible Water Bag Construction: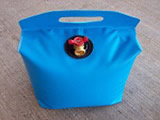 The collapsible water bag has a safe construction that allows the unit to be completely self-supporting while its in storage. The standard feature and design of the tank will include the following components:
Flat Bottom for Self-Supporting Water Storage

Built-in Handle for Water Transportation
Capacities from 1 to 5 gallons

Typically includes:
1 gallon
2.5 gallons
3.5 gallon
5 gallon

FDA and NSF 61 Approved Materials
Folds when not in use

Allowing it to be successfully stored in a wide range of locations including in closets, storage containers, and even vehicles.

Standard Ball Valve Fitting

Additional fittings may be added upon request, including spigots

Equipped for up to 5 years of safe water storage

Although its recommended that a water conditioner or other solution be added to the water to help preserve its quality
Equipped for multiple storage conditions, these collapsible water containers are a favorite for water storage around building sites, homes, and various remote locations. Some of the most common locations where these tanks are used have included the following:
Residential Emergency Water Storage
Drinking Water for Construction Sites
Water Storage in Remote Locations
Water Supply for Hiking or Camping Trips
Quick Supply for Emergency Relief Efforts
Military Operation Water Storage

If you have questions about products, give us a call at 1-772-646-0597 or request a price quote.
© Copyright GEI Works 2011-2020. All rights reserved.
GEI Works is a global solutions provider offering our expertise and products to the following states, countries, territories and provinces:

States:

Alabama, AL | Alaska, AK | Arizona, AZ | Arkansas, AR | California, CA | Colorado, CO | Connecticut, CT | Delaware, DE | Florida, FL | Georgia, GA | Hawaii, HI | Idaho, ID | Illinois, IL | Indiana, IN | Iowa, IA | Kansas, KS | Kentucky, KY | Louisiana, LA | Maine, ME | Maryland, MD | Massachusetts, MA | Michigan, MI | Minnesota, MN | Mississippi, MS | Missouri, MO | Montana, MT | Nebraska, NE | Nevada, NV | New Hampshire, NH | New Jersey, NJ | New Mexico, NM | New York, NY | North Carolina, NC | North Dakota, ND | Ohio, OH | Oklahoma, OK | Oregon, OR | Pennsylvania, PA | Rhode Island, RI | South Carolina, SC | South Dakota, SD | Tennessee, TN | Texas, TX | Utah, UT | Vermont, VT | Virginia, VA | Washington, WA | West Virginia, WV | Wisconsin, WI | Wyoming, WY

Countries, Territories and Provinces:

Malaysia, MY | Indonesia, ID | Antigua and Barbuda, AG | Bahamas, BS | Barbados, BB | Belize, BZ | British Virgin Islands, VG | Cayman Islands, KY | Dominican Republic, DO | Grenada, GD | Haiti, HT | Jamaica, JM | Montserrat, MS | Puerto Rico, PR | Saint Lucia, LC | Saint Vincent and the Grenadines, VC | Trinidad and Tobago, TT | Turks and Caicos Islands, TC | United States, US | US Virgin Islands, VI | Mexico, MX | Campeche, CM | Quintana Roo, QR | Yucatan, YU | Central and South America | Canada, CA | Alberta, AB | British Columbia, BC | Manitoba, MB | New Brunswick, NB | Newfoundland and Labrador, NL | Northwest Territories, NT | Nova Scotia, NS | Nunavut, NU | Ontario, ON | Prince Edward Island, PE | Quebec, QC | Saskatchewan, SK | Yukon, YT