UTV Boomless Sprayer Tanks
UTV Sprayer for Side by Side (Boomless Sprayer)
UTV Boomless Sprayer Tanks are built with heavy duty materials to stand up to the rugged spraying and watering work on your jobsite. The UTV Boomless Sprayers come in 45 and 65 gallon capacity options that deliver dependable, reliable spraying and watering when you need it most. Our two Boomless Sprayer options gives a wide spray coverage that's easy to maneuver and easy to monitor. Features of our Boomless Sprayers include high powered pumps, deluxe handgun sprayers, and molded poly tanks for easy installation and cleanout.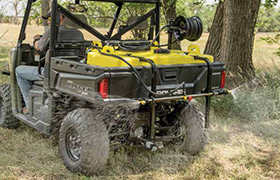 Our UTV Boomless Sprayer Tanks are made in the USA and ship from various locations across the country. These UTV Skid Sprayers (Boom and Boomless) are customizable and are compatible with a variety of accessories and add-ons. Interested in our UTV Sprayer Tanks (Boomless)? We can help! Contact Us or Call Us at 1-863-261-8388.
Ready to finance your purchase? Click here to apply for financing on this product!
UTV Boomless Sprayer Details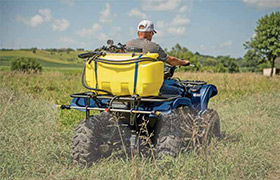 The UTV Sprayer Tanks (Boomless) are made with different features and benefits that will give you greater reliable and durability when watering and spraying. The Boomless UTV Sprayer Tanks can be easily placed in the back of UTVs, ATVs, pickup trucks, and other vehicles to be used around your property. The heavy duty roto molded tanks have a molded in drain for easy cleanout. The tanks can also come equipped with a Multi-Lid for easily measuring any chemicals, liquids, or products you are putting into the tank. Other features of the UTV Boomless Sprayer include the 12 volt Shurflo pump with 4.0 GPM, 45 PSI power, the hose wrap holder with 25 feet of 3/8" hose, and the optional deluxe handgun sprayer with an adjustable pattern spray tip. The UTV Boomless Sprayers come with different nozzles that spray laterally across crops and grass. Our boomless nozzle options include the 3 Nozzle Boomless Boom and 4 Nozzle Boomless Boom. See the Boomless Sprayer options below:
3-Nozzle Boomless: 30' Spray Coverage
4-Nozzle Boomless: 34'-38' Spray Coverage
Boomless Boom Assembly With 1 TeeJet KLC Tip
UTV Boomless Sprayer Features
Poly Tank 65 and 45 Gallons
Molded In Drain Tank
12 Volt Pump and Handgun
Boomless Spraying Options
UTV Boomless Sprayer Benefits
1 Year Warranty Option
Multi-Lid Measuring Cup Attached
Adjustable Spray Nozzle
Heavy Duty Materials
Made in USA
UTV Sprayer Tanks (Boomless) Specifications
Product Number
FSUTV45-12V § 5302903 - 45 gallon UTV sprayer
Product Number
FSUTV65-12V § 5302904 - 65 gallon UTV sprayer
Features
Heavy Duty Roto Molded 65 and 45 Gallon Polyethylene Tank
Low Profile For Improved Stability / Center Of Gravity
Molded Handles For Easy Installation In UTVs
Conveniently Positioned Pump / Manifold Near UTV Cab To Easily Set Sprayer P.S.I.
12 Volt ShurFlo Pump, 4.0 G.P.M.: 45 P.S.I. Max
Hose Wrap Holder With 25 Feet Of 3/8" Hose
New Multi-Lid Included
Note
Can Be Used With UTV Tailgate Closed Or Open
Optional*
FSUTV-HR-50 5302919 Hand crank hose reel - 3/8" x 50 feet of hose
Product Number
FSUTV45-12V § 5302903 Boomless
FSUTV65-12V § 5302904 Boomless
Tank Dimensions
36" x 30"
47" x 34.5"
Dry Sprayer Weight without Boom
46 lbs
58 lbs
Dry Sprayer Weight with Boom
66 lbs
72 lbs
Sprayer Weight Filled
450 lbs
625 lbs
For more information and detailed specifications on all our skid sprayers, see the Small Sprayers and Accessories (PDF).
UTV Sprayers (Boom and Boomless) Applications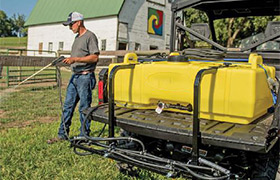 Consider This: UTV Sprayers and Boomless attachments have been used in a variety of applications on many different jobsites. For weed control, pest control, grass watering, fire suppression and more, you can use the UTV Sprayer Tanks (Boomless and Boom Sprayer) to accomplish these tasks. Our innovative tank design allows for improved stability with a better center of gravity than other tanks, and the molded handles allow for easier and faster installation into UTVs.
We carry both Boomless Sprayer attachments and Boom Sprayer attachments for our UTV Sprayer Tanks. Booth the Boomless Sprayer and the Boom Sprayer are valid spraying and watering options. However, both have their added benefits and features. The main differences between them lie in the number and spacing of the nozzles and the spray direction of the nozzles. With Boom Sprayer attachments, the nozzles point down, direction on the grass or crop being watered. With Boomless Sprayers, the nozzles spray laterally, giving you a wide spray coverage. Both options are great for watering and spraying, but they have their own unique benefits. Choosing between them will be determined by the type of spraying you wish to accomplish.
For freeze protection for your water trailer or skid, our Water Trailer Heater Blankets are exactly what you need . When cold weather affects the viscosity of fuel, fluids, and other materials you can lose production time, adding additional costs. Power blankets keep your tanks and smaller corrugated/steel tanks at constant temperature, preventing fluids from freezing in extreme conditions. We customize thermal blankets to meet your specific needs, no matter the tank size or shape. Call us today to find out more!
Interested in more information about the UTV Sprayer Tanks, both Boom and Boomless? Contact Us today or Call Us at 1-863-261-8388 .
Products Customers Also Viewed
Questions? We can help! Call us at 1-863-261-8388 or request a price quote.