How to Control Dust on Construction Sites
Water Trailer for Construction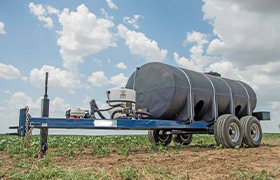 If you're wondering how to control dust on construction sites, then the water trailer packages we offer will be a great solution for you. Controlling dust on construction sites can take on many forms. Different needs can include controlling dust during concrete cutting, controlling dust from moving vehicles, having a reliable equipment washing station for dirty vehicles, and spraying down asbestos and other materials during demolition projects. Our water trailers come equipped with the special accessories to handle these projects. See our video below for more details and information.

If you have questions about our water trailers for construction sites, give us a call at 1-863-261-8388 or request a price quote.
Looking for other features? We have an assortment of water trailer vendors with an extensive offering of styles, sizes, and components at exceptional pricing. All capacities listed are for use with water storage. We ship from warehouses across the U.S. and our team will work with you to provide the equipment that fits your needs, delivered within the time frame that you need it. Contact Us for information on other liquid storage options.
See Sizing for Our Water Trailers
Water Trailers for Construction Details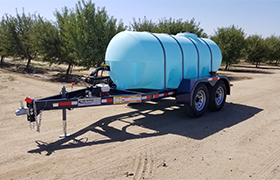 Our water trailers for construction site dust control come in a wide variety of sizes and options to fit your needs. Our heavy duty trailers are made with channel iron frames that hold Norwesco leg tanks that provide increased stability and a baffling effect during transport. Our trailers include a manufacturer's warranty of 5 years for the frame and depending on which tank style a 3 or 5 year warranty on the tank.
Choose between a black tank or a translucent tank for your water transport. The advantage of the black tank is that it block sunlight from entering the tank, inhibiting algae growth.
We carry a variety of accessories and add-ons for our tanks. These include engines and pumps, DOT and non DOT features, speed controllers, inductors and eductors for mixing fertilizer, ladders, spray bars and spray guns, hoses and reel, and more!
For controlling construction dust, using the spray bar and a spray gun for targeted spraying will be an important tool in your work day. The spray bar covers a larger swath of area, making it excellent at wetting the ground for dust suppression and wetting concrete before it is cut. The spray gun is best for targeted spraying and can be used to wet asbestos before demolition projects. It can also be used to clean dirty machinery before it leaves the jobsite. We also carry both non DOT and DOT trailer options. DOT trailers include the features required for safe and compliant use on public roadways, such as electric brakes, lights, high speed tires, and fenders.
The best part? You can choose what features you want. Only pay for what you need, and we'll make sure you construction water trailer is perfectly tailored to you.
Construction Dust Trailer Features
Spray Bars and Spray Guns
Norwesco Leg Tank
Channel Iron Trailer Frame
Trailer and Tank Warranties
Construction Dust Trailer Benefits
USA Made with Manufacturer's Warranty
Ships Fast to You
Fully Customizable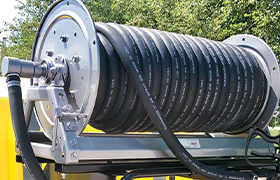 Construction Dust Trailer Specifications
For more information on the fire fighter trailer specifications we have on the capacity sizes we carry, see our Nurse Trailer Line Card PDF.
For more information on the specifications of the accessories we carry, see our Nurse Trailer Accessories PDF.
Fire fighting water trailer sizes include:
525 Gallons
1025 Gallons
1325 Gallons
1600 Gallons
If you need a water trailer with larger capacity, this model is also available with 1,000 Gallon and 1,600 Gallon sizes.
Applications for a Construction Dust Trailer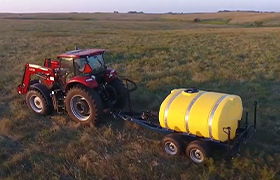 Use the construction for the various applications around you construction jobsite. For prewetting concrete before you cut it, you can use the spray bar on our nurse trailers or the spray gun for targeted spraying. Concrete that hasn't been prewetted will result in copious amounts of dust when it is cut, which is harmful to breathe. Use the targeted spray gun to also clean the caked on mud from heavy machinery before it leaves the jobsite. Control dust on a jobsite with a spray bar on a water trailer.
If you find that your project requires customized options for your water transport trailer, consider the Water Trailer.
If you have questions about our dust control water trailer, give us a call at 1-863-261-8388 or request a price quote.