Fire Fighting Trailer
Protect Your Home: Portable Fire Fighting Trailers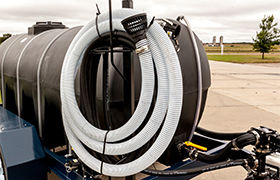 Fire fighting trailers will allow you to protect your home, business, and land during the dry months when forest fires, wildfires, and brush fires often occur. You can use our rugged water trailers before a fire hits, during active fires, and for emergency water storage for future fires. We carry a variety of a features and add-ons that can make your water trailer fully customized to fit your needs. Accessories like spray bars, spray hoses and nozzles, custom tank features and more will make your fire fighting trailer be the bets it can be. For more information, see our video below.

If you have questions about our fire fighting trailers, give us a call at 1-863-270-8118 or request a price quote.
Looking for other features? We have an assortment of water trailer vendors with an extensive offering of styles, sizes, and components at exceptional pricing. All capacities listed are for use with water storage. We ship from warehouses across the U.S. and our team will work with you to provide the equipment that fits your needs, delivered within the time frame that you need it. Contact Us for information on other liquid storage options.
See Sizing for Our Water Trailer
Fire Fighting Trailer Details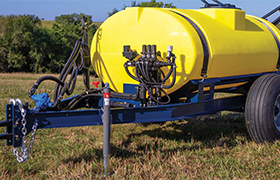 The fire fighting trailer is a reliable source of fire suppression for homes, businesses, and rural land. The fire fighting trailer is beneficial before wildfires occur. You can prewet your buildings, lawn, and landscaping, making it less dry and less susceptible to burning. With our targeting fire hose and spraying nozzle, you can handle brush fires and fires that are ongoing on your land. The heavy duty construction and rugged tires can be taken around your property to deal with ongoing brush fires. The spray bar on the back of the water trailer is adept at spraying the ground in large swaths and prewetting it to keep fires at bay.
The heavy duty channel iron frame of out fire fighting water trailer has a 5 year warranty. The Norwesco leg tank on the fire fighting trailer has a 3 or 5 year non prorated warranty option. We carry leg tanks in both black and translucent models. The advantage of the black tank is that it block sunlight from entering the tank, inhibiting algae growth. We carry both DOT and non DOT options for trailers. The DOT options have highspeed tires, electric brakes and lights, as well as heavy duty fenders.
Our fire fighting trailers comes customizable with many different accessories. The best part is, you only have to pay for the accessories you want—nothing more! Our engines and pumps, as well as our spray bars, fire hoses, and spray guns make both targeted and large-scale spraying easy for you.
Fire Fighting Trailer Features
Channel Iron Frame
Norwesco Leg Tanks
DOT and Non DOT Options
Spray Guns and Spray Bars
Speed Controllers
Fire Fighting Trailer Benefits
Made in the USA
Ships to You
Numerous Accessories and Add-Ons
Fully Customizable
Fire Fighting Trailer Specifications
For more information on the fire fighter trailer specifications we have on the capacity sizes we carry, see our Nurse Trailer Line Card PDF.
For more information on the specifications of the accessories we carry, see our Nurse Trailer Accessories PDF.
Fire fighting water trailer sizes include:
525 Gallons
1025 Gallons
1325 Gallons
1600 Gallons
If you need a water trailer with larger capacity, this model is also available with 1,000 Gallon and 1,600 Gallon sizes.
Fire Fighting Trailer Applications and Equipment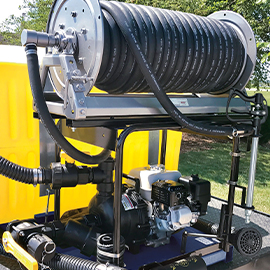 The fire fighting trailer is made for homes, business, and rural lands that need protecting against wildfires, brush fires, and more. By prewetting an area of your property like buildings, roofs, landscaping, brush, grass, and porches, you increase your chances of keeping fires at bay.
We also carry a product called Fire Gel, which is a fire retardant spray that you can use to coat your homes, businesses, and even landscaping. The Fire Gel is made from superabsorbent polymer gel that holds water, keeping walls and building insulated from flames, and is very effective in protecting your property from fire damage. It is non-toxic, and washes off easily when the risk of fire has passed.
If you find that your project requires customized options for your water transport trailer, consider the Water Trailer.
If you have questions about our fire fighting trailer, give us a call at 1-863-270-8118 or request a price quote.