Emergency Water Trailer for Potable Water
Potable Water Storage Transport (DOT Features)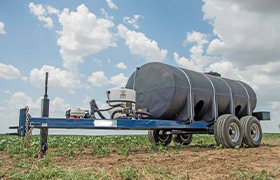 When you need an emergency potable water trailer, you'll want to make sure it's tailored to meet your needs. Having safe access to potable water for drinking and other needs is imperative. Being able to safely deliver that water over rugged backroads or long distances over highways is also necessary. We carry a full line of water trailers made from heavy duty materials, customizable with accessories to fit your needs. You pick what accessories you want and we work with you to make a custom water trailer.

Interested in more information about our line of emergency water trailers? Give us a call at 1-863-261-8388 or request a price quote.
Looking for other features? We have an assortment of water trailer vendors with an extensive offering of styles, sizes, and components at exceptional pricing. All capacities listed are for use with water storage. We ship from warehouses across the U.S. and our team will work with you to provide the equipment that fits your needs, delivered within the time frame that you need it. Contact Us for information on other liquid storage options.
See Sizing for Our Water Trailer
Emergency Potable Water Trailer Details
Our potable water trailers are made in the USA with heavy duty materials that stand up to the most rigorous outdoor conditions, including: Norwesco leg tanks, channel iron frames, and a selection of engines and pumps. Additional accessories allow you to make your potable water trailer as customized as you'd like it to be. We also carry complete water trailer units for you to purchase, without having to build your own.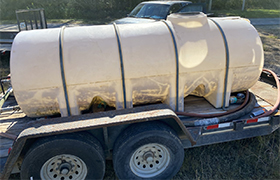 The Norwesco leg tank is manufactured with resins that meet FDS specifications to ensure the safe storage of potable water. Our tanks come in sizes ranging from 525 gallons to 1600 gallons. Leg tanks provide a baffling effect to minimize sway from the weight of water in transit, and are available in either a translucent model or a black model. For the purposes of potable water storage we recommend a black Norwesco leg tank. The black tank model will block sunlight from entering the tank, inhibiting algae growth. Other features of the tanks include the top fill port and tank baffles to reduce water movement during transport and increase stability. The channel iron frame of the potable water trailers are heavy duty and come equipped with cross member supports, heavy duty jacks, safety chains and step platforms, as well as mounting inside the frame for the engine and pump.
Both the Norwesco leg tank and the trailer frame have manufacturer warranty options for you. The trailer has a 5-year non-prorated warranty and the leg tank options have a 3 or 5 year warranty. Our emergency potable water trailers come with non DOT or DOT features. For the emergency potable water trailer we recommend the DOT features to ensure the safe transport of your trailer on public roads and highways. DOT features includes electric brakes, lights, fenders, ball couplers, and highway tires. Other accessories and add-ons we offer with our water trailers include engines and pumps, speeds controllers, inductors and eductors, ladders, spray guns and spray bars, hoses and reels, fitting and valves and so much more!
The best part? You can pick and choose which features you want and which you don't want. Don't pay for anything that doesn't meet your needs.
Potable Water Trailer Features
ANSI/NSF Standard 61 Certified for Potable Water
DOT and Non DOT Features
Capacities Ranging from 525 to 1600 Gallons
Numerous Accessories Options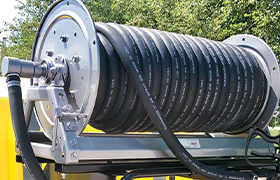 Potable Water Trailer Benefits
Made in the USA
Manufacturer's Warranty Options
Ships Fast to You in Weeks*
Multiple Accessories and Add-Ons
Potable Water Nurse Trailer Specifications
For more information on the fire fighter trailer specifications we have on the capacity sizes we carry, see our Nurse Trailer Line Card PDF.
For more information on the specifications of the accessories we carry, see our Nurse Trailer Accessories PDF.
Fire fighting water trailer sizes include:
525 Gallons
1025 Gallons
1325 Gallons
1600 Gallons
If you need a water trailer with larger capacity, this model is also available with 1,000 Gallon and 1,600 Gallon sizes.
Potable Water Trailer Applications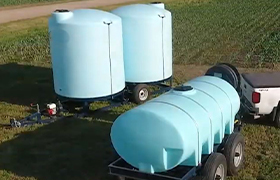 Our emergency potable water trailers are used for numerous applications. When you need to have drinking water on hand during emergency situations, you can count on our potable water trailers.
With DOT features you can transport drinking water across highways and public roads. Our potable water tanks meet FDA specifications for the safe storage of potable water. You can use our DOT water trailer to deliver potable drinking water to rural homesteads, farmsteads, campsites, construction sites, and more.
For freeze protection for your water trailer or skid, our Water Trailer Heater Blankets are exactly what you need . When cold weather affects the viscosity of fuel, fluids, and other materials you can lose production time, adding additional costs. Power blankets keep your tanks and smaller corrugated/steel tanks at constant temperature, preventing fluids from freezing in extreme conditions. We customize thermal blankets to meet your specific needs, no matter the tank size or shape. Call us today to find out more!
If you find that your project requires customized options for your water transport trailer, consider the Water Trailer.
If you have questions about our fire fighting trailer, give us a call at 1-863-261-8388 or request a price quote.