Dust Control Trailer
Dust Control Water Trailer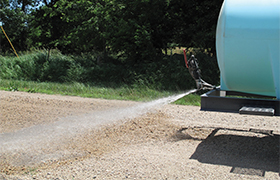 The dust control trailer is a heavy-duty and dependable solution to controlling dust on your jobsite. Our dust control water trailers come in a variety of sizes with different features and add-ons that you can choose to add to your water trailer. These features and accessories include engines, pumps, DOT features, speed controllers, inductors and eductors, spray bars and spray guns, plus many other helpful accessories.

If you have questions about a small water trailer, give us a call at 1-863-261-8388 or request a price quote.
Looking for other features? We have an assortment of water trailer vendors with an extensive offering of styles, sizes, and components at exceptional pricing. All capacities listed are for use with water storage. We ship from warehouses across the U.S. and our team will work with you to provide the equipment that fits your needs, delivered within the time frame that you need it. Contact Us for information on other liquid storage options.
See Sizing For Our Water Trailers
Dust Control Trailer Details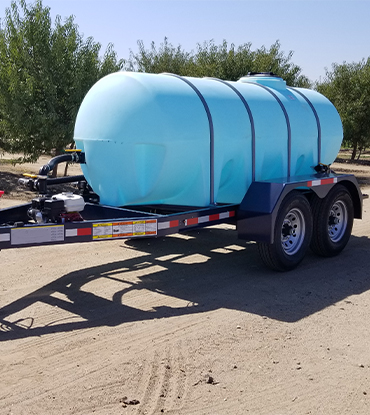 Dust control trailers are made in the USA to be heavy duty dust suppression solutions for a variety of jobsite locations and applications. The frames are constructed from sturdy channel iron and a design featuring cross-member tank supports. The trailer frame has a 5-year warranty. The Norwesco leg tank, which comes in either translucent or black, has a 3 or 5 year non prorated warranty, depending on the model selected. The advantage of the black leg tank for your water trailer is that light is stopped from entering the tank, inhibiting algae growth. Our pull-behind water tanks are fully customizable to fit your needs. Best of all? You can pick the features you want, without having excess add-ons and options that don't fit your needs. Our rugged water trailers typically ship faster than other water trailer suppliers. See our lists of features and benefits below.
Dust Control Trailer Features
DOT or Non-DOT Features Available
Channel Iron Frame Construction
Norwesco Leg Tank in Black or White
Numerous Warranty Options
Dust Control Trailer Benefits
Heavy Duty and Rugged Materials
Made in the USA
Ships Fast to You
Fully Customizable
Dust Control Spray Trailer Specs
For more information on the specifications or the capacities of dust control spray trailers we carry, see our Nurse Trailer Line Card (PDF).
For more information on the available accessories for our dust control trailers, see our Nurse Trailer Accessories (PDF).
We carry dust control trailers in the following capacities:
525 Gallons
1025 Gallons
1325 Gallons
1600 Gallons
Dust Control Trailer Applications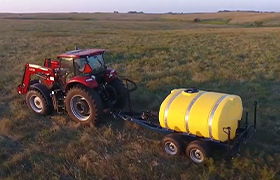 Dust control trailers are used in a variety of dust suppression applications. For construction applications, you can use the dust control trailer to spray down and wet concrete before cutting it. You can use the dust control trailer to spray down dirty equipment that has caked on mud and grime. By spraying down this equipment you keep oil, dirt and pollutants from leaving the jobsite and contaminating other areas. Using the targeted spray hose on the dust control trailer, you have access to reliable spraying. The spray bar on the dust control trailer will wet the ground to keep dust suppression in control on construction sites. Keeping dust in check will be vital to keep pollutants from spreading on roadway construction sites.
For freeze protection for your water trailer or skid, our Water Trailer Heater Blankets are exactly what you need . When cold weather affects the viscosity of fuel, fluids, and other materials you can lose production time, adding additional costs. Power blankets keep your tanks and smaller corrugated/steel tanks at constant temperature, preventing fluids from freezing in extreme conditions. We customize thermal blankets to meet your specific needs, no matter the tank size or shape. Call us today to find out more!
If you find that your project requires customized options for your water transport trailer, consider the Water Trailer.
If you have questions about our dust control water trailer, give us a call at 1-863-261-8388 or request a price quote.