DIY Water Tower
5,000 Gallon Tank Kit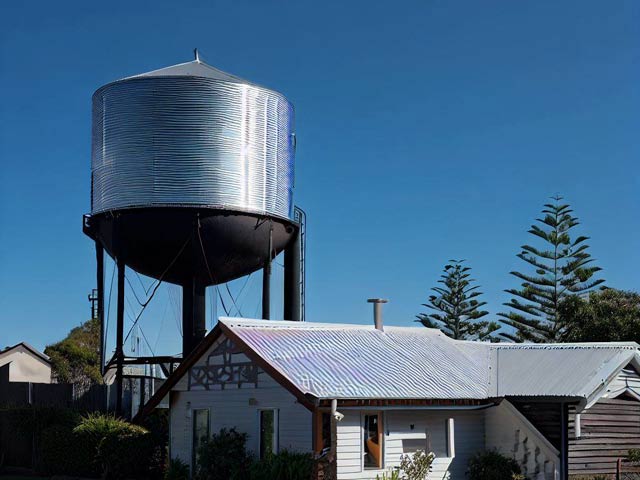 Build your own DIY water tower with our AquaDot 5,000 gallon corrugated water tank kit. Whether you're building this water tower for home or other use, our AquaDot tanks are durable, reliable and come with a 20 year "Leak Free" warranty. The 5,000 gallon tank arrives ready to assemble and with a complete set of instructions. *Tower not included
This DIY water tank's steel panels are coated with the heaviest duty galvanized coating available on the market, providing you the best and longest lasting protection on the market today. The liner is potable (drinking) water storage approved (NSF/ANSI 61) for safe water storage.
Put 30+ years of making quality corrugated water tanks to work for you!
Note: We provide the tank you need for your DIY water tower. The water tower itself will need to be purchased and installed separately.
Specifications
| | |
| --- | --- |
| Diameter | 130" |
| Shell Height | 87" |
| Overall Height | 90" |
| Gross Capacity | 5,000 US Gallons |
| Tank Shell | G145 Galvanized Corrugated Steel Panels, Mechanically Galvanized High Tensile Fasteners |
| Roof Structure | Welded HSS Support Frame with Hot Dipped, Galvanized Coating, Corrugated Steel Cover Sheeting |
| Tank Liner | NSF 61 Certified for Potable Water Use, 20 mil Polyethylene Geomembrane, 700% Elongation at break ASTM D638, 2,000 min HPOIT ASTM D5885 |
| Cushion Layer | Needle-free Non-Woven Polyester Geotextile Underlay |
| Inlet Fitting | 16" Leaf Basket in Roof with UV Guard |
| Outlet Fitting | 2" Bulkhead with NI Coated Ball Valve, 2' NPT Threaded Connection" |
| Overflow Fitting | 6" ASA Overflow with Internal Vertical Orifice and PVC Overflow Pipework to Ground with Flap Valve and Mosquito Screening |
| Miscellaneous | Foam Roof Seal for Dust and Vermin Protection, Decorative Steel Fascia" |
| Accessories | 20" Lockable Roof Access Hatch, Light Duty Removable Galvanized Steel Ladder |
| Fitting Options: | Fire Protection (NFPA-22), Rain Harvesting, Well Water Storage |
DIY Water Tower Tank Features
G145 Galvanized Coated Corrugated Steel Panels
Food/Potable Water Storage Liner, NSF/ANSI 61 Certified
Hot Dip Galvanized Roof Structure & Corrugated Dome Roof
2" Outlet with Nickel Coated Metal Ball Valve
2" Drain with Nickel Coated Metal Ball Valve
6" Overflow with Mosquito Screen and Flap Valve
Inlet Basket with UV Guard
Geomat Cushion Layer Tank Liner Protection
Tank Wall Moisture Barrier
Foam Roof Seal for Dust and Vermin Protection
Lockable Access Hatch with Removable Ladder
Configuration Options:
NFPA-"Fire Suppression"
Well Storage
Rain Harvesting
DIY Water Tower Tank Benefits
Durable, strong, reliable, and safe
20 year "Leak Free" Pro-Rata Warranty leads the industry
30+ years of experience
Fitted geotextile tank liner underlay to protect against liner damage for the life of the tank
Moisture barrier for extra protection and to prevent base erosion
Hinged lockable roof and access hatch provides secure access
Inlet light guard prevents sunlight from entering the tank, prevents algae growth
Optional trained and qualified staff for installation
*Unlike other manufacturers that cut costs by offering lower grades of metal for tank panels, we use galvanized steel to ensure a long tank life.
DIY Water Storage Tank Applications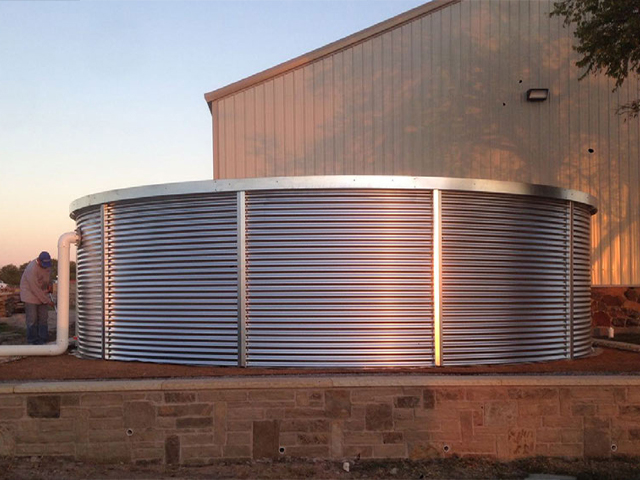 Designed for cost-efficient water storage, AquaDot water storage tanks set the standard for long-lasting quality-made water tanks. They can be transported inexpensively anywhere in the world and assembled in a day in most cases by trained installers. Appropriate for municipal, agricultural and industrial projects. Use them also for innovative home projects such as a DIY water towers, DIY water tanks, or DIY cisterns.*Tower not included
Ask us about components to make using your DIY water tank even more efficient and hassle free for rainwater collection, well water storage, or fire suppression!
AquaDot DIY Water Tanks are used for a variety of projects with a wide range of applications:
Rainwater Collection
Fire Water Storage
Irrigation Water Storage
Agriculture
Drinking Water Storage
Process Water Storage
Bulk materials and dry goods
Frac Storage Tanks
| | |
| --- | --- |
| 5,000 gallon tank | 50,000 gallon tank |
| 12,000 gallon tank | 65,000 gallon tank |
| 16,000 gallon tank | 77,000 gallon tank |
| 28,000 gallon tank | 102,000 gallon tank |
| 37,000 gallon tank | Custom Sizes |
*AquaDot corrugated tanks are made for locations that have little to no snow load, but will withstand significant seismic and wind activity. If a water tank that can handle snow load is needed, we have those too. See: Corrugated Water Tanks or Just ask us for help!
Have questions about AquaDot DIY Water Tower Tanks? We're here to help! Call us Today!

If you have questions about products, give us a call at 1-863-563-3357 or request a price quote.