20,000 Gallon Water Tank
FAQ: Which Water Tanks Can Store 20,000 Gallons?
Question: Hello. I am looking for 20,000 gallon water tank that I can use to store water during construction at my location. The water will be non-potable. I don't know what style of tank I need. What are my options?
Answer: Thank you for contacting us! For the amount of water you need to store at your location, an excellent choice would be gray water Above Ground Pillow Tanks. These durable, flexible units are designed with rugged exteriors that can withstand the effects of outdoor storage, including UV exposure and cold weather.
Additionally, one of the best advantages of a collapsible bladder is its ability to store large quantities of liquid. Collapsible tanks are made using a highly flexible material that is equipped to make tanks of all shapes and sizes. Standard tanks are made in the capacities of 135 to 250,000 gallons to help meet large or small scale storage requirements.


Need a 20,000 gallon water tank? We can help! Give us a call at 1-772-646-0597 or request a price quote.
Additional Non-Potable Water Storage Tanks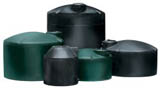 In addition to the flexible storage unit, we also offer several different 20,000 gallon water tanks and tank models that are able to accommodate different storage requirements. These tanks include the following:
Steel Water Tanks
These are one of the strongest options for storing liquids, including non-potable water. With either vertical or horizontal orientations and above ground or underground options, these tanks have lengths up to 100 feet and maximum weights of 70 tons.


Fiberglass Water Tanks
These tanks are a reliable, high strength option for potable and non-potable water storage. Resistant to rust, corrosion, cracking, and denting, these above ground storage tanks last for many years.


Plastic Water Tanks
Plastic water tanks are an effective form of storage for non-potable water, drinking water, rain water, or chemicals. The vertical plastic tanks can be placed around buildings, facilities and residential areas.
Built to meet different space and storage requirements, these tanks are available in vertical, horizontal, above ground, and below ground options. These water storage tanks can be used for drinking water storage, gray water storage, or storing chemicals.
Our tanks can be made to meet your project specifications in terms of type of fabric, size, and configuration.
Water Bladder Features and Advantages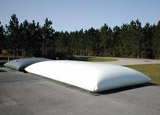 The collapsible tank, while extremely flexible in nature, can be made of several durable fabrics. Some of the materials used to make a gray water tank include:
Polyurethane
Polymer Alloy
PVC-Coated Lining
These fabrics are suitable for a variety of applications. Some standard applications for water storage bladders:
Military Operations
FEMA Emergency Relief Efforts
Remote Water Access
Using a larger flexible 20,000 gallon water bladder is a cost-effective solution for a variety of applications. These applications bring with them definite advantages from their low profile but high strength design.
Advantages
The reliable liquid storage and low overall height of the flexible 20,000 gallon water tanks makes for easy setup, storage, and shipping. Our flexible water storage tank bladders can be made with durable fabric for storing non-potable, gray water, chemicals, or other liquids. These bladders are ideal for temporary water storage and can be used in a variety of applications.
Some of the many advantages of the Flexible 20,000 Gallon Water Tanks include:
Low Transportation Costs
Flexible Exteriors
Folding or Rolling Design
Small or Large Capacities (25 to 210,000 gallons)
We manufacture our flexible water bladders in the USA to meet your project specifications. If you are looking for a tank option you do not see here or if you are unsure which options may work best for your location, please do not hesitate to contact us.
Do you have questions about our 20,000 gallon water storage tank? We can help. Give us a call at 1-772-646-0597 or request a price quote.