20,000 Gallon Water Tank
FAQ: What water tanks can store 20,000 gallons?
Question: Hello. I am looking for 20000 gallon water tank that I can use to store water during construction that is going in my location. The water will be non-potable. I don't know what style I need. What are my options?
Answer: Thank you for contacting us! For the amount of water you need to store in your location, an excellent choice would be gray water Above Ground Pillow Tanks. These durable yet flexible units are designed with rugged exteriors that can withstand the elements of outdoor storage including UV exposure, cold weather, and more.
Additionally, one of the best advantages of a collapsible tank is its ability to store large quantities of liquid. Collapsible tanks are made using a highly flexible material that is equipped to make tanks of all shapes and sizes. Standard tanks are made in the capacities of 135 to 250,000 gallons to help meet large or small scale storage requirements.

If you have questions about products, give us a call at 1-772-646-0597 or request a price quote.
Additional Tank Options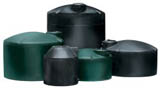 In addition to the flexible storage unit, we also offer several different 20000 gallon water tanks and tank models that are able to accommodate different storage requirements. These tanks include the following:
Built in several configurations to meet different storage area and space requirements, these tanks are available in vertical, horizontal, above ground and below ground options. If you are looking for a tank option you do not see here or if you are unsure which options may work best for your location, please do not hesitate to contact us at 772-646-0597.
Water Bladder Features & Advantages:
The collapsible tank is extremely flexible in its nature and uses several different materials to help construct a durable tank. Some of the materials used on a gray water tank include:
Polyurethane
Polymer Alloy
PVC coated lining

If you are looking for a tank that can be used for drinking water, the collapsible tank is also frequently manufactured with liners that comply with FDA and NSF 61 regulations.
Advantages:
Some of the many advantages to these Flexible 20000 gallon Water Tanks include the following:
Low Transportation Costs
Flexible Exteriors
Folding or Rolling Design
Small or Large Capacities (25 to 210,000 gallons)

If you have questions about products, give us a call at 1-772-646-0597 or request a price quote.
© Copyright GEI Works 2011-2019. All rights reserved.
GEI Works is a global solutions provider offering our expertise and products to the following states, countries, territories and provinces:

States:

Alabama, AL | Alaska, AK | Arizona, AZ | Arkansas, AR | California, CA | Colorado, CO | Connecticut, CT | Delaware, DE | Florida, FL | Georgia, GA | Hawaii, HI | Idaho, ID | Illinois, IL | Indiana, IN | Iowa, IA | Kansas, KS | Kentucky, KY | Louisiana, LA | Maine, ME | Maryland, MD | Massachusetts, MA | Michigan, MI | Minnesota, MN | Mississippi, MS | Missouri, MO | Montana, MT | Nebraska, NE | Nevada, NV | New Hampshire, NH | New Jersey, NJ | New Mexico, NM | New York, NY | North Carolina, NC | North Dakota, ND | Ohio, OH | Oklahoma, OK | Oregon, OR | Pennsylvania, PA | Rhode Island, RI | South Carolina, SC | South Dakota, SD | Tennessee, TN | Texas, TX | Utah, UT | Vermont, VT | Virginia, VA | Washington, WA | West Virginia, WV | Wisconsin, WI | Wyoming, WY

Countries, Territories and Provinces:

Malaysia, MY | Indonesia, ID | Antigua and Barbuda, AG | Bahamas, BS | Barbados, BB | Belize, BZ | British Virgin Islands, VG | Cayman Islands, KY | Dominican Republic, DO | Grenada, GD | Haiti, HT | Jamaica, JM | Montserrat, MS | Puerto Rico, PR | Saint Lucia, LC | Saint Vincent and the Grenadines, VC | Trinidad and Tobago, TT | Turks and Caicos Islands, TC | United States, US | US Virgin Islands, VI | Mexico, MX | Campeche, CM | Quintana Roo, QR | Yucatan, YU | Central and South America | Canada, CA | Alberta, AB | British Columbia, BC | Manitoba, MB | New Brunswick, NB | Newfoundland and Labrador, NL | Northwest Territories, NT | Nova Scotia, NS | Nunavut, NU | Ontario, ON | Prince Edward Island, PE | Quebec, QC | Saskatchewan, SK | Yukon, YT