1600 gallon DOT Water Trailer
The All-Inclusive DOT Water Trailer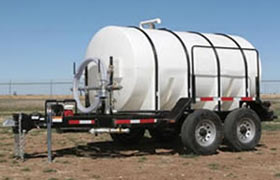 The 1600 gallon water trailer includes a variety of features that support numerous watering tasks. The 5.5 HP Tsurumi aluminum pump is powered by a Honda engine, providing an unmatched flow rate. This DOT trailer allows for usage on public roadways so you can transport it between job sites or move it to a new location

If you have questions about products, give us a call at 1-772-646-0597 or request a price quote.
A Heavy-Duty DOT Trailer
The 1600 gallon water trailer features a heavy-duty, high-strength polyethylene round leg tank highly resistant to chemicals, rust, and corrosion, allowing for long-lasting use. This water trailer with electric brakes includes a breakaway brake system to ensure the trailer stops should it separate from the hauling truck. The Honda engine and Tsurumi pump provide superior performance in driving the water supply to the spray bar or fire hose.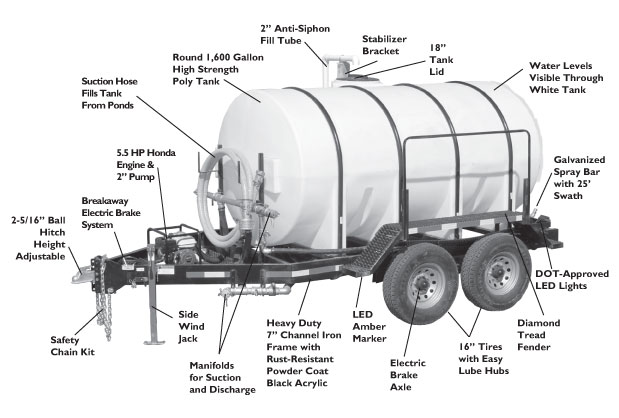 Features Include:
• 5.5 HP Honda Engine
• Tsurumi Pump
• Electric Brakes with Breakaway Brake System
• 8' to 25' Adjustable Width Spray Bar with Flood Nozzles
• 140 GPM
• Side Wind Jack



• For a full list of features, please see: 1600 Gallon DOT Water Trailer (pdf)
Additonal DOT Water Trailer Sizes:

If you have questions about products, give us a call at 1-772-646-0597 or request a price quote.
Travel Anywhere with This DOT Water Trailer
Traveling between job sites or spraying multiple locations requires a trailer that can be towed on public roads or highways. The 1600 gallon water trailer is DOT compliant, with electric brakes, LED trailer lights providing safety when traveling and the diamond-tread fenders protecting the 16-inch tires. The high-strength construction allows for off-road hauling, while DOT compliance enables for usage on public roads.
A Water Trailer for Any Purpose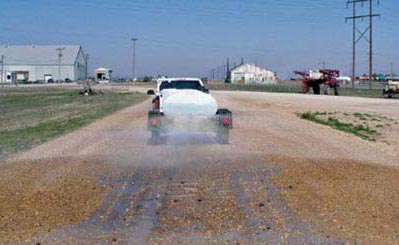 While DOT compliance allows for the transportation of this Express Water Trailer on public roads, the 1600 gallon water trailer can serve many purposes for your job site, farm, or venue. Dust suppression, irrigation, and water transportation are just some of the ways that this heavy-duty trailer supports needs.
Common uses for this trailer include:
• Dust Suppression
• Horse Arena Preparation
• Irrigation
• Watering Ballfields
• Pool Filling
Watering Made Easy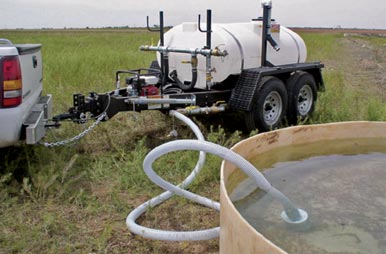 The features of the 1600 gallon water trailer make watering easy. Spraying applications can be achieved by using the adjustable spray bar with flood nozzles, while stronger pressure can be accomplished with the 25-foot fire hose. Filling the tank is simplified by the 20-foot suction hose, allowing the drawing of water from any pond or water pit. The anti-siphon fill tube and pump provides two easy ways to quickly fill your tank. The translucent tank also helps you manage your use of water, by providing visual access to tank water levels.
Filling the Tank
• 2" Anti-Siphon Fill Tube
• Drawing Water from Pump
The 1600 gallon water trailer is a part of the Express Water Trailer line, also featuring trailers with 500 gallon, 800 gallon, and 1000 gallon tanks. If you're interested in a tailor-made option, the Argo Water Trailer by GEI Works offers several customizable features.
GEI Works does also offer a selection of other portable water tanks, including leg tanks and saddle tanks.


If you have questions about products, give us a call at 1-772-646-0597 or request a price quote.