500 Gallon Express Water Wagon
---
Water Trailer for Sale
500 Gallon Express Water Wagon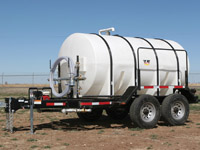 The 500 gallon water trailer for sale is the
perfect unit for transporting, storing, and spraying water.
Each water trailer is constructed with a combination of high strength materials that provides a unit that is both UV resistant and DOT approved. Great for small or large spray jobs, these express water wagons have been frequently implemented in the following applications:
Spot Spray Jobs
Washing Equipment
Dust Control
Fire Suppression
Stall Cleaning
Water Transportation
Features:
Storage Tank: 500 gal. Elliptical Polyethylene Tank
DOT Approved Trailer
Power: Honda engine with Pump
Spray Equipment: Nozzle Spray Bar, Hose and Nozzle, Fenders, Lights, Suction Hose, Anti-Siphon Fill Kit
Benefits:
DOT Approved Trailer
Resilient Plastic Storage Tank
Includes All Necessary Spray Equipment
Easily Moves and Transports Liquids
Ideal for Multi-Purpose Requirements
Equipped with Spray Equipment
Great for Multi-Purpose Watering Needs
Typical Applications:
Vegetative Water Supply
Dust or Ground Packing
Extinguishing Small Fires
Pressure Washing
Concrete Saw Lubrication

500 Gallon Express Tank Technical Specifications

Tank

500 gal. Plastic Storage Tank

Engine

Honda engine with Koshin Pump

Trailer

DOT Approved Trailer

Brakes

Surge or Electric Brakes

Equipment

-Adjustable 2 Nozzle Spray Bar
-Fire Hose & Nozzle
-Fenders, Lights & Anti-Siphon Fill Kit
-Suction Hose
Water and Transportation Equipment
The 500 gallon water wagon is designed to offer an easy and effective way to transport your water to needed areas around your site. While many of these units are designed to attach directly to the back of moving vehicles, we also offer skid-mounted trailers, spot sprayers, auto-skids and small lawn & garden units. For these and other portable water transportation options, please check out our Water Trailer Variety.
---
© Copyright GEI Works 2011-2017. All rights reserved.
GEI Works is a global solutions provider offering our expertise and products to the following states, countries, territories and provinces:

States:

Alabama, AL | Alaska, AK | Arizona, AZ | Arkansas, AR | California, CA | Colorado, CO | Connecticut, CT | Delaware, DE | Florida, FL | Georgia, GA | Hawaii, HI | Idaho, ID | Illinois, IL | Indiana, IN | Iowa, IA | Kansas, KS | Kentucky, KY | Louisiana, LA | Maine, ME | Maryland, MD | Massachusetts, MA | Michigan, MI | Minnesota, MN | Mississippi, MS | Missouri, MO | Montana, MT | Nebraska, NE | Nevada, NV | New Hampshire, NH | New Jersey, NJ | New Mexico, NM | New York, NY | North Carolina, NC | North Dakota, ND | Ohio, OH | Oklahoma, OK | Oregon, OR | Pennsylvania, PA | Rhode Island, RI | South Carolina, SC | South Dakota, SD | Tennessee, TN | Texas, TX | Utah, UT | Vermont, VT | Virginia, VA | Washington, WA | West Virginia, WV | Wisconsin, WI | Wyoming, WY

Countries, Territories and Provinces:

Malaysia, MY | Indonesia, ID | Antigua and Barbuda, AG | Bahamas, BS | Barbados, BB | Belize, BZ | British Virgin Islands, VG | Cayman Islands, KY | Dominican Republic, DO | Grenada, GD | Haiti, HT | Jamaica, JM | Montserrat, MS | Puerto Rico, PR | Saint Lucia, LC | Saint Vincent and the Grenadines, VC | Trinidad and Tobago, TT | Turks and Caicos Islands, TC | United States, US | US Virgin Islands, VI | Mexico, MX | Campeche, CM | Quintana Roo, QR | Yucatan, YU | Central and South America | Canada, CA | Alberta, AB | British Columbia, BC | Manitoba, MB | New Brunswick, NB | Newfoundland and Labrador, NL | Northwest Territories, NT | Nova Scotia, NS | Nunavut, NU | Ontario, ON | Prince Edward Island, PE | Quebec, QC | Saskatchewan, SK | Yukon, YT