Waste Water Holding Tank
300 Gallon Underground Storage Tank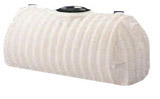 Question: Hello. I am opening a drive thru coffee shop and I need a waste water holding tank. The sizes I think that I will need are in the 300 gallon range. What are my options?
Answer: Thank you for contacting us! For waste water storage there are several options you could consider. Depending on the type of storage you need and the where you wish to store your waste, different tanks might adapt differently to your situation.

If you have questions about products, give us a call at 1-772-646-0597 or request a price quote.
The first tank you could consider is the Plastic Underground Storage Tank. This highly durable unit comes in sizes ranging from 325 gallons to 1700 gallons and is well equipped to handle outdoor and underground conditions.
Some of its features include:
Ribbed Design: This allows to hold up well to soils and other underground materials.
Seamless Construction: By removing the use of seams, this tank stays leak-free and safe for the environment.
Locking Covers: These covers work to further secure materials inside the tank.
Light in Weight: This makes the tank incredibly easy to move, allowing it to install with little effort and no hassle.
Polyethylene Construction: This material holds a naturally high resistance to rust and corrosion, allowing it to stay effective and strong during long-term use.
For low to the ground storage of your materials, several customers have also used our Collapsible Pillow Tanks. These tanks are designed for strength and durability and often fit in wasted crawl spaces, basements or can even be stored above ground. Some features for this tank include:
Low Profile Design: This allows the tank to fit in unusual spaces where it can stay out of the way.
Wide Variety of Materials Available: This helps it to adapt to use in outdoor areas or materials you will be storing inside the tank.
Easy to Setup: The collapsible design allows the tank to be transported quickly to your location. The tank is designed to be flexible so it can fit into unique positions.
While these tanks can help you store your waste water materials, please feel free to browse through our wide variety of Non-Potable Water Storage Tanks.
© Copyright GEI Works 2011-2020. All rights reserved.
GEI Works is a global solutions provider offering our expertise and products to the following states, countries, territories and provinces:

States:

Alabama, AL | Alaska, AK | Arizona, AZ | Arkansas, AR | California, CA | Colorado, CO | Connecticut, CT | Delaware, DE | Florida, FL | Georgia, GA | Hawaii, HI | Idaho, ID | Illinois, IL | Indiana, IN | Iowa, IA | Kansas, KS | Kentucky, KY | Louisiana, LA | Maine, ME | Maryland, MD | Massachusetts, MA | Michigan, MI | Minnesota, MN | Mississippi, MS | Missouri, MO | Montana, MT | Nebraska, NE | Nevada, NV | New Hampshire, NH | New Jersey, NJ | New Mexico, NM | New York, NY | North Carolina, NC | North Dakota, ND | Ohio, OH | Oklahoma, OK | Oregon, OR | Pennsylvania, PA | Rhode Island, RI | South Carolina, SC | South Dakota, SD | Tennessee, TN | Texas, TX | Utah, UT | Vermont, VT | Virginia, VA | Washington, WA | West Virginia, WV | Wisconsin, WI | Wyoming, WY

Countries, Territories and Provinces:

Malaysia, MY | Indonesia, ID | Antigua and Barbuda, AG | Bahamas, BS | Barbados, BB | Belize, BZ | British Virgin Islands, VG | Cayman Islands, KY | Dominican Republic, DO | Grenada, GD | Haiti, HT | Jamaica, JM | Montserrat, MS | Puerto Rico, PR | Saint Lucia, LC | Saint Vincent and the Grenadines, VC | Trinidad and Tobago, TT | Turks and Caicos Islands, TC | United States, US | US Virgin Islands, VI | Mexico, MX | Campeche, CM | Quintana Roo, QR | Yucatan, YU | Central and South America | Canada, CA | Alberta, AB | British Columbia, BC | Manitoba, MB | New Brunswick, NB | Newfoundland and Labrador, NL | Northwest Territories, NT | Nova Scotia, NS | Nunavut, NU | Ontario, ON | Prince Edward Island, PE | Quebec, QC | Saskatchewan, SK | Yukon, YT